How To Use A Safety Signal To Beat Anxiety
mindbodygreen Editorial Assistant
By Sarah Regan
mindbodygreen Editorial Assistant
Sarah Regan is a writer, registered yoga instructor, and Editorial Assistant at mindbodygreen. She received her bachelor's in broadcasting and mass communication from SUNY Oswego, and lives in Brooklyn, New York.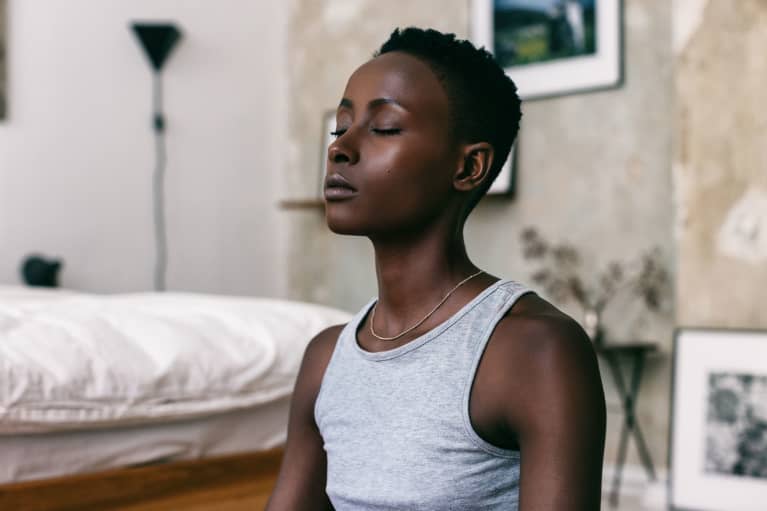 December 9, 2019 — 20:27 PM
If you're one of the 40 million U.S. adults dealing with an anxiety disorder, a recent study may have just discovered a simple, new way to deal with it.
It's called a "safety signal," and it can be almost anything. Anything, that is, that doesn't bring up negative associations for the person.
The new research, conducted by Yale University, explains how safety signals work in our brain, and how we can use them to our anxiety-combatting advantage.
The study was conducted on both mice and humans, and what researchers found suggests symbols or sounds that aren't associated with a scary event can actually relieve anxiety.
The subjects in the study were asked to associate one symbol or sound with danger. A second symbol or sound was used as the safety signal, which conditioned the subjects to associate it as nonthreatening. A safety signal could be anything from a favorite song to a stuffed animal.
First, the scary symbols or sounds were presented to the subjects by themselves, then they were presented alongside the safety symbols. When the safety signals were present, the study found, the subjects were not as afraid.
And what's more, brain imaging used in the study showed this method was working from a completely different neural network than standard exposure therapy, indicating it could be a new alternative.
Dylan Gee, Ph.D., assistant professor of psychology and co-senior author of the study, says, "Exposure-based therapy relies on fear extinction," and "is always competing with the previous threat memory."
As such, safety signals hold promise because "current therapies [are] subject to the relapse of fear—but there is never a threat memory associated with safety signals."
Finding your own safety signal.
The beautiful part about these findings is how accessible they are to everyone. All you have to do is zero in on a nonthreatening item and find ways to turn to it when anxiety starts to bubble up.
Still not sure where to start? Come up with a shortlist of things that make you 100% happy—no negative associations allowed. Make a few of them readily available, whether it's stored in your phone or stowed in your desk at work. Before you know it, you'll have a tool belt of safety signals to help mitigate the effects of an anxious mind.
And for more anxiety-advice, check out what these people do cope, along with this doctor-approved anti-anxiety diet.