What Exactly Is Quark — And Is It Healthy? We Explain The Yogurt Alternative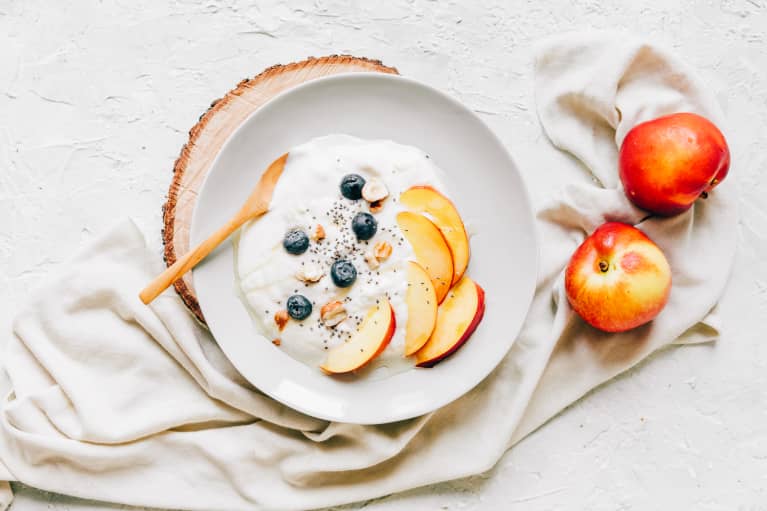 Our editors have independently chosen the products listed on this page. If you purchase something mentioned in this article, we may
earn a small commission
.
Is yogurt one of your go-to healthy staples, thanks to its probiotic benefits and protein content? Or is the tart flavor not your thing? Either way, you'll be thrilled to learn about a yogurt-like product that comes with the same load of nutrients, minus the tangy aftertaste. Enter: quark.
Not fully cheese and not fully yogurt, quark is gaining in popularity as a yogurt substitute for its mild flavor and rich texture. Ahead, learn all about this quark-y food and why you should pick it up on your next grocery trip.
So, what is quark exactly?
Technically, quark is a soft, spreadable cheese. However, because of its creamy texture, it's more often compared to a thick yogurt, similar to Greek.
While it may be newer to the market in the U.S., according to registered dietitian nutritionist and author of The Superfood Swap D.J. Blatner, RDN, quark hails from Germany and is very popular in Europe.
"To make quark, sour milk is warmed until it curdles and then is strained before additional strains of bacteria (lactic acid) are added to ferment the lactose further," says registered dietitian nutritionist and founder of Nutrition Happens, May Zhu, MBA, R.D., LDN. Next, it's continuously stirred to prevent hardening and form a thick and smooth texture (cue the creamy goodness).
What does quark taste like?
The texture of quark is comparable to Greek yogurt, but "the flavor is mild and neutral with much less tartness than yogurt," explains Zhu. So, if you're like me and can't stomach plain Greek yogurt unless it's smothered in honey and fruit, this is for you. Plus, since the flavor is mild, you can use it in both sweet and savory recipes.
Others compare quark to ricotta or a smooth cottage cheese, but the consensus is it's a nearly flavorless, rich yogurt.
It probably comes as no surprise that, yes, quark is healthy. Zhu explains that, similar to yogurt, quark is a good source of protein, calcium, and probiotics. It's also low in sugar and sodium (this can differ by brand, of course).
Here's how quark nutrition breaks down, according to one example from the USDA:
Calories: 100
Protein: 13 g
Fat: 0 g
Fiber: 14 g
Sugar: 7 g
Calcium: 100 mg
What's the difference between quark and yogurt?
There aren't many differences nutritionally when comparing yogurt and quark. According to registered dietitian nutritionist Chelsey Amer, M.S., RDN, CDN, the most notable difference in the two is that quark is lower in lactose (only 2 to 4 grams per 100-gram serving), which may be helpful for anyone with a lactose intolerance or sensitivity.
Since the flavor of quark is so mild, there's really no right or wrong way to eat it. One of the most straightforward ways is to have it in place of traditional yogurt. Try quark in a parfait, topped with fruit and honey or agave for added sweetness.
Quark also works great as a healthier alternative to mayo or sour cream in dressings and dips. The thick texture is so rich, no one will know it's made with healthier ingredients (not even picky kids). Blatner suggests swapping it for cream cheese and spreading on toast or bagels. She also says it works as a great ricotta substitute, dolloped on pizza.
If you're a pasta lover, add a spoonful of quark to your sauce toward the end of cooking and watch it turn light and creamy, just like it does when adding heavy cream. TBH, there's really no wrong way to add quark to your favorite dishes.
Whether you're a lover of yogurt or cheese, quark is a healthy substitute. It's high in protein and calcium but low in lactose. It can go sweet or savory and pretty much takes on whatever flavor profile you want it to in your favorite dishes.