Why This MD Created The Nutritarian Diet + An Immunity-Improving Salad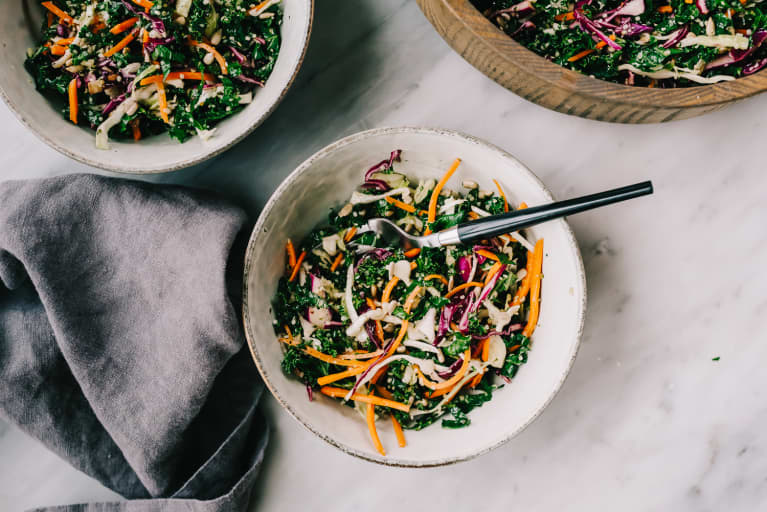 Our editors have independently chosen the products listed on this page. If you purchase something mentioned in this article, we may
earn a small commission
.
I coined the term "nutritarian" to label and identify a nutrient-rich diet style and to set it apart from other diets. By paying attention to not just vitamins and minerals but also to the thousands of other phytonutrients—that is, the beneficial chemicals found in plants—that are essential for maximizing immune function, such a diet style can have profound effects on extending health span (meaning the number of years we can expect to be healthy) and life span.
Thousands of people around the world now call themselves "nutritarians" because they eat a nutrient-dense, plant-rich diet for better health and a better life. Simply put, a Nutritarian is a person who strives for more micronutrients—all the vitamins, minerals, and antioxidants essential for health—per calorie in their diet. Nutritarians seek to consume a broad array of micronutrients via their food choices because they understand that food has powerful disease-protecting and therapeutic effects.
The foods with the highest micronutrients per calorie are vegetables, and for optimal health and to combat disease, it is necessary to consume an adequate amount and variety of vegetables. Nutritarians optimize their health potential by making food choices based on nutritional quality. This evaluation of the nutritional quality of what one eats should also include foods with documented effectiveness to improve immunity.
What do you eat on a "nutritarian" diet?
A nutritarian diet includes a full array of nutrient-rich foods and prepares those foods in a manner that ensures and enhances the beneficial activity of their nutrients.
While some foods may not have an elevated micronutrient density per calorie, they may still contain particularly effective phytonutrients. Cooked mushrooms are a perfect example of a food that does not have high levels of vitamins and minerals compared with other foods; however, their unique compounds make them an integral part of a nutritarian diet, as depicted by the below recipe. As you can begin to see, this approach is all about understanding which foods best help support our bodies and minds and bringing those foods to our plates every single day.
Kale, Cabbage & Mushroom Salad
½ cup water
¼ cup rice vinegar
¼ cup unhulled sesame seeds
1 teaspoon lemon zest
2 teaspoons coconut aminos
8 ounces mushrooms, sliced
3 cups chopped kale, tough stems removed
3 cups thinly sliced cabbage, or baby bok choy
½ cup chopped scallions
¼ cup grated carrot
½ cup pomegranate seeds (optional)
Blend dressing ingredients in a high-powered blender. Heat 2 tablespoons water in a sauté pan and water-sauté mushrooms until softened and tender. Allow to cool.
Place chopped kale in a large salad bowl, add 2 tablespoons of the dressing, and, using your fingers, massage the kale for a minute or two until it starts to wilt. Add sautéed mushrooms, cabbage, scallions, and carrot. Toss with desired amount of dressing. Garnish with pomegranate seeds, if desired.
And do you want to turn your passion for wellbeing into a fulfilling career? Become a Certified Health Coach! Learn more here.