Breastfeeding Was Ridiculously Hard For Me. Here's What I Wish More People Knew
Written by
Anna Gannon
Anna Gannon is the community and social media lead at Expectful, a company with a groundbreaking meditation program for pregnancy and parenthood. She has her Bachelor's in Physical Education and Coaching from Queens College, and is a seasoned NYC yoga guide known for her well-rounded, fun, yet challenging style.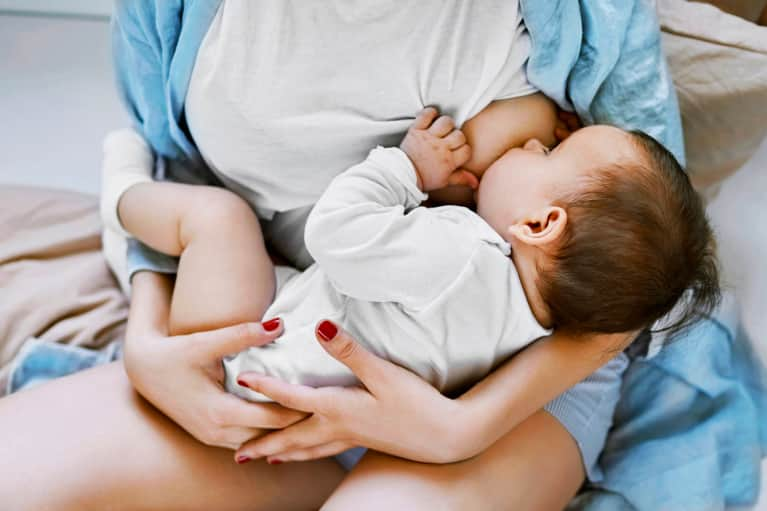 I always thought breastfeeding would come naturally to me—or at the very least, I didn't think it would be very hard. Throughout my pregnancy, I watched as happy mothers posted pictures of their calm babies blissfully breastfeeding on social media and often thought, "This will be my daughter and me one day." I was so excited for this special bonding experience.
That fantasy was shattered when, just a few hours after giving birth, I found myself crying in a hospital bed, struggling to breastfeed my screaming baby. Each time she latched, I cringed in pain, and every time she couldn't latch she cried in hunger. It was a vicious cycle but one I was determined to conquer. I don't give up easily, so I told myself that with some practice and patience, it would get easier with time, as all things did. Little did I know my situation was about to go from bad to worse.
Latch issues and a declining milk supply.
The latch issues were quickly replaced with multiple bouts of mastitis, which was replaced by a declining milk supply. I had such a strong opinion about formula at the time—I was flat-out against it—that I refused to even supplement and continued to push through this constant uphill battle.
The days turned into weeks, the weeks into months, and still we struggled. It never got easier. It seemed that no matter how hard I tried, breastfeeding wasn't anything like what I'd seen on my Instagram feed or what other mothers had described to me. It didn't feel like a time of bonding for me or my baby; instead it felt like added stress on top of the already existing stress of new motherhood.
Facing the facts: I needed formula.
At nine months postpartum, when I found myself sitting at a wedding in France with my daughter screaming because of my lack of milk, I knew in my gut that it was time to take the plunge and get formula for her. Once this thought entered my mind, tears began rolling down my face. I felt like a failure—really, I was giving up after all this time. As if in some way I was failing my baby and failing at being a mother.
But the truth was, my body hadn't been producing enough milk for months, and for the first time, I was refusing to ignore it for both myself and my baby. So I left the wedding, headed to the market, and purchased formula in a language I couldn't even understand. When I returned and she started drinking it, all my fears and stress melted away. It was as if a huge weight lifted off my shoulders when I realized, for the first time in nine months, that the pressure wasn't all on me.
Looking back, I can see that in that moment I understood that the love I have for my daughter isn't measured by how I choose to feed her. When I was able to drop trying to exclusively breastfeed to fulfill some belief that it made me a good mother, I actually started to feel like a good mother. I now no longer attempt to do things as a mother because they are the "right" thing to do, but rather I do them because they are the right thing to do for both me and my growing baby. And that feels good to me.
Dealing with anxiety and trying to get pregnant? Here's what you need to do.