I Dropped My Entire Life To Travel. Here's What I've Had To Give Up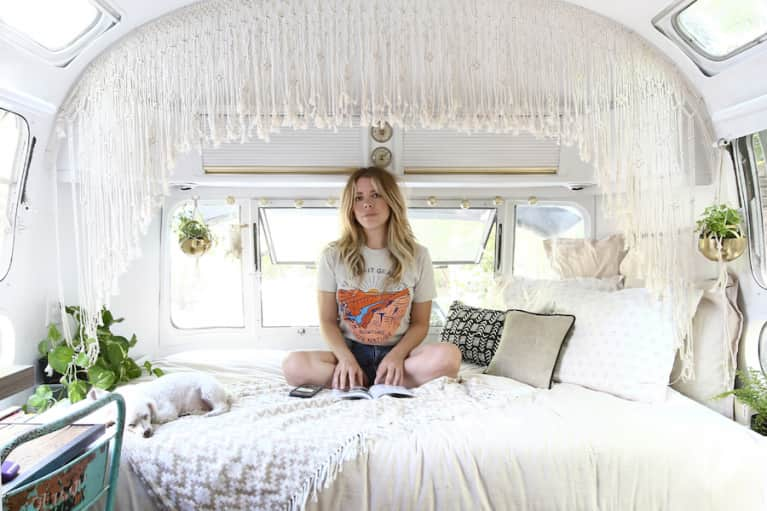 It's been exactly one year since my husband and I started our love affair with an old, beautiful Airstream trailer.
Before I get ahead of myself, I should say that it took us a while to get here. We spent the first six years of our marriage living a very routine life in suburbia: the usual go to work, come home, go to bed, repeat, kind of existence. One day, it hit us that our biggest and brightest memories from our first few years of marriage were our vacations.
We dreamed up this wild, romantic idea that we would live and work from an Airstream and travel the country. And so that's what we did. We left our town house mostly intact as a catch net but turned off the utilities and made the expenses as barebones as possible. Our family was super supportive all along the way and even helped us through the long seven months it took to get our new digs ready. During the time we spent remodeling, my husband landed a full-time telecommute job, and I continued to run an e-commerce business, which allowed me to work from anywhere.
That winter, we set sail for the North Carolina coast, where we lived for the three months. We stayed in the tiny, quaint town of Southport and fell in complete love with it. Our days were suddenly full of new places to explore, sandy beaches, beautiful sunsets, and time. Our lives belonged entirely to us: We decided what we do, where we go, and where to sleep at night.
As unsettling as all of that would have sounded to us 10 years ago, it's become the most freeing thing we've ever done.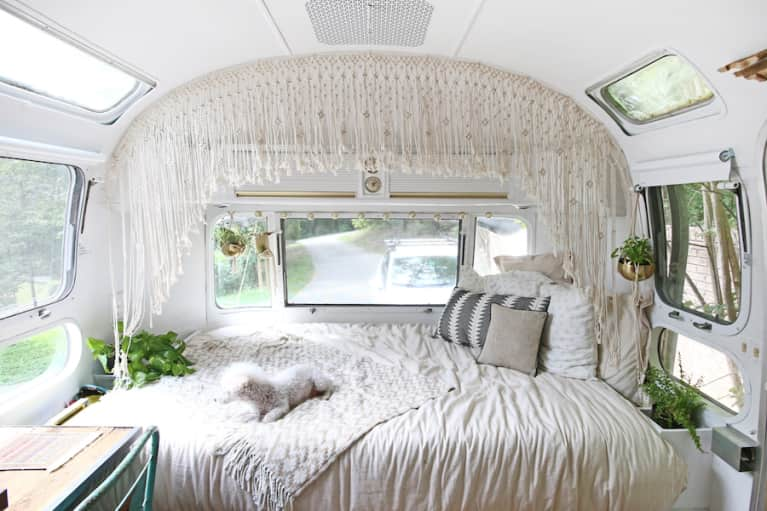 The trade-offs of a home on wheels.
When we first set out, our routines were turned upside down. We started missing our family and friends right away but reminded ourselves that we could spend quality time with them on hometown visits. And being alone meant my husband and I had new things to talk about.
It took a while to adjust to the fact that we didn't have a traditional "home" anymore, but this also meant we didn't have yard work to do, a dishwasher to unload, or piles of laundry to fold either. I love baths, and while there are no baths to be had in the Airstream unless I feel like sitting like a contortionist, all wadded up in a shallow pool of water in the micro tub, I've realized I don't need to unwind at the end of a long day like I used to.
We've had to relearn how to incorporate everyday activities like work into our new routine. When we built out our Airstream, we only had space to incorporate one desk without completely remodeling everything. We figured we could take turns with it and have the other work from the sofa or a local coffee shop. This idea was much better in theory. We had sore backs working from the sofa, and we had to constantly endure each other's phone calls, typing, and mouse clicks. We loved this new work setting because, hey, it beats an office any day of the week, but we knew we couldn't do it forever.
We've always been health-conscious people, and moving into a small space has shown us how a drastic living situation change can have a very real effect on habits. If I'm being honest, our diets and exercise routines went out the window for the first couple of months. I've been a vegetarian for almost my entire life, and my husband converted to a plant-based diet when we got married. When we built out our Airstream, I decided I didn't really need a few kitchen appliance staples like an oven, microwave, or toaster. Instead, my main cooking tools became an electric induction cooktop and a Vitamix. Getting the hang of cooking with limited tools was one of the hardest things about transitioning to tiny house living. We found ourselves eating a lot of takeout sushi, noodles, french fries, and our biggest vice: coffee and pastries from local coffee shops.
We were like wild animals, gobbling up all of this new food from all of these new restaurants we'd come across. Eventually, I'd learn to cook three meals a day with these appliances and arm myself with several cooked and raw healthy recipes to make with the Vitamix and cooktop. Through the process, I've relearned that quite simply, eating out makes you unhealthy, and cooking keeps you thriving.
We can remember what we did almost every weekend on the road, and there's something so powerful in that.
We returned to our hometown last month to make some adjustments to our living space that were vital to our health and well-being. We tore out the bedroom area and sofa and repositioned everything to allow for an open living space to practice yoga. We now have two fully outfitted desks—one in the rear of the trailer and one in the front with a curtain divider between us.
Looking back, we'd do it all over again in a heartbeat. We reflect on those first three months of Airstream living in awe, marveling at the memories we created and the feeling of slowing down. We can remember what we did almost every weekend on the road, and there's something so powerful in that. With our small Airstream tweaks under way, it's back to adventuring we go. Next stop: the Pacific Northwest. Stay tuned!
Tempted to go on an extended adventure of your own? Here's your plan for saving up the money, gathering the courage, and making it work long term.