I Tracked My Dating Life On A Spreadsheet For 3 Months & The Results Were Mind-Blowing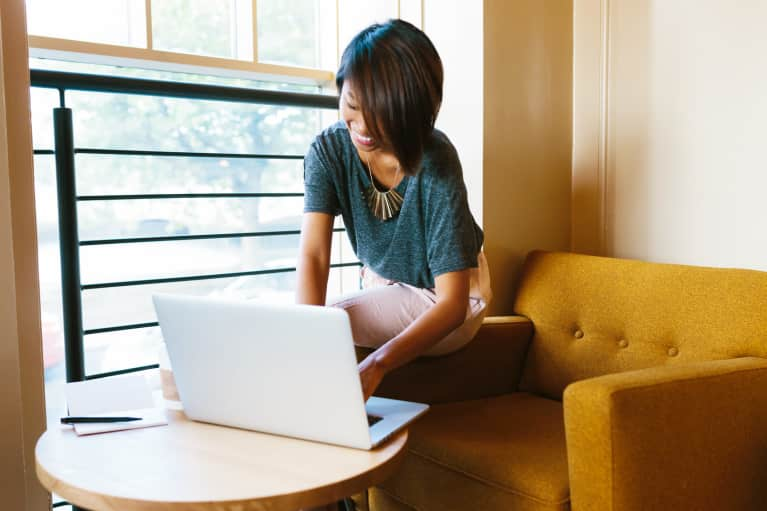 By the end of August, a romantic haze was all that remained of my summer months. The memories lacked the meaning and context I typically assigned to everything—it looked more like a blur of first dates, outfit decisions, tipsy evenings at beer gardens and swanky bars, conversations running the gamut from tepid to fascinating.
Let me assign some context here: I'd handed over the first draft of my new dating and relationship guide book to my editor at the end of January 2017, having sworn off men during the six months it had taken to research and write it. In the two months that followed, I found myself experiencing an "emotional hangover" of sorts, still coming off the high of analyzing others' love lives in great detail. That all changed one unseasonably warm night in early April.
I met Mark* at a friend's birthday party. He was tall, dressed simply, with inky dark hair and the sort of smile that could have fit comfortably in an ad campaign, not just a Midwest Ph.D. program. His voice had a touch of Southern twang, and his humor a touch of quirk; he easily bantered with my friends and asked me about my work.
We went on one marathon date a week later—Mark was the sort of guy I'd been inescapably drawn to throughout much of my teens and early 20s, intent on running from love rather than embracing the inherent vulnerability of relationships. I no longer felt interested in chasing anyone who walled off his heart to commitment in favor of opportunity, but I felt energized by my time with him. I was back, and my thirst for romance suddenly awakened from the chilly winter I'd spent writing about love in hibernation.
Modern dating is a little bit of everything: meeting new men at events or around town, rediscovering old flames with poor timing, swiping on apps, extending your friend circle to see what sparks might lie on the outskirts. Over the course of last summer, I did it all.
I met a real estate broker for drinks but had much more fun meeting my friends tipsy afterward. I went out a couple of times with a sarcastic, interesting law student, but our dates felt more like therapy sessions, still swimming in the immediate aftermath of breakup emotions. I had three decent dates with an "inside sales" guy, which, for whatever reason, were fine but hollow: I could not shake the feeling that he was hiding something.
I briefly dated a pilot who was kind and sincere, even though we had next to nothing in common. Ditto an internal medicine physician, who was thoughtful and driven but who felt more like an old friend than a current flame. Finally, there was the surgeon, with whom I had great chemistry and turned down before beginning to write my book. We talked and talked and met up, and he delayed dating until all his jockeying for the upper hand was just too much for both of us.
My best friend works in finance. We often talk about dating as a process of data collection. Each guy, each date, each piece of information is like a single data point—part of the bigger picture but with limited meaning on its own. The more data you collect, the more people you date, the clearer the picture of your wants and needs become.
But data without analysis is just a pile of numbers. Eventually, all the hustle and bustle and romantic energy had left me listless; my head was still spinning in that haze of clipped memories, laughter, drinks, banter, and emptiness. Lying on the couch one weekend afternoon, I popped open my laptop and an excel spreadsheet, starting from beginning to end. "Mark" was the first name I typed out, followed by 17 more (that I could remember). I placed their ages next to their names, along with their occupations, where I'd met them, and how many dates it had lasted.
Number of dates did not seem indicative of the level of raw connection I felt with each guy, so I suddenly wanted to analyze that, too. I placed a "yes" or "no" next to every name, indicating whether they were looking for commitment; I've noticed men always tell you if they're "so busy" or "just coming off a breakup" rather than if they're in the market for something a bit more serious or "unable to be interested in more than one person at a time." This divided the pool in half. Of the "no" camp, I placed a reason next for the no: "not that into me," "timing," "player," and "meh" were popular answers.
I realized that raw connection needed to be analyzed as well, so I started by giving each guy a score of 1 through 10, but that didn't seem to tell enough of a story. So I scrubbed the numbers and started over again, and each man got three scores: one each for "physical attraction," "personality," and "character" based on my early impressions, conversations, and observations.
At this point, I'd clued my best friend in to my spreadsheet and was detailing these lessons when she insisted we needed to do one more thing. "We need to calculate an overall score," she said, based on the three categories. "We'll see if the final rankings tell you anything."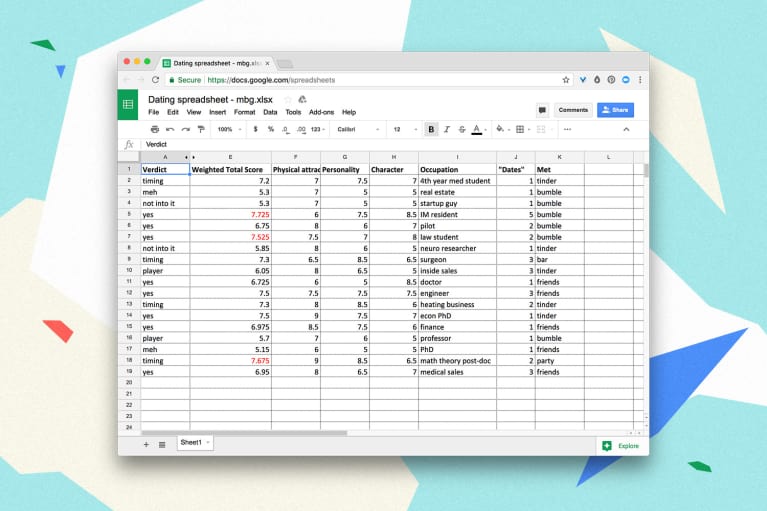 Here's an example of my spreadsheet—with the names blacked out, of course!
My friend did the calculation for a weighted total score, and surprisingly, the numbers, out to three decimal places, seemed appropriate in gauging overall potential. The top three—Mark, the law student, the IM physician—seemed to match what my gut already knew in the process of dating, some cross of security and excitement that would translate to the best matches for me personally.
Dating today is laborious, complex, and full of evaluating "options." You create meaning through personal interpretation, a series of minor trade-offs, where you weigh qualities based on how much you value them, knowing no human being will ever be everything you want. Everyone does this mental analysis: observe a quality, decide how much it matters, put it into context. Some might value physical attraction more, others personality. But only you choose, instinctively. Finding a long-term partner who's right for you is all about taking observational data and mutually making sense of it to a positive end.
The questions arise in that gray area where you wonder if you're compatible, where, you know, maybe it could work! But you've got lingering doubts, things that feel iffy, concerns about the data you've observed, questions about whether you need more of one thing, less of another. No one tells you when enough is enough, when to cut it off or keep going. But usually, deep down, the gut senses something.
For me, none of my top summer men panned out. I ended two because neither felt quite right, and Mark and I mutually decided we had different dating goals. None of them seemed to match another data point, which told a better story.
I'd only ever dated one person I'd felt, in some version of reality, I could have ended up with long-term. Kris was a med student rolling briefly through my city on a rotation. I was a young journalist about to write that dating book, and neither of us was anywhere near the same trajectory. We dated briefly and remained friends.
Oh, but I liked him so much. Kris was European with light brown hair and an athletic build—a more refined version of the all-American guys I liked growing up. He liked wine and playful banter and was smooth in everything he did, from the way he took my hand on our first date to the voice he used when discussing theory. Curious, open-minded, witty, and kind, he lacked a certain sort of self-awareness; if I seemed to crystallize his thoughts, he expanded mine.
He scored slightly (but significantly) above Mark. My gut-felt potential with Kris, a "hmm, maybe," was a sharp distinction from the usual flutters of anxiety or confusion—and perhaps the bar to which I still compared others.
In spending an afternoon quantifying my summer dates, I learned a lot. Timing and intention thwarted a lot of matches early on that could have evolved but didn't, remaining too deep in that intuitive gray area to fully feel like a maybe: Men about to move or working on major job changes, for example, were not appealing to my commitment-oriented sensibilities. Everyone does not date for a relationship, and I need the potential to exist to truly enjoy myself. As such, there wasn't a reason to move forward with several of my summer flames.
Love may or may not be blind, but wishful thinking and wanting—wanting to feel chemistry, wanting a guy to do or be what he says—is a yellow light for me. I'd slow down, remaining detached and a little skeptical, throwing up walls and carrying on anyway. Qualities like kindness, trustworthiness, dependability and honesty matter a ton to me and frequently cause me to hang on longer with men of sterling character, despite a noticeable lack of spark.
It was also easy to be fooled early on: Some chemistry-abundant men proclaimed to have certain qualities of character that did not pan out, ever. Since I'm someone who values easy rapport, mental connection, and consistency, I have to pay close attention to whether words match actions.
Mostly, the analysis only confirmed what I felt in my gut throughout the entire process; the guys in the top were the ones who excited me most for one reason or another, but I didn't spend significant time on them. To me, "excitement" in dating means a genuine openness and desire to move forward and see how it goes, some feeling of potential and the rational belief that a relationship could develop.
My theory? You can trust your gut. Trust the tug in your stomach when something, or someone, doesn't sit quite right. Also trust the quiet, inner whisper that a connection is worth pursuing, if, of course, your prospect's patterns of action match their words about who they are and what they want. Think of it as logic supporting the spark of emotion and guiding force of intuition.
In November, I finally met someone I was genuinely excited about, someone who felt right in my gut, who backed up my perceptions with consistency, honesty, chemistry, and solid reviews from my friends who knew him first.
When I opened my spreadsheet to write this story, for kicks, I decided to plug his numbers into my old categories and get his total score. In the past year, he's the only person who's exceeded my constant, Kris, and by a significant amount at that. It's also the only budding bond in a long time that's felt full of potential and, well, a maybe.
We'll see where it goes, but it's a promising start—and it's one I can trust a little more given all the data I collected this summer and the lessons I learned as a result.
Want more dating tips? These mindful dating apps are exactly what you need to create a conscious relationship.