The Healthy Elixir You Should Sip This Fall, Based On Your Astrology Sign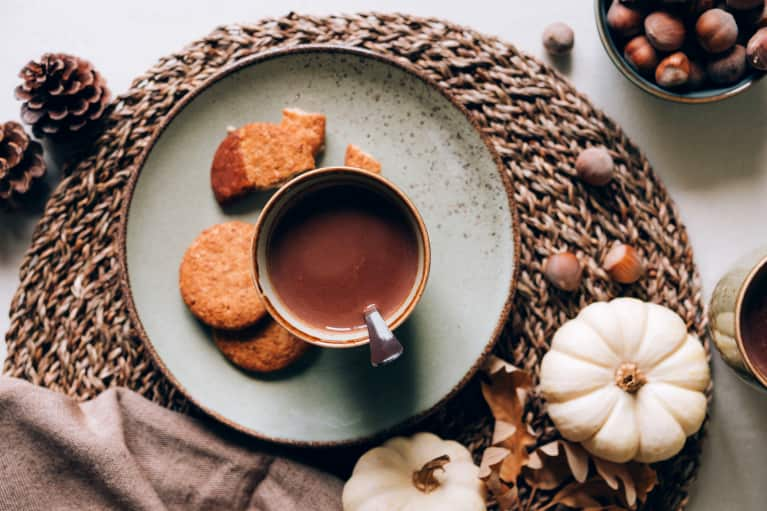 Our editors have independently chosen the products listed on this page. If you purchase something mentioned in this article, we may
earn a small commission
.
Ever wondered whether you were more of a hot toddy or a CBD-spiked chocolate elixir? Our guide to the cozy fall drink that represents you, based on your zodiac sign is finally here, complete with recipes—so get cozy and get sipping!
A hot toddy will serve the more flighty parts of this sign, while the whiskey helps ground down the airy spirit. To make one yourself, just combine a tablespoon of honey, an ounce of bourbon (organic, if possible), and a squeeze of lemon juice in a mug. Top with hot water, stir and enjoy!
Taurus: Pumpkin Spice Latte
You love seasonal change and trends, and a Pumpkin Spice Latte is where the two perfectly converge. Just don't go for the sugar-laden ones you find—making your own refined-sugar-free, fiber-filled Bulletproof one is super easy. Get the full, two-minute recipe here.
Yes, you're the mom of your group—and that's OK. Take your nurturing to the next level by sipping on a warm apple cider—bonus points if you make a big pot and share it with your friends. To make a healthy-ish one, steep cinnamon sticks, nutmeg, and any other spices you love (they're the healthiest part of the drink) in unfiltered apple juice as you simmer gently for 10 minutes, then drink up!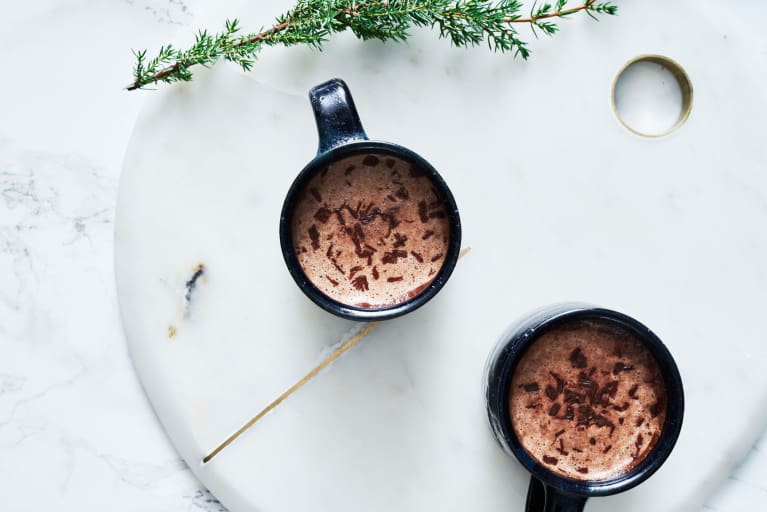 Leo: Mexican Hot Chocolate
A fiery, sweets-loving Leo deserves a fiery take on hot chocolate. To make one, just warm your milk of choice until it's almost boiling, then blend with cacao, cinnamon, a pinch of cayenne, and a bit of maple syrup.
Mulled wine is the perfect drink for this hyper-balanced sign to split the difference between fun and health. Polyphenols and a bit of fall debauchery—who should have to choose? To make it, combine a bottle of red wine (we like the healthier picks from Dry Farms and Thrive Market), 8 whole cloves, 2 cinnamon sticks, 2 star anise, and an orange, cut into slices, in a large pot. Bring just to a simmer, and then cover. Let steep for 15 minutes before helping yourself to a glass!
Sagittarius: Turmeric Latte
The wanderers of the zodiac will feel right at home with this Indian elixir, which has its roots in ayurvedic medicine (bonus points if you embrace your love of novel experiences and spice it up with some cardamom, orange blossom, or another exotic spice). Here's an easy recipe to get you started.
Capricorn: Mushroom Tonic
Fall is the perfect time to embrace your grounded side, and the myriad health benefits of mushrooms should appeal to your pragmatism. Go for a readymade version from a company like Four Sigmatic (their reishi hot chocolate is aces), or whip up your own version with this functional doctor-designed recipe.
Aquarius: CBD Hot Chocolate
Ah, tea—one of the best superfoods around, although often overlooked (sound familiar?). Take a second and sit with a warm cup of this calming beverage, letting it seep into your gentle soul. (Don't like chamomile? Use your well-honed powers of intuition to home in on the perfect herbal tea for you.)