Want To Help Save The Climate? Tell More Stories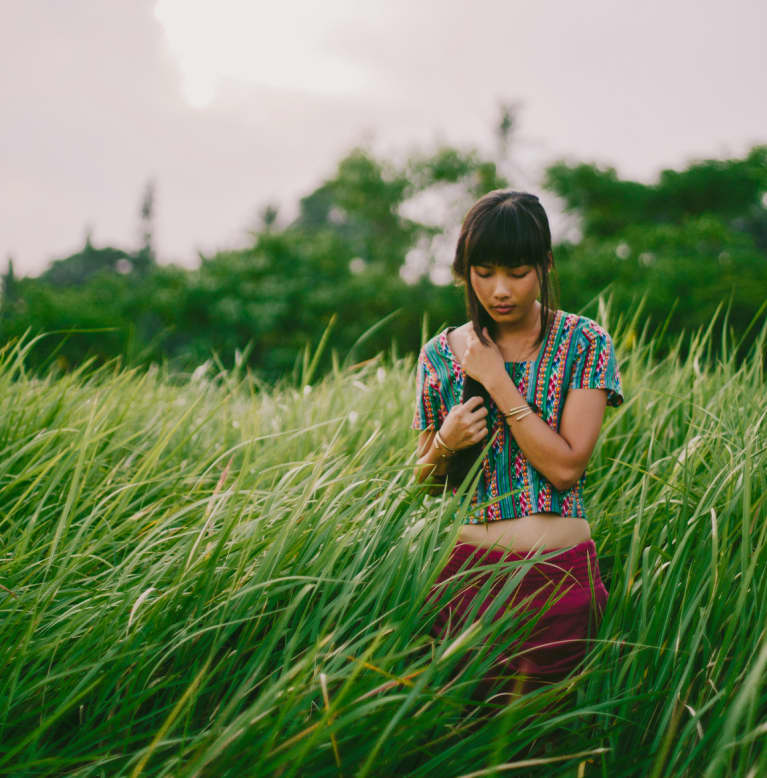 Last week, An Inconvenient Sequel picked up where An Inconvenient Truth left off and reminded us that we still have a long way to go in the fight against climate change. Here, a graduate of Al Gore's Climate Reality Project shares her perspective on why we may be approaching the issue all wrong and gives voice to the next generation of activists.
If caring about climate change and the future of the planet was dependent upon facts and figures, I would have never begun my advocacy work. In fact, reading my AP environmental science textbook during high school put me to sleep on multiple occasions.
My environmental career only began when I started gardening. When my hands are in the dirt, harvesting the food that will soon be in my belly, listening to the sounds of birds and the wind, I can feel a true sense of connection to the natural world—something that is rare in the loud, urban jungle of Chicago. It's my way to slow the mind and tune into the rhythms of the earth.
I began gardening during my first year of college, when I took an internship at my undergraduate university's urban garden to connect with like-minded folks who cared about sustainability and food justice. The internship was curated by the UIC Latino Cultural Center, and some of my first friends there were undocumented students. I spent the summer planting Monarch butterfly habitats and picking tiny chamomile flowers to dry for tea while listening to them recount their experiences waiting in line at 4:30 a.m. to get their DACA papers processed, only to be turned away at the end of the day. I was moved by their stories of working three jobs to pay off their tuition, not always sure if they would be able to afford another semester.
Storytelling was an essential part of the internship, and it was through these stories that I began to understand my friends' unique cultures and experiences, as well as my own.
That's the moment I realized that environmental sustainability is intimately connected to issues of social justice. The internship used the Monarch to symbolize the connection between environmental sustainability and social justice, as the butterfly represents the freedom to migrate over man-made borders. It's also a creature whose populations have dropped 80 percent below the historic average in the past 20 years. My eyes opened to the reality that no issue exists in isolation, and that if I wanted to see a real change happen in our world, I needed to step out of the garden and engage politically.
I did my best to learn about my privilege in the world and became an ally with my school's Fearless Undocumented Alliance, worked on local political campaigns, and started using my writing to connect the dots between environmental sustainability, social justice, and health.
Before MacBooks and real books contained our histories, oral stories were the only technology available for transmitting and preserving the entire histories of cultures and civilizations.
The following summer, I interned with my school's office of sustainability, where I watched my first presentation from a Climate Reality Leader and finally gained a holistic understanding of climate change—and embraced those facts and figures I mentioned earlier. As a young person fearful about my future, it gave me the utmost confidence that advocating for a healthy, socially just planet was central to my purpose as a human.
That's my story.
Before MacBooks and real books contained our histories, oral stories were the only technology available for transmitting and preserving the entire histories of cultures and civilizations. And audiences weren't just listening passively, eyes glazed over. The historian and philosopher Walter Ong theorized that oral stories were heavily musical and embellished with rhythmic performances, which triggered emotional reactions. Storytelling was meant to be an incredibly pleasurable, emotional experience that listeners could engage with and remember. This all makes sense when put in the perspective of modern neuroscience, as the amygdala, the emotional center of the brain, releases dopamine whenever an emotionally charged event happens. And dopamine aids memory and information processing.
As humans, we are creatures wired for empathy, regardless of political stance.
The entire human body is primed to care more about stories than facts. Of course, facts and science have their place and are crucial. But when it comes to actually changing minds and communicating the importance of the climate movement, focusing on how we communicate and tell our stories is key for connecting with others and sharing our message in a compelling way.
As modern-day humans, we want images, sound, and movement. Storytelling, as demonstrated in An Inconvenient Sequel: Truth to Power, which presents a mix of factual information and firsthand stories, can be the best way to trigger action. As humans, we are creatures wired for empathy, regardless of political stance.
I believe that we all seek meaning, purpose, and a sense that we are connected to something larger than our immediate communities. The job of a storyteller is to help others understand that climate is not a bipartisan issue. It is about our common existence and our home. At the core of the climate movement is interconnectedness, and it is our job as storytellers to remind people of that basic truth.
Eager for more stories from those on the ground fighting climate change? Check out how one activist made his unique case for change in a trash suit, and another gave up trash for years for the sake of the planet.