What Does Wellness Mean Today? 12 revitalize Attendees Share Their Answers
Contributing Wellness & Beauty Editor
By Lindsay Kellner
Contributing Wellness & Beauty Editor
Lindsay is a freelance writer and certified yoga instructor based in Brooklyn, NY. She holds a journalism and psychology degree from New York University. Kellner is the co-author of "The Spirit Almanac: A Modern Guide to Ancient Self Care," with mbg Sustainability Editor Emma Loewe.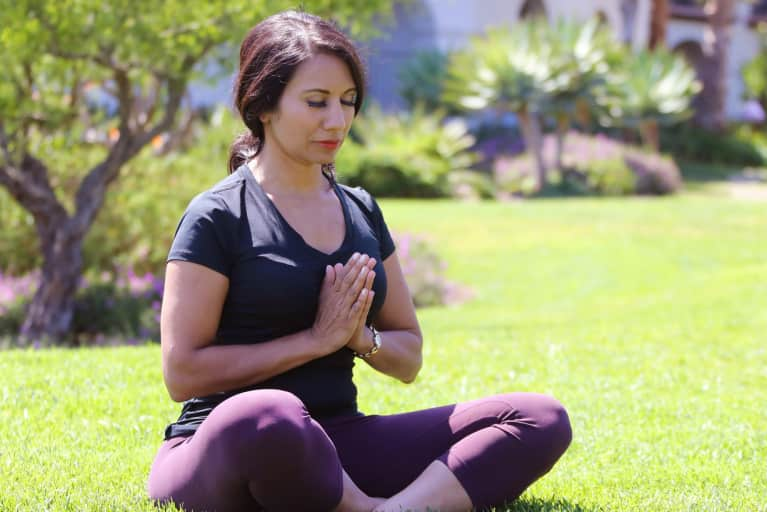 In 2017, wellness has become a buzzword—it's gone from fringe to mainstream in the last few years and now is used so often that its meaning is versatile, evolving, and often quite personal.
After speaking to a handful of attendees from our annual revitalize summit at the Ritz-Carlton, Dove Mountain, in Tucson, Arizona, we got a sense of what wellness means to our community. Almost every person answered my question—what does wellness mean to you, today?—by explaining how they are able to meet their own needs, whether it's a workout, alone time, or self-care. Ultimately, wellness is the ability to listen to one's own body and mind, understand your own needs, and take the actions to meet them.
Here's how people in the industry are defining wellness today:
1. Amanda Chantal Bacon, founder of Moon Juice.
"Wellness to me right now and for the last little bit has been giving myself the permission to take time to take care of myself and to be by myself and to not have to feel guilty for not participating and responding to all of the demands all of the time. And to really give myself space and freedom to be with myself and my family." —Amanda Chantal Bacon
2. Neil Grimmer, founder of Habit.
"I think wellness is a feeling: when you just feel activated in all aspects of your body and your mind when things are lined up and they're harmonized, and you just feel unstoppable." — Neil Grimmer
3. Ashley Neese, breathwork teacher, spiritual counselor, and meditation guide.
"Wellness means the willingness to trust myself, to follow my instincts even when it's inconvenient, even when it's uncomfortable, even when I feel like it's uncomfortable. It really means trusting myself, listening to myself, and slowing down long enough to really get a clear picture of what's next." —Ashley Neese
4. Hill Harper, actor, philanthropist, and cancer survivor.
"For me, wellness has evolved into something that's all about what I call well factors. And what I mean by well factors is what makes you truly feel 'well-thy' not in terms of money but in terms of the richness of your life. And for me No. 1 on that list is health. Because in 2010 I was diagnosed with cancer, and it made me realize I had to do a complete shift. Unless I have health—it doesn't matter what I have going on anywhere else, health is No. 1. That's it. That's what being well is. And then, the other 'well factors' have added amazing things to my life like my son, my career, and the books I've written and the people I get to meet and the different things. That at the end of the day, unless I'm healthy and can pain-free participate and be able to do these things, none of it means anything. One quote that I'll say and always sticks with me is—before Steve Jobs passed away, he would trade in the iPhone, the billions, everything he's ever invented to see his daughter graduate high school. And if that doesn't resonate—someone who's actually impacted the way the world moves with technology—if you're not here with us, you're not well." —Hill Harper
5. Kara Benz, Bullet Journal enthusiast.
"For me, wellness right now it's all about balance. It's all about the mind-body-spirit connection and that's what I'm focusing on right now, which is why I'm here, and I love it." —Kara Benz
6. Jessa Blades, herbalist and natural beauty expert.
"Checking in with myself and learning to ground down wherever I am, even if it's in the desert in Arizona, to find a little bit of dirt and put my feet in it and just remember that, that will remind me to breathe." —Jessa Blades
7. Krista Stryker, personal trainer.
"Feeling good in your own body. Feeling strong in your body and mind, and that they're in sync with one another." —Krista Stryker
8. Alison Canavan, author and parenting expert.
"Wellness to me means peace of mind and heart. That's what we're always striving for, and it really means spending time and being present. I spent a bit of time in LA this week, and I spent time listening to myself and just to be present. And we're standing right beside gratitude journals. Gratitude has been my recovery from postnatal depression; gratitude has been a key part of my life. I wake up every day and write in my gratitude journal; I have done it for six years, so I have piles of them at home, and I wouldn't start my day any other way. But real wellness for me means looking at the full 360. Really connecting the dots of your health and well-being for ourselves and understanding what we like and what works for us because we're all so different. So understand that it's a personal journey and being comfortable in your own skin. Being OK with saying, this is what works for me; this is what I like doing." —Alison Canavan
9. Biet Simkin, meditation guide.
"I think of wellness as a philosophy rather than a health thing; it's a holistic food for every part of yourself including food for the soul. So for me wellness includes art, philosophy, painting, poetry, science—these things are part of wellness as well. And unless these things are incorporated—sitting around being vegan isn't the whole picture. You also need to know that your soul needs food." —Biet Simkin
10. Will Cole, functional medicine expert.
"Wellness is an idea of total optimal function. And not just physical health. Someone can have physical health and their labs look great, but they are stressed out, and they are isolated, and they aren't living a full life. But it's just a total optimal function." —Will Cole, D.C.
11. Shauna Harrison, fitness instructor.
"Right now it means getting a lot of sleep (I've been traveling a lot), making sure that I take care of everything that needs to be taken care of." —Shauna Harrison
12. Dr. Taz, medical doctor whose practice embodies the coveted "East meets West" approach.
"Wellness is happiness. It's being around light, clean air, great food, having a chance to nourish my spirit and myself so that I'm fueled to do everything else that I want to do." —Dr. Taz