10 Things A Doula Actually Does At A Birth
mbg Contributor
By Natalia Hailes
mbg Contributor
Natalia Hailes is a DONA International certified Birth Doula and reproductive health educator. She is the author of the upcoming book, Why Did No One Tell Me This? The Doulas' Honest Guide For Expectant Parents.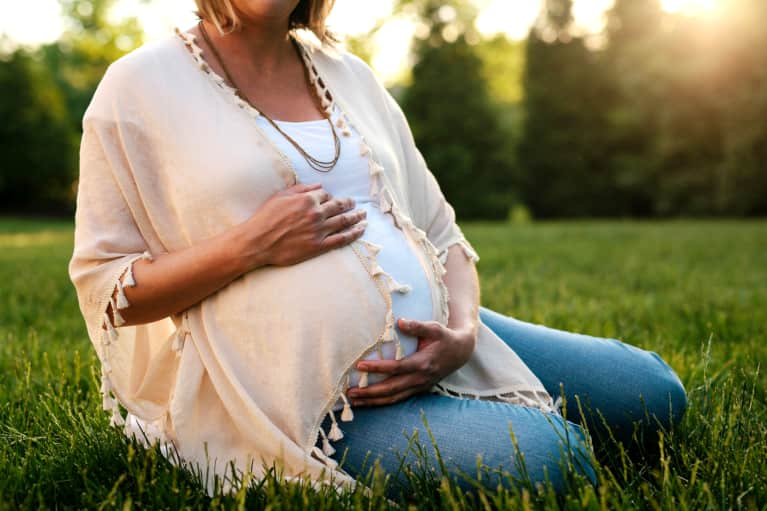 As doulas we're often asked what we do and why we think people should hire us. There are lots of pieces to consider when deciding if you want to work with a doula, including your budget, how your partner feels about it (if you're partnered), who's part of your birth team, and how much support and education you already have. Figuring out the details of your childbirth is a big personal decision and one that can only be made by you. But there's also a lot of confusion and misinformation out there, so here are 10 things that doulas do (and don't do) that might help you make a more informed choice:
1. Educate you and yours on the birth experience.
One of the biggest goals of our doula work is to help you get informed and educated. Most of us find ourselves pregnant knowing very little about the physiological aspects of childbirth and the current birthing practices. And once you're there, it can be quite overwhelming to find reliable information and ways to feel prepared for all the things that can come up during pregnancy, labor, and the postpartum period. We strive to have lots of information available to you and are always happy to share resources, talk things through, and tell you what we know based on our experience. We're never giving you medical advice—that's what your provider is for!—but can help you figure out what questions to ask them and are more than happy to be a resource and a way for you to get out of the Google loop and have accessible and evidenced-based information that can help you make decisions along the way.
2. Support you emotionally.
Pregnancy, childbirth, and parenting can be wild—it's a time when we all need as much emotional support as we can get. Even as a doula, now that I'm pregnant, I've really appreciated being able to talk to my doula friends and rely on my support system when I've felt like I am losing my mind. Most doulas make themselves available to you so you can call them or write to them whenever you need to talk things through. We're good listeners and will meet you where you are without bringing our baggage along. We let you ask us questions, we hug you when you need to cry, and we take a step back when you need space. We're there for you and your family and make sure you feel supported and heard.
3. Ease physical tension and pain.
Prenatally we can help you find ways to take good care of your body, find exercises that feel good for you, and recommend stretches and positions that have the potential to facilitate labor. Once contractions get going and you need more support, we come running and are there for you until the end. We will squeeze your hips if that feels good during a contraction. We will remind you to breathe through the pain and the discomfort. We will place our hands gently on your shoulders to help you let go of the tension. We will massage your feet and your back if that helps you get through a contraction. We will help you walk around and dance as your baby makes its way earthside. We will find ways to make you comfortable if you have an epidural and you can't get out of bed. We will help you find your strength as you push your baby out and hold on tight to you your hand.
We're honored to be welcomed into your family and come without expectations of how your birth should go or what decisions you should make. We trust that you'll always know what's best for you and your baby. We know your intuition is right on and don't push for things to go one way or the other. Because there is no right way, there is only YOUR way—we're just there to make sure you find your path.
5. Normalize the birth experience.
Most people only know about birth from TV and what it's shown to us is usually far from what actually happens when people give birth. Doulas have seen birth many times and in many different forms and scenarios. We can help you understand what's normal and what isn't. When you feel scared because you're bleeding during labor, we will remind you that bloody show is a sign of progress and a way for us to know your body is doing exactly what it's supposed to. If you feel nauseous, we will encourage you to puke and remind you that vomit is normal during labor. And if something doesn't seem right, we will make sure to let you know so you can talk to your provider and feel safe.
6. Facilitate communication with your care provider.
We're not allowed to speak on your behalf, but we make sure you understand what your rights are and help you develop the best strategies to communicate with your care provider and the hospital staff (if that's part of your plan). We want to make sure you feel heard and are an active participant in every decision that is made along the way.
7. Let your partner be present.
If you have a partner, we understand that they are going to be your main support and we make sure to not get in the way of that! We're there to help them be there for you while feeling supported, be able to take breaks if they need to, and help take the pressure off so they can enjoy the birthday party! We also help them get educated so they know what to expect and can speak on your behalf if needed.
8. Provide breastfeeding support.
If you're planning to breastfeed, we help you get a good sense of what to expect and how to prepare. Lots of doulas are lactation counselors or lactation consultants and can help you get breastfeeding started on the right path or help you troubleshoot if some things are not working and need to be adjusted. And since we have a big network of colleagues and resources, we make sure you get the right support if something is outside of our expertise.
Your doula will help you understand what to expect in the fourth trimester. This includes how your body might feel and how to best take care of yourself after birth, how to care for the little one, and how to learn to read their cues and start to understand their needs. A doula will come see you postpartum and will answer the questions you have. We will make you a warm meal or hold the baby while you take a shower or a nap. We will love you and your family up to make sure you're still feeling supported as the crazy new life begins.
A doula will always have your back and be on your side, both while working together and afterward as your little one grows older. We're there to help you feel good and hold you if you're sad or going through a hard time. We will pick up the phone when you call us and make sure you build a good support system for yourself. We're there to help you find YOUR way!