I'm A TV Show Host & Mother of Two: Here's What I Eat In A Day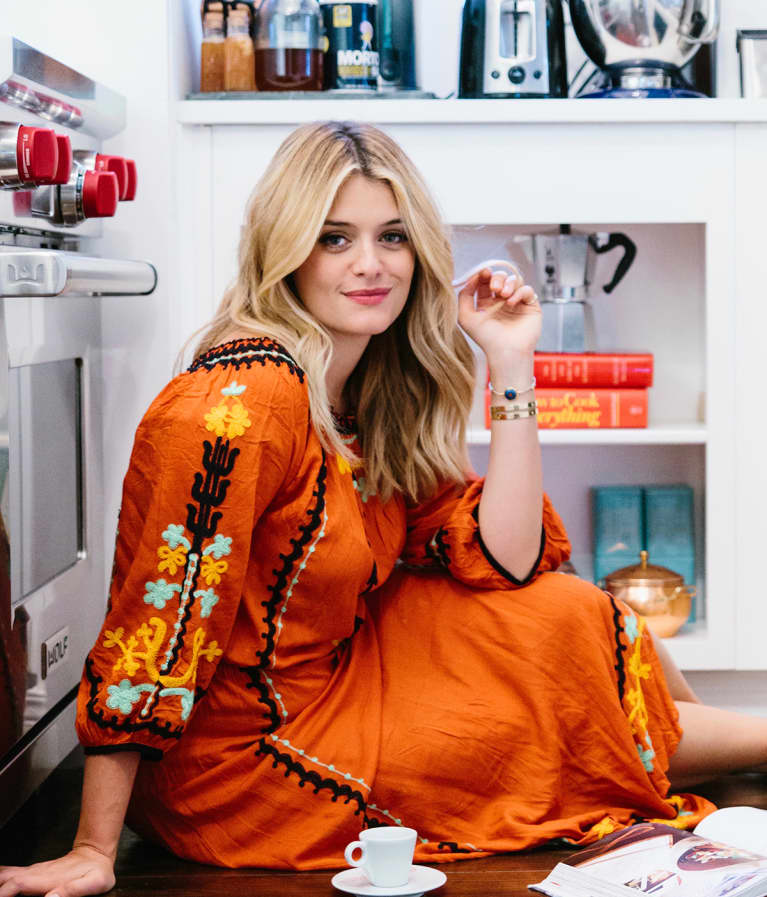 Our editors have independently chosen the products listed on this page. If you purchase something mentioned in this article, we may
earn a small commission
.
I realized early on that healthy eating only works for me if it is also delicious. I lost 40 pounds as a freshman in college and wrote about the healthy lifestyle plan I created to do that in my first book, The Dorm Room Diet. No deprivation. No strict rules. No counting calories. My brain just doesn't work like that, and it definitely doesn't work like that when faced with the bounty of farmers markets, a glorious bakery tempting me with carby wonders, or pretty much any food adventure where my mouth will get to wander and explore the tempting terrain of new flavors and specialty dishes.
Most days, I head in for hair and makeup around 6 a.m. and then cook and talk about food on TV for a few hours, snacking and sampling my way through some truly magnificent meals (perks of working with a couple of iron chefs). On these days, I try to stick with my two-bite rule: the first bite lets me sample all the magic that is going on. The second lets me truly indulge and savor. I remind myself that anything beyond that second bite is probably going to taste the same, so I can make a conscious decision of whether to keep going or not. I also try to set myself up for success by eating a hard-boiled egg or a handful of raw almonds or an apple before I go on set so I'm not ravenous.
When it comes to cooking at home, that's when I fully have control over what I am eating. Since I eat a decent amount of animal protein on the job, I tend to make our meals at home pretty veggie- and vegetable-protein-heavy with some fish and chicken thrown in a couple of nights a week. The below is what I ate when I got to be home with my kids, a 3-year-old and 1½-year-old, last Friday.
6 a.m.: Yogurt with Strawberries and Low-Sugar Granola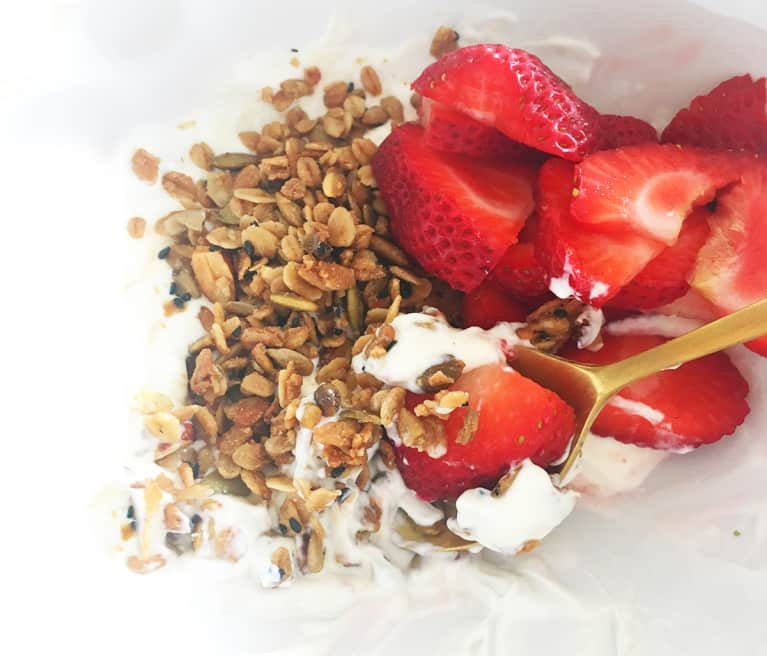 John Jr. is usually up sometime between 5:30 and 6—brutal! We play for a bit, and then sit down to breakfast. While he starts on his bananas and Nutzo butter, I grab a bowl of organic strained whole-milk yogurt with some strawberries and a sprinkle of low-sugar granola (I have a couple of options in The Happy Cook). John polishes off a good bit of my yogurt, so we make another bowl to share. I answer some emails when I can. At 7:30, Philomena gets up and has her favorite "honeybee" oatmeal—which is just oatmeal with some butter or coconut oil, honey, and a splash of milk. I find my kids are much more likely to eat foods (even healthy ones) with fun names, so we have a lot of "Green Monster" pasta and "Dragon Berry" bowls in this house. John eats some of his sister's breakfast, too.
9 a.m.: An Americano, Croissant, and Some Egg Salad Sandwich Filling
John and I walk Philo to school and then make a pit stop at my favorite coffee place for an Americano with a splash of cream and croissant for us to share. I normally reserve ultra-buttery French pastries for weekends, but hey, it's Friday. I also grab an egg salad sandwich and we gobble up the insides but decide to toss the bread to the birds when we head to the park to wait for Philomena to finish school. At 11, we pick Philo up from school and, since Mother's Day is Sunday, head to the local florist and buy a few favorites for me and for my mother-in-law, who is arriving later today.
Noon: Lentils with Fennel, Radishes, and Halloumi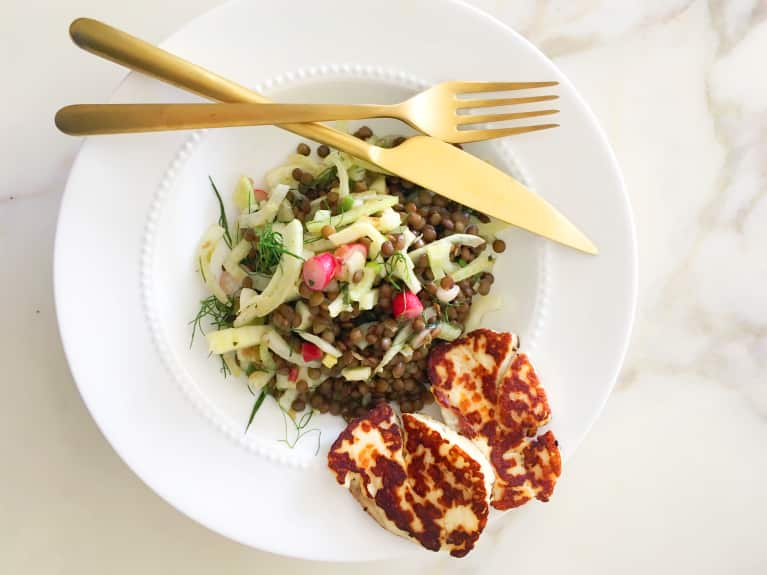 I make a big batch of lentils and toss them together with sliced fennel, radishes, olive oil, red wine vinegar, honey, salt, and pepper. Then I sear some halloumi cheese. Lunch is served! My kids will actually eat all of these components separately but not mixed, so I leave their salad uncomposed and they get extra cheese. Fresh cherries for dessert! So happy these are finally back in season!
1 p.m.: Spiced Fig Energy Bar
It's NAPTIME (insert praise hands emoji!)!!! I answer emails, work on my next book, and make some phone calls. Debate going to sleep myself. Not today…: (I love a filling but quick snack while I work and I have some of the new potential KIND bar flavors in my bag from our press day earlier in the week—Spiced Fig is my favorite! I'm a sucker for pistachios. (Not trying to influence your vote, but if I were, I would tell you that you should definitely go vote for Spiced Fig.
4 p.m.: Kale Chips and Popcorn
When the kids wake up from their naps, Philo insists on making her favorite afternoon snack: kale chips and popcorn (she's definitely salty!). We settle for just popcorn, with melted butter (or coconut oil), salt, and nutritional yeast—loaded with B vitamins and protein, and kind of tastes like cheese. Try it: All other popcorn will taste totally naked!
6 p.m.: Spaghetti Squash Cacio e Pepe (and Chocolate Chip Cookies)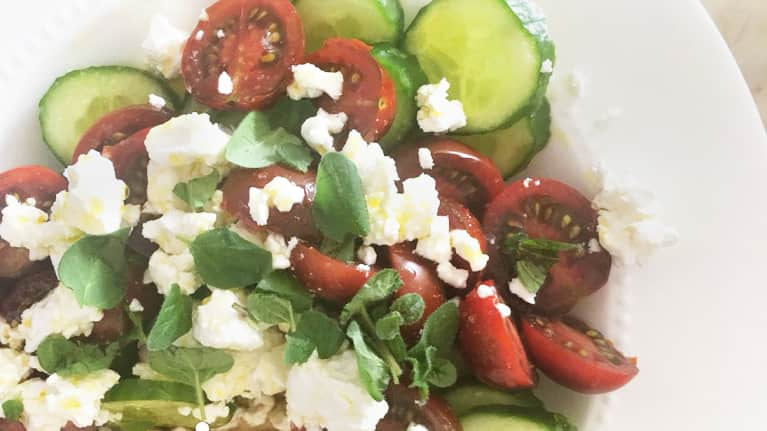 Dinner for the kids: leftover chicken cutlets with steamed broccoli and brown rice sauteed with a little onion and soy sauce. We are also a big condiment family, and my kids love ketchup and barbecue sauce. I throw two spaghetti squash in the oven to roast for an hour. At 8, my hubby finally gets home! We think about ordering in, but since I have the squash hot out of the oven (just a slick of olive oil and some garlic salt, roast them cut side down until flesh is tender and pulls away from the skin easily to shred with a fork), I make us the spaghetti squash cacio e pepe from The Happy Cook and throw a fried egg on top as a runny-yolk bonus. We love Persian cucumbers, so I chop a bunch together with some ripe cherry tomatoes, feta cheese, and fresh mint, parsley, and oregano with olive oil, lemon juice, salt, and pepper for a quick side salad over arugula. And because my husband knows me so well, he has brought my favorite chocolate chip cookies home with him, so dessert is a no-brainer. A few hours later, it's finally time for sweet, sweet sleep. I am always so happy to see my pillow. Goodnight, beauties!