What Netflix's "Cheer" Can Teach Us About Brain Health, From A Neurologist
mbg Editorial Assistant
By Abby Moore
mbg Editorial Assistant
Abby Moore is an Editorial Assistant at mindbodygreen. She earned a B.A. in Journalism from The University of Texas at Austin and has previously written for Tribeza magazine.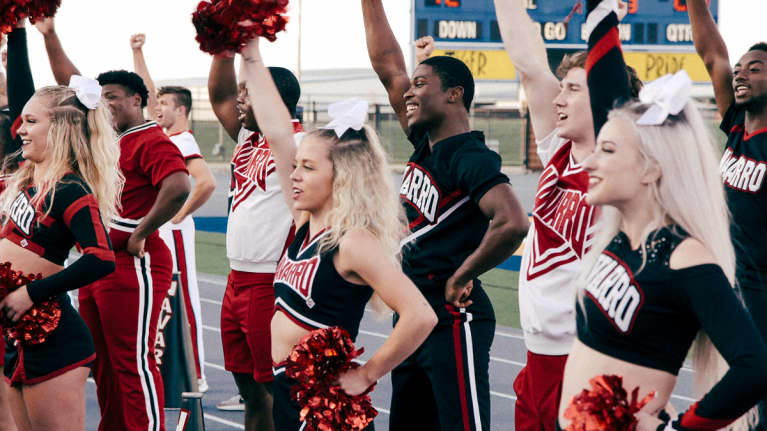 The question of whether cheerleading can be considered a sport is (hopefully) no longer up for debate, thanks to the Netflix docuseries Cheer. The athleticism of the Navarro College cheer team, refined by their no-nonsense coach Monica Aldama, is demonstrated in the team's outrageous stunts, pyramids, and tumbling. While impressive, the athletes are also vulnerable to serious injuries and are often encouraged to "push through" the pain.
After watching, we were curious: How dangerous is it to ignore the symptoms of concussions, and how can we better protect our brains—cheerleader or not? Neurologist and medical director at Abbott diagnostics Beth McQuiston, M.D., R.D., gave us some insight.
Who is at the highest risk of concussion?
Aside from the extreme athletes represented in Cheer, women in general experience a higher rate of concussions and post-concussion syndrome, which can persist for up to three months and occurs in every 10 to 15% of people.
"One of the misconceptions about concussions is that women really aren't at risk of getting them," McQuiston told us, "but that couldn't be farther from the truth."
In terms of sports, women actually have a higher risk of becoming concussed than their male counterparts—particularly in soccer, lacrosse, and field hockey. But even outside of sports, women are at a higher risk for these three reasons:
Their brains are wired differently. Women may have more connections (or axons) in the brain, but they're smaller than men's, which naturally predisposes them to more concussions.
Certain phases of the menstrual cycle related to progesterone make women more susceptible.
Women tend to be built physically differently than men and often have less neck musculature, which can protect the head and the brain.
Unfortunately, she said, "women don't realize they're at risk of concussions and will usually push through without monitoring or seeking out treatment." But being aware of the symptoms can help prevent future injuries since you're most susceptible to reinjury 10 to 14 days after the first concussion.
"The best time to educate yourself is before the concussion, not after," McQuiston said.
What are the signs and symptoms of concussions?
Increased headache
Nausea and vomiting
Dizziness
Clumsiness
Stunned appearance
Coordination or balance issues
Blurred or double vision
Light or noise sensitivity
Memory and concentration problems
Irregular sleeping patterns
Irritability or other abnormal personality changes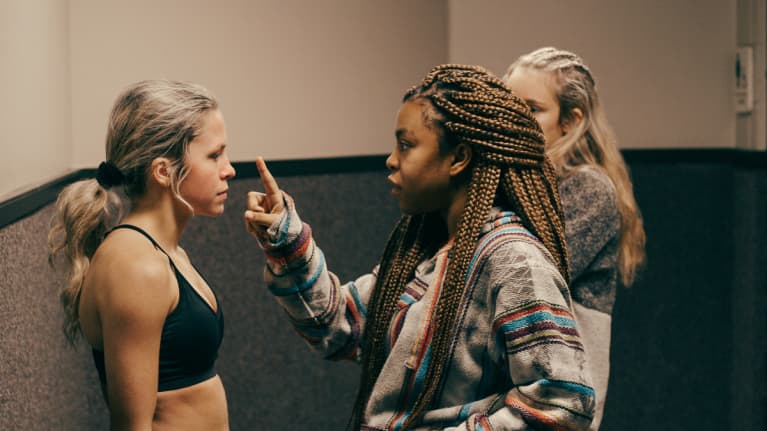 Since these symptoms will vary among individuals, McQuiston recommends visiting a clinician and following an individualized care plan to treat any head injuries.
How can we reduce the risk of concussions in everyday life?
"In the U.S., at least 4.8 million people are evaluated for concussions in emergency rooms," McQuiston said, "but the true number of concussions sustained is probably much higher."
To lower these rates, she recommends using hand railings on stairs, getting a good night's sleep, taping down rugs or getting rid of anything you could potentially trip over, and staying hydrated—since dehydration can lead to balance problems.
"All of these things can absolutely be life-changing for anyone," she told us, "because the best injury is the one you don't have."
So if until now, you've been "mat-talking" yourself through potential head injuries, stop and consult a doctor. To supplement a prescribed treatment plan, an M.D. recommends these five ways to reduce lingering brain inflammation.