An Environmentalist's Guide To The Midterm Elections
mbg Sustainability Editor
By Emma Loewe
mbg Sustainability Editor
Emma Loewe is the Sustainability Editor at mindbodygreen and the author of "The Spirit Almanac: A Modern Guide To Ancient Self Care."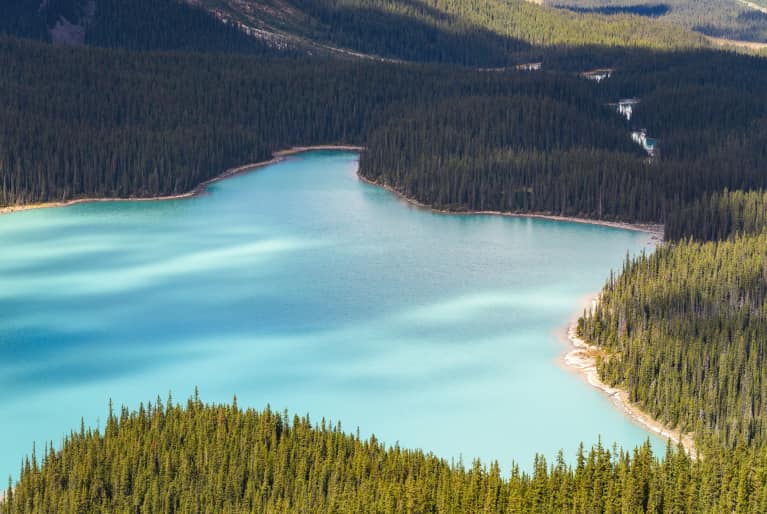 On Tuesday, November 6, Americans will head out to the polls to decide on 435 House seats, 35 Senate seats, and plenty of local measures. (This is a good time to make sure: You're voting, right?) It's already shaping up to be a historic race across many categories—including the environment.
The New York Times reports that a record two-dozen-plus political ads this season have highlighted candidates' stances on matters related to climate change, across both parties. It's about time. We're coming off a year plagued by extreme weather events from Florida to California and ominous projections on the future of our planet. (Have you heard? We've lost nearly two-thirds of animal populations since 1970, and the United Nations is saying that if things don't change within the next 12 years, there are some major agricultural and economic problems coming our way.)
No matter where you fall on the political spectrum, it's hard to deny that crazy weather patterns, dying animals, and apocalyptic food shortages are things we want to avoid. So if climate change reform is something you care about, here are some resources to help you see where your candidates stand on it:
Created by the Outdoor Industry Association, this tool shows you how some of your elected officials have previously voted on outdoor recreation and preservation of public lands. Type in your ZIP code, see what your candidates have been graded based on past performance, and learn a little bit about the bills that have come across their desks.
2.
Vote Climate US PAC Voter's Guide.
This guide breaks things down state by state, listing House and Senate candidates based on what they've pledged to do to combat climate change. It provides less detail than Vote the Outdoors, but it's more comprehensive with the candidates it covers, presenting information about both incumbents and challengers.
This user-friendly database from theSkimm provides background on everything you'll see on your ballot. Though it's not explicitly tied to environmental issues, it's a nice primer on some of the issues at stake in your state.
What other races should I keep an eye on if I care about the environment?
For the first time, Patagonia—the outdoor brand that made quite the political statement this year—is endorsing Senate candidates in races that are important for the future of outdoor recreation. "[Patagonia] is endorsing candidates for the first time this year because of the urgent and unprecedented threats to our public lands and waters," the company said in a statement. "Nevada and Montana are two states where Patagonia has significant company history and a long record of conservation accomplishments, and where the stakes are too high to stay silent." In Montana, the company is backing Jon Tester—an incumbent who wants to expand the state's protected wilderness areas by close to 80,000 acres.
The other Patagonia candidate, Jacky Rosen, is a strong supporter of the clean energy sector and is fighting the Trump administration to keep Yucca Mountain, considered sacred by native tribes, from becoming a dumping site for nuclear waste.
Voters in Washington state will be deciding on a potentially precedent-setting bill that would tax companies $15 for every ton of carbon dioxide they emit. If passed, Washington would become the first state to provide such economic incentives for reducing emissions.
New Mexico is another key battleground to watch, but probably not for the race you'd expect. There's a lot at stake in the battle to become the next state land commissioner. "The New Mexico land commissioner is the most powerful land manager in the country," Demis Foster, executive director of Conservation Voters New Mexico, tells the New York Times. "They oversee more lands like this than anywhere else, and we have the largest methane cloud possibly on Earth." The chemical cloud she's referring to is oil and gas leaks, and it's so big that you can see it from space. The Democrat running, Stephanie Garcia Richard, has vowed to crack down on these leaks, which have happened under Republican Patrick Lyons' watch.
Which candidates don't believe in climate change?
Quite a few. This "Dirty Dozen" list from the League of Conservation Voters spells out which ones are currently running for Senate and the House.
What else can I do to prep for Tuesday?
First, read up on your ballot. Then, head over to EarthJustice for information on last-minute details like polling hours. If you're still not sure where you're supposed to go to cast your vote, this polling locator will tell you. Certain cities are offering transportation perks to help get you there safely (Calling all New Yorkers: Citi Bikes will be free!), and Uber and Lyft will be offering discounted rides across the country.
Any tips for calming pre-election nerves?
Elections are stressful, especially in a country as divided as ours is right now. Barbara Bizou, an author and ritual expert, says that the first step in diffusing nervous energy is coming back to your breath. Once you do that, she recommends choosing one intention you have for the election—say, having lots of new voters turn out—and repeating that intention out loud to yourself to put some positivity out there before moving on with your day. Here's another guided meditation that can help you release negativity and become more resilient on Tuesday.
And with that, you're ready to conquer the polls for the sake of our planet.