What A Psychiatrist Eats For Breakfast For Optimal Mental Health
Holistic and Integrative Psychiatrist
By Aparna Iyer, M.D.
Holistic and Integrative Psychiatrist
Aparna Iyer, M.D. is a holistic and integrative board-certified psychiatrist in Frisco, Texas. She studied at St. George's University and completed her residency at Albany Medical College.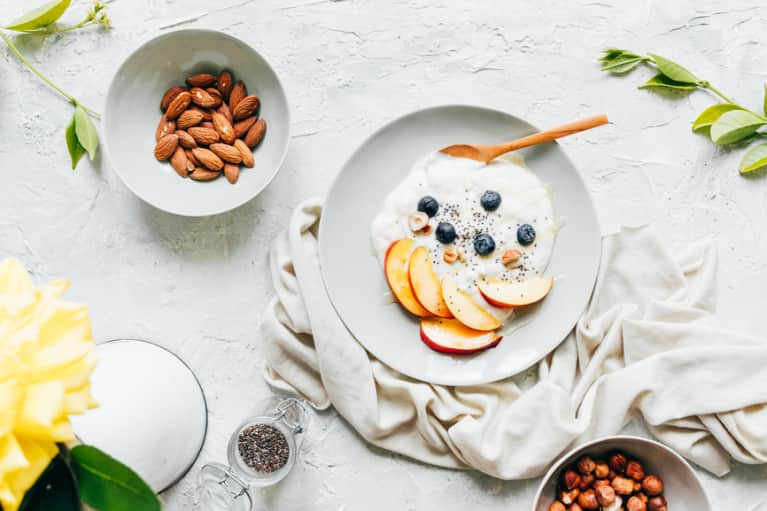 Breakfast has long been hailed as the meal that will start your day off right, with the best breakfasts energizing you and leave you feeling physically set to take on your day. But being a psychiatrist, I tend to view things through a mental health lens: Did you know that the right kind of breakfast can also help to start off the day with the healthiest possible mood and mindset?
My breakfast changes each day, but generally it consists of a few different variations of three staple meals. I try to plan out my breakfasts at the beginning of the month so that I can grocery shop efficiently. I also try my best to buy local and organic whenever possible. And although I love pastries as much as the next person, I make a concerted effort to avoid anything with refined sugar—especially in the mornings.
I am often asked about the benefits and risks of coffee for mental health. And my answer is that, although there's a lot of data on the benefits of moderate coffee intake, I try to save my cup of coffee for my midmorning lull since I find it to be too jarring for me first thing in the morning. Instead, I prefer to drink water along with breakfast to keep myself as hydrated as possible. These are my three meals, through which I rotate throughout the week:
Breakfast 1: Oatmeal and fresh berries.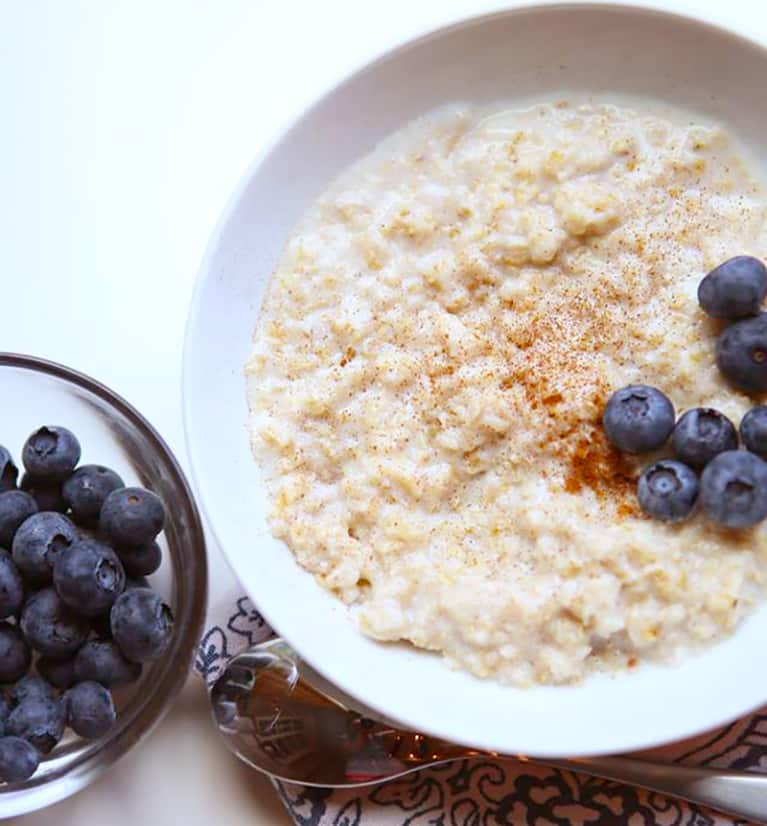 I cook oatmeal in almond milk, add a dash of cinnamon, and top it with a handful of organic blueberries.
Why this meal works: If it's going to be a late night, I'll make overnight oats instead (to minimize my morning cooking), but oatmeal of some kind is a must for me. I've been eating a combination of oatmeal and blueberries since I learned how beneficial they are for cardiac health. In addition to adding a subtle and sweet flavor, cinnamon also has blood-glucose-stabilizing properties. Blueberries are part of the MIND diet, which helps protect against Alzheimer's disease.
Breakfast 2: Green smoothie.
My green smoothie breakfast typically consists of a coconut-water base, spinach, Greek yogurt, half a banana, nuts, and strawberries.
Why this meal works: In the past, it was mind-boggling to me that anyone would consider a drink a real meal replacement. But I've found that this smoothie has just enough of the right elements to keep me full and energized enough to start my day! Spinach (and other green leafy vegetables), nuts, and strawberries are staples in the Mediterranean diet, which is beneficial for both mental and cardiac health. The Greek yogurt adds more protein and makes it a little smoother and more refreshing.
Breakfast 3: Omelet with superfoods.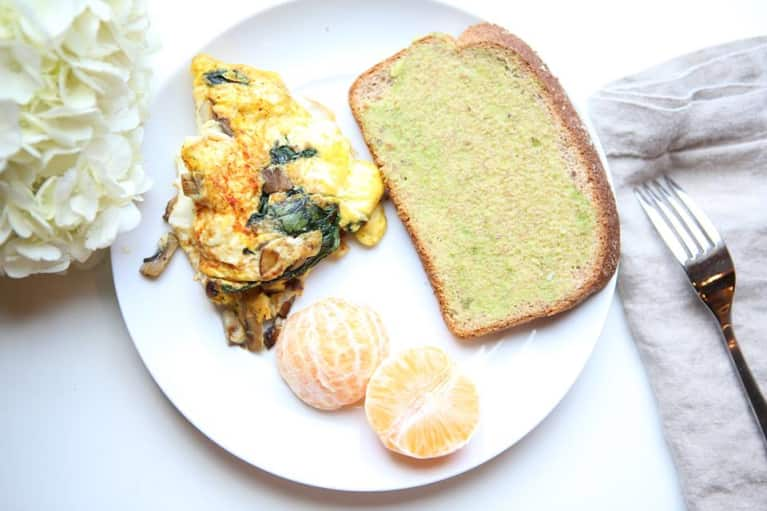 One of my favorite morning meals is an omelet with spinach, mushrooms, and a sprinkle of turmeric. Once the omelet is mostly cooked, I'll add some raw onion to it and serve it with a side of whole-wheat toast with avocado spread.
Why this meal works: Being a vegetarian, eggs are an important source of protein for me. I try to balance this with the great flavors of assorted vegetables, although my favorites are mushrooms and spinach. The raw onion is a source of prebiotics, which can help nurture the growth of your gut bacteria. As we know through various studies, the gut-brain axis means that a healthy gut lends itself to a healthy mind. Turmeric, a spice frequently used in Asian cooking, contains curcumin, which has also been associated with improvement in anxiety and depression. I use whole-wheat bread and avoid white bread in order to minimize simple carbohydrates, which can contribute to irritability and agitation. And the avocado spread, made quickly at home, is a great way to add some healthy fat to my diet.
As I frequently tell my patients, much of our mental well-being is within our control. A healthy lifestyle, including a carefully balanced diet, exercise regimen, and adequate sleep, is essential to our overall wellness, and a good breakfast is a great place to start.
Every wondered what living in a city means for your brain health?