What I Wish Everyone Knew About The Ancient Roots Of Plant Healing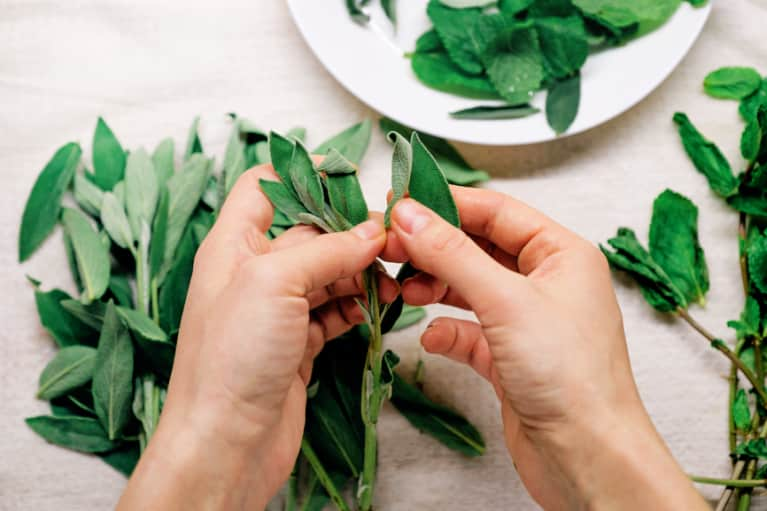 It's hard to imagine a time when natural wellness wasn't just a trend but a tried-and-true way of life. For thousands of years, humans have held a sacred bond to the plant world, understanding her true secrets through a now forgotten common language. Recently I've found myself trying to rediscover it by including more botanical ingredients in my skin care routine (much to my skin's delight), planning my yoga practice around the moon cycles, and traveling to remote corners of the world to gain perspective on plant healing from various cultures.
My most recent trip brought me deep into the rain forest of Belize—a place that houses a wide variety of medicinal plants with deep roots in ancient Mayan healing arts. It wasn't until recently that this way of life began to deteriorate as modern conveniences and pharmaceuticals crept in. If you look hard enough, though, you can still spot this rich history.
This immersion in West Belize brought me closer to understanding our relationship with nature and spirituality.
I spent time in the town of San Ignacio, which has become somewhat of a wellness hub and conservation hot spot. Our jungle digs, The San Ignacio Resort Hotel, even had a medicinal trail tour right outside. Our guide was able to figure out the medicinal value of most plants just by looking at them. "This wild oregano is great for earaches," he would say. "My grandmother told me to press the oil into my ear to ease the pain."
When healing gets spiritual.
On my journey, I learned that the Mayan healing arts hold a lot of superstition. One plant we identified, called Spanish Elder, is said to ward off the nine evil spirits of the underworld. The catch? You must find a branch with exactly nine leaves for it to work. And don't even think about picking it without asking permission. In order for the medicine to work, you must say a prayer beforehand. Ancient cultures also believed that the medicinal power of the plant goes down to the root at night and then rises back up the stem in the morning. Therefore, it should only be picked after the dew has dried.
Not all the natural healing I came across had a spiritual angle, though.
I also had the pleasure of meeting with a local bush doctor, Harry Guy, in his home. I walked in to find cat claw vines being cut to reveal their potent inner bark and bottles of jungle remedies clinging to shelves. His view? Plants are just medicine. If the creator put this plant here to serve a purpose then it will, in effect, always be medicinal. There doesn't have to be any ceremonial ritual to bring out its power. He also believes that our bodies are simple to treat and once we find the root cause of an ailment, all we need to do is recreate balance and reignite the communication between the body and its organs.
When I told Mr. Guy that my fiancé suffered from psoriasis, he jumped up to grab a stack of emails with patients praising him for helping with skin ailments and viruses. We left with a giant bottle of one of his jungle remedies. Its main ingredient was boiled cat claw vine, as he believed this would help his organs and skin hormones weren't communicating properly. As I type this a few weeks later, my fiance's skin has started to show vast improvement.
New-age trends heed to age-old medicine
Deforestation plays another huge threat to the precious ecosystem and traditional way of life in Belize. Luckily, the government has set land set aside for national reserve and there's a lot of international interest from doctors, naturopaths, ethnobotanists, and yes, even pharmaceuticals, in preserving the country's rich culture.
Take amaranth for example. When we were on a horseback ride to the ruins, a local rancher told us how the Mayan staple and superfood amaranth was said to have been mixed with blood and eaten during ceremonies and was therefore banned by conquistadors. It's taken generations for the cultivation of amaranth to regain popularity simply given the cultural history. He boldly predicted it to be the next kale. You heard it here first!
I also had a bit of a moment with cacao, which is grown in the south Belize. During my time at Naia Resort in Placencia, I used cacao from a nearby farm as a luscious plant skin treatment. After watching locals grind the cacao, make into the paste, and then further into a traditional, nutrient-packed drinking chocolate, I was amazed to see all the different ways plants can be used.
I'm not a doctor, nor do I claim to have any expertise in the field of plant healing, but I do have an innate curiosity about it. If this curiosity becomes infectious, perhaps we can save this beautiful way of life and find a way to mix a modern approach with a more traditional, holistic way of living. This immersion in West Belize brought me closer to understanding our relationship with nature and spirituality. These are deep connections that need to be celebrated and saved. If anything, I hope I've inspired you to take more nature walks, cultivate a garden, or pick up a few books on plant healing.
Curious how you can use traditional herbal and plant medicine in your own routine? Here area few herbs that can calm your anxiety, aid in digestion, and boost your immunity.