5 Surprising Tips For Raising A Boy, According To Experts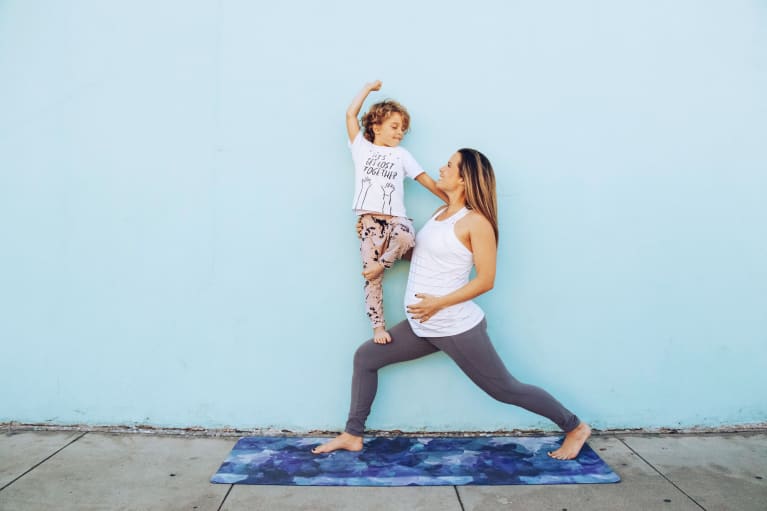 In a world where men are finally being held accountable for their actions and are facing consequences for past transgressions, many parents who are bringing up boys are facing an important question: How can they raise sons who will grow up to be mindful, respectful toward women, nonviolent, and comfortable displaying their emotions?
Over the past six months, the wellness world has come forward in a big way to work toward solutions for raising mindful, nonviolent boys. From encouraging men and boys to talk more openly about mental health issues they may be facing to teaching them to treat women with kindness, here's what the experts have to say.
Talk to them openly about your own negative experiences.
Rather than shielding him from painful past experiences, one strategy Barre3 founder and mbg class instructor Sadie Lincoln finds effective is talking openly with her son about ways she's been disrespected by men or society as a whole in the past. "I talk to him openly about my experience growing up in a culture that doesn't always respect women," she says. "I share with him what it was like being a girl, young woman, and now a middle-aged woman. A while back I was Photoshopped so much I was barely recognizable. We laugh at the picture because we think I look like a wax sculpture versus a human being," she explains. "I used this experience to talk about why it isn't OK to feed into a culture that sets women up to feel shame around our bodies. I talked to him about how it made me feel bad to have someone wipe away my wrinkles and veins, enlarge my breasts, and chisel my waist. I find when I openly share my experience versus giving him direct advice, he then has the space to discern and learn for himself what is right or wrong and how he can act so that he is on the right side of the equation."
Limit screen time and violent video games.
According to Leonard Sax, M.D., Ph.D., and author of Boys Adrift, the best thing you can do for your son is limit exposure to violence and get them outside. "Limit screens. Limit, govern, and guide your son's use of video games," he suggests. "We now have an abundance of good, scholarly research showing that the more time a boy spends playing video games, the more his social skills are undermined. That appears to be true of all video games, including 'good' games such as Minecraft. Playing violent video games such as Grand Theft Auto and Call of Duty introduces another set of risks. Playing violent video games, over time, leads boys to be less honest, less patient, and more hostile. Turn off the screen and get your son outdoors, in the real world."
Don't teach them to be tough. Teach them to embrace femininity.
Sophie Jaffe, yoga instructor, raw food nutritionist, and founder of Philosophie foods, works on teaching her sons to embrace their feminine side. "Raising a boy during this potent time period is all about rebalancing the collective consciousness of masculine and feminine," she says. "The world will already toughen these boys up, so that is not our job as parents. Our job is to teach them how to be in touch with their femininity, their love and respect for all humans, Mama Gaia, and animals. To teach them how to express their feelings and stand up for what's right for humanity. Every day, I want my boys to be in touch with their sensitivities, hearts, and one another."
Encourage them to feel their anger.
While it may seem counterintuitive to encourage your son to express his anger, clinical psychologist and Five Deep Breaths: The Power Of Mindful Parenting author Genevieve Von Lob says this is an important step. "Encourage your son to talk about all his feelings and let him know you are always there to listen without judgment," she says. "Let them know it's OK to feel emotions such as anger, but some ways of dealing with them are not helpful. Give them the tools to channel their anger productively, like exercise, writing, taking deep breaths, taking a 10-minute break to calm down or scream into a pillow."
She also emphasizes the importance of discussing what "being a man" really means. "Young men need role models who can show them that being a man is not about succumbing to peer pressure but learning to trust their own judgment and respecting themselves and others, particularly in the way they relate to women," she says.
Be a mindfulness role model.
When it comes to helping your son be mindful, kids' yoga instructor Andrea Bogart believes the most important place you can start is yourself. "If you aren't incorporating mindful nutrition and practices like meditation, yoga, and open, positive communication within your home, I'd start there," she says. "Our children are greatly influenced and inspired by what they see us do. We can teach these things not necessarily by teaching but by being the example of them. It's our responsibility to look at why and how our boys are growing into men who commit these kinds of acts. Choosing to nurture them throughout their lives by being compassionate and vulnerable humans will give our sons permission to be the same."
Want to raise feminist sons? Here are 8 tips for making it happen.