A Rare Retrograde Finally Lifts This Week — And It Could Help Your Career
mbg Contributors
By The AstroTwins
mbg Contributors
Ophira and Tali Edut, known as the AstroTwins, are professional astrologers based out of New York and Seattle. Their work has been featured in The New York Times, Elle Magazine, Vogue and Good Morning America and they are the authors AstroStyle, Love Zodiac, Shoestrology, and Momstrology.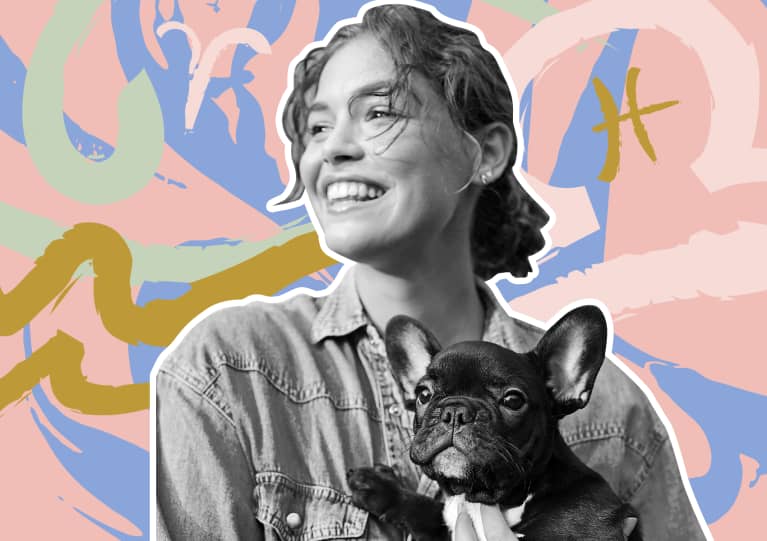 This week, the AstroTwins break down why now is a good time to revisit goals that have been put on the back burner.
Have your goals been at a standstill for months? This Wednesday could restore momentum.
If ambitious plans seemed to hit a snag over the past five months, don't abandon hope! The astrological embargo lifts this Wednesday, September 18, as taskmaster Saturn rouses from a sleepy retrograde that began on April 29. The ringed planet's backspin is an annual event, and this is the second time since the early '90s that the retrograde is taking place in Capricorn, Saturn's home sign. The ringed taskmaster has been enjoying his home-court advantage since December 19, 2017, serving us double-strength Saturn vibes until December 17, 2020. As he shifts from reverse back into drive this week, give your life a review: Where could you elevate your standards? This planet demands excellence but abhors excess. And during this three-year tour through Capricorn, he's teaching us how to build a solid foundation for success, so we can feed the "family dynasty" for generations to come.
For those who are willing to proceed slowly and masterfully, Saturn in Capricorn can be a major career booster.
If you hired unreliable contractors for your build, start handing out pink slips, and go sourcing for the cream of the crop. While retrograde for the past four months, Saturn forced a design review, stalling progress while inspecting every corner and insisting upon protocol. This astrological audit was NOT fun. But with Saturn's positive pivot this Wednesday, embrace the challenge of developing your dreams to the highest possible standard. Get ready: The bar will be raised even higher in the days ahead. Don't get sidelined by what the "competition" is up to. There's always going to be someone doing it better, faster, or on a grander scale. Let them serve as inspiration instead of a discouraging ideal.
For those who are willing to proceed slowly and masterfully, Saturn in Capricorn can be a major career booster. As the week progresses, certain pieces of the puzzle may start to fall back into place. The people who hold the power to green-light a project will finally return to their desks and answer queries. Who knows? That perfectly scripted pitch email may have been sitting in someone's junk mail since April! Time to follow up—but come correct with an even stronger presentation, like a gorgeous deck or an invitation to meet for a fancy power lunch.
Then, on Thursday, Mars and Pluto could lift the veil on a secret.
Strategic moves could transform a stuck situation on Thursday when make-it-happen Mars gets in sync with subterranean Pluto. Something that's been hidden from view could be revealed—the very kernel of data needed to get stalled engines turning. Observe, investigate, and ask the right questions to draw out this intel. Fortune favors the bold when Mars is in town, but Pluto doesn't like it when you show your hand. Find a middle ground, whether you're revealing a romantic attraction or exploring a business deal. While you don't want to be SO suggestive that you come across as vague, warm people up incrementally so they don't feel overwhelmed.
Saturday's transit reminds us to look before we leap.
Tread carefully on Saturday, though, when trance dancer Neptune floats into a confusing square (90-degree angle) with Jupiter, distorting your view. While the red-spotted planet is comfortable taking risks, Neptune isn't the best at reinforcing sound judgment. Take a cautious look before you leap—and make sure you aren't getting into the same old tangled-up drama that has snared you before! In 2019, we've already weathered two Jupiter-Neptune squares, on January 13 and June 16. Flip back to those dates. Did someone charm you but fail to deliver on the goods? Or maybe you overpromised, then stressed yourself out trying to keep your word. Boundaries don't have to be barriers, but this is not the weekend to dive into anything without reading the finest of the fine print. Run the background reviews on new folks who enter your world. Noble intentions don't always add up to great results, but with a little extra vetting, you could find the game-changing opportunity you've been searching for.