Your Weekly Horoscope Is Here. What's In The Stars For You?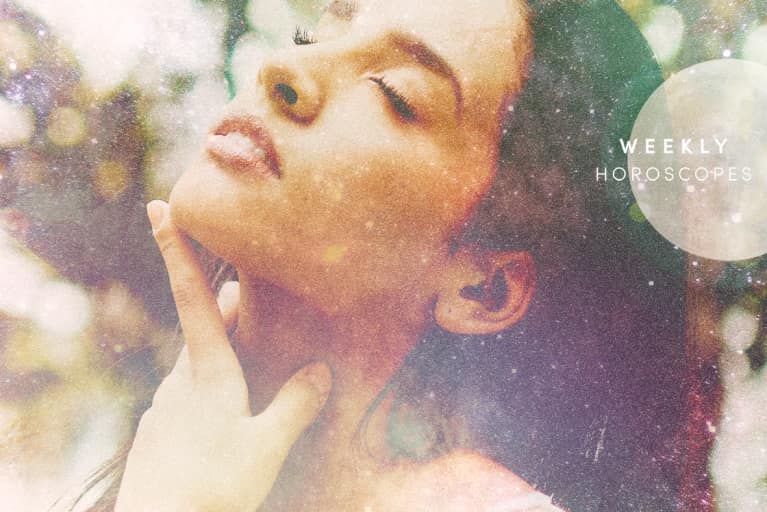 November 27, 2017 — 10:05 AM
On Saturday, a trine could bring out your intuitive side.
On Saturday, December 2 (our birthday—woot!), philosophical Jupiter in Scorpio flows into a mind-expanding trine (120-degree angle) with soulful Neptune in Pisces. This ultra-rare formation has never happened in these evocative zodiac signs before in our lifetime. It will surely open hearts, chakras, and third eyes everywhere. Psychic downloads and intuitive hits will be flowing all weekend. Pay attention to signs and serendipities, like a number that keeps showing up as an address or on the clock—or an unusual animal that crosses your path. There will be two more Jupiter-Neptune trines in 2018, so this weekend might simply be the first step of your journey down the rabbit hole. Bon voyage!
In other zodiac news, Venus is changing signs this Friday, leaving Scorpio's sultry bordello and embarking on Sagittarius' booze cruise until December 25. Wild times are ahead in love as Venus stokes our adventurous appetites. Cross-cultural connections thrive during this three-week cycle, and couples will find that a change of scenery can make everything hotter. But this is NOT a great time for deep and probing conversations about the security of your relationship. If you need to pour out your heart, do so in the early part of the week while Venus lingers in Scorpio. Once the Archer starts helming the Love Boat, it's going to be hard to have a conversation about feelings that doesn't wind up sounding a little insensitive. It doesn't help matters that uptight Saturn is in Sag until December 19 AND Mercury's backspin goes down in the same sign. Not exactly a recipe for long talks about "The Future"—but certainly a reminder that the future is now! When your knickers start knotting up, enjoy the moment and let love unfold. Or, follow the Archer's independent prompts and jailbreak from unfulfilling relationships that aren't ever going to go anywhere.
This Sunday, December 3, Mercury goes into retrograde.
Mobile Mercury turns retrograde in globetrotting Sagittarius on Sunday, which could scramble scheduling and spike the fare of your "should have booked it yesterday" reservation. The good news is, you're reading this now, so you have an entire week to get ahead of the winged messenger's forthcoming curveball. Scour for Airbnbs, hotels, and fare savers. Oh, the places you could go!
With a thrill-seeking opposition of Mars and Uranus this week, a fiercely humanitarian transit will be guiding your search. This means that a service trip (maybe to help with hurricane relief?) could be on the agenda. However, impulsivity is a pitfall of a Mars-Uranus opposition, which will be at its strongest on Friday, December 1. Check in with loved ones so they don't feel like you're leaving them hanging for the holidays. Hey, a renegade relative, or five, might even want to shake up the status quo and join you in reinventing the traditions.
There's also a full moon in Gemini on Sunday.
Sunday's full moon in Gemini will illuminate more lighthearted ways to pair up. Think of your "other half" as your playmate—or revamp your dating app profile to reveal as much about your extracurricular interests as your long-term life plans. Kindred spirits may be illuminated under this "twinning" influence. For the two weeks that follow, many will find their missing puzzle piece. Gemini's energy is more platonic than romantic, but that's not to say that love can't spring forth from the friend zone. Who knows? There could be an important mistletoe moment with a co-worker, bandmate, or your hot neighbor.
Gemini is the zodiac's curious communicator and the cosmic mayor of the local scene. Explore hometown happenings or help to create a thriving social scene in your 'hood. In need of a new set of wheels? Transportation is also Gemini's domain, so this full moon could light the way to the perfect car, bike, or mobile accessory to make commutes more enjoyable. But heed the Mercury retrograde warning signal! Have a mechanic inspect any used vehicles and, ideally, wait until after the 22nd to drive anything off the lot.
Want to dive further into the cosmos? Check out the AstroTwins' Astrology Fundamentals course and Planetary Calendar for 2018 (mbg readers get 20% off with code MBG!)