Your Weekly Horoscope Is Here: What's In The Stars For You?
mbg Contributors
By The AstroTwins
mbg Contributors
Ophira and Tali Edut, known as the AstroTwins, are professional astrologers based out of New York and Seattle. Their work has been featured in The New York Times, Elle Magazine, Vogue and Good Morning America and they are the authors AstroStyle, Love Zodiac, Shoestrology, and Momstrology.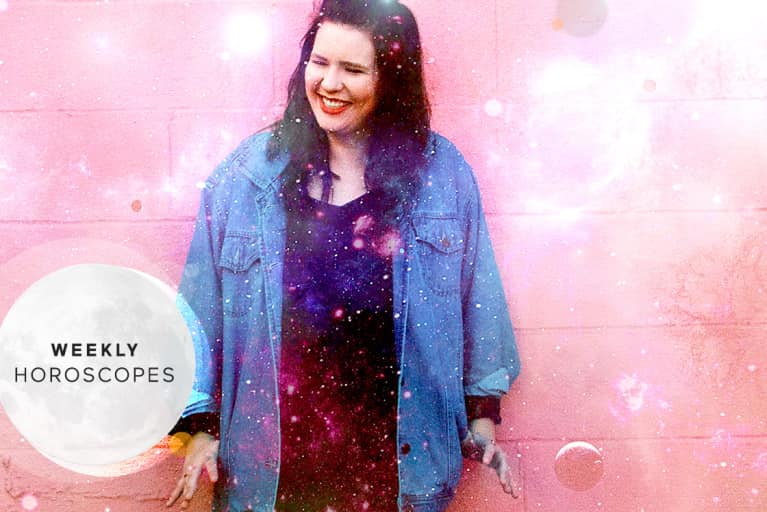 On Tuesday, the sun goes into Aries just in time for spring.
Need an excuse to chill Champagne—or maybe switch over to a virgin kombucha mocktail? This Tuesday, March 20, marks both the spring equinox AND the astrological New Year as the solar calendar flips over and begins anew with Aries Season. Ready for a fresh start? Game on! And don't spend another second dwelling on winter's seasonal "sins." But between now and April 19, you can slowly and gently "un-hygge" yourself. Replace knitting needles with garden tools and IPA flights with aerial yoga or breezy walks around your 'hood.
Under this solar spell, we'll all feel a sense of renewal. And soon enough, we'll be fired up with the Ram's daring initiative, eager to embrace the next adventure. Live-out-loud Aries Season is a time to grab life by the horns and push the envelope on maximalism. Since Aries is No. 1 in the zodiac, the competitive vibes will be fierce for the next four weeks. Are you living on your edge? Go for the gold...and if you happen to crush a few narcissists with your fairly won victory, don't feel bad—it's a personal growth experience for them.
With Mercury backspinning through brash warrior sign Aries, minor grievances could heat up quickly.
On Thursday, Mercury goes retrograde to keep us on our toes.
But before you blast off, make sure you've checked your flight plan and properly fueled every tank. From Thursday, March 22, until April 15, messenger Mercury will be traveling retrograde through Aries. This signal-jamming transit could misdirect a few of el Sol's fabulous flares. Just when you're sure that you're ready to launch, boom! New developments arise and keep you stalled at base. Tempting as it may be to charge ahead—warning lights be damned—doing so might only delay the mission further. (Or worse, cause a crash and burn.) With Mercury backspinning through brash warrior sign Aries, minor grievances could heat up quickly. Consider this a PSA: When in doubt, go the adulting route instead of heaping coals onto the Dumpster fire. If you sacrifice some pride to intercept someone's verbal missile (one that could erupt into a serious battle), you'll have earned your planetary purple heart by April 15!
On Friday, Venus squares Pluto and ushers in some tension.
But Friday could bring the first potential snag in the communication department. Vivacious Venus in Aries gets sideswiped by possessive Pluto in Capricorn as the two lock into a tense square. Spring fever may be going strong, but willpower and sound judgment could fly right out the window. What feels like harmless banter may churn up jealousy or a flurry of unfounded accusations. Or NOT unfounded. A shadowy Venus–Pluto square brings the players out of the woodwork. If someone's story (or omission of details) raises red flags, trust your intuition and investigate. Does a colleague keep last-minute postponing your pitch meetings? Don't send another rescheduling request; quietly observe. You may discover that they have a clashing agenda that's been kept under wraps or that they're just too polite to tell you that the project isn't their jam. Better to know so that, if need be, you can move on to greener pastures.
Check out what the rest of the month has in store with the AstroTwins' complete March horoscope.