Your Weekly Horoscope Is Here: What's In The Stars For You?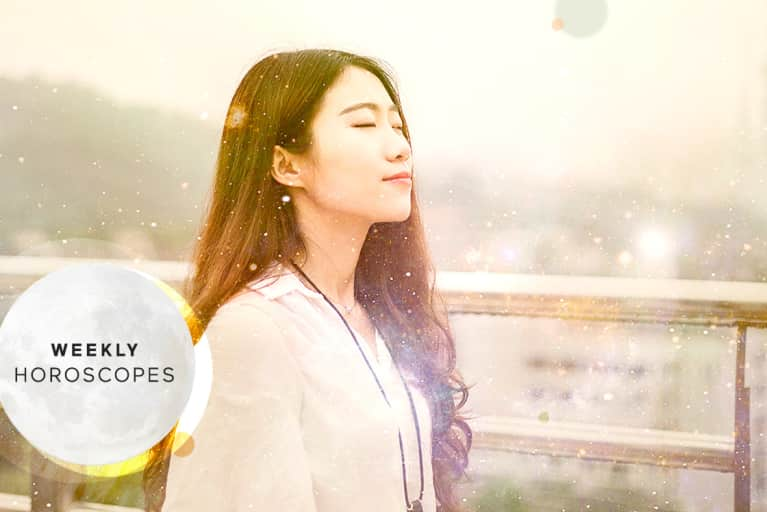 On Tuesday, the sun trines Jupiter and brings a wave of optimism and confidence.
On Tuesday, March 13, the confidence-boosting Sun flows into a can-do trine (120-degree angle) with larger-than-life Jupiter. This biannual alignment blesses us with boundless optimism and a sense of limitless possibilities. With both planets floating in water signs—the Sun in divinely inspired, spiritual Pisces and Jupiter in sexy, transformational Scorpio—logic may be scarce. Inspiration may arrive as an intuitive hit or a wave of emotion that washes over us. We may feel compelled to pursue an opportunity or dive into a relationship simply because it feels right. With this auspicious energy in the air, the first few days of the week ARE an ideal time to take a calculated risk. Just know that the sun and Jupiter amplify everything they touch, so there's no half-stepping allowed here. The downside? This planetary pairing can give some people a case of Sparklepony Syndrome. Get real with yourself: Have you truly discovered The Next Big Thing…or are you just chasing after the pretty-pretty, shiny-shiny?
Thankfully, all common sense won't fly out the window. Tuesday also features a discerning square (90-degree angle) between impulsive, romantic Venus in Aries and structured, pragmatic Saturn in Capricorn. In some ways, the Venus-Saturn square can stick a pin in our helium balloons. If we aren't careful, our inner critics and perfectionists could short-circuit the creative process. To combat that, draw a clear line between exploration and commitment. When we're brainstorming or "feeling things out" we can rock Venus' rose-colored glasses. But if we're actually signing on to any projects or relationships, Saturn's quality-control filters are a must. Venus in Aries says, "Live for the moment," while Saturn in Capricorn says, "Make it last forever and leave a legacy." Can you see the conflict here? Balancing these energies could be challenging, especially as the Sun and Jupiter push us to leap before we look. For best results, don't throw common sense out the window...but don't let it have the only, or even the loudest, vote.
The new moon in Pisces on Saturday will encourage you to take an intuitive leap.
Saturday's new moon in nurturing, compassionate Pisces could bring on the Hygge vibes—the Danish concept of slowing down to appreciate the moment and commune with people, especially during the dark winter months. Carve out quality time for close friends and maybe a window to work on an art project, song lyrics, or a choreographed dance number. Since Pisces is the last sign of the zodiac, this new moon helps us let go of what no longer serves us. Ready to detoxify your diet or declutter the basement? This lunar lift can get such plans in motion. Pisces rules dreams and the subconscious. There's no time like the present to quiet that "monkey chatter" in your mind so you can REALLY hear the messages from your guides. Check out apps like Insight Timer that offer a range of guided meditations that last for as long (or as short) as you like.
Alas, zoning out all weekend probably isn't going to happen. On the heels of Saturday's new moon comes a Mars transit. That very day, the planet of drive and motivation trades Sagittarius' hemp drawstring harem pants for Capricorn's crisp Armani suit. With make-it-happen Mars firing up this ambitious realm until May 16, get obsessed with finding, expanding, or broadcasting your purpose. This is an especially potent Mars cycle since structured Saturn and wealth-building Pluto are also in Capricorn—a cosmic combo that will happen once more in early 2020, then not again in our lifetime! Aim for mastery, particularly when it comes to your career. Sign up for training programs, coaching, and consulting sessions and seminars with experts. But don't stop there: Applying what you learn is the way to get your money's worth. Practice makes perfect!
Want more insight from the AstroTwins? Check out their sign-by-sign guide to 2018 here.