Scorpio Season Is About To Kick Off With A Powerful New Moon
mbg Contributors
By The AstroTwins
mbg Contributors
Ophira and Tali Edut, known as the AstroTwins, are professional astrologers based out of New York and Seattle. Their work has been featured in The New York Times, Elle Magazine, Vogue and Good Morning America and they are the authors AstroStyle, Love Zodiac, Shoestrology, and Momstrology.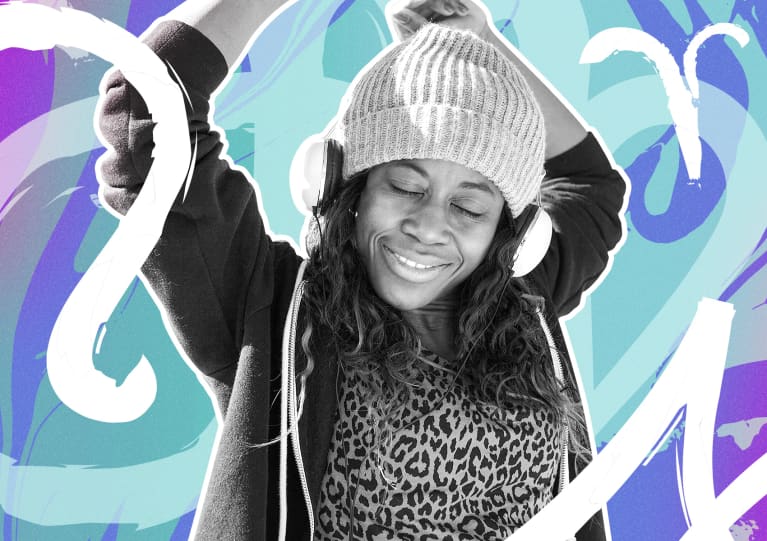 This week, the AstroTwins dive into how to deal with the start of Scorpio season.
The week kicks off with a dose of seductive energy.
Subtle signals say it all this Monday, October 21, as seductive Venus in Scorpio gets in a flowing formation with enchanting Neptune in Pisces. Their dynamic dance, which happens twice most years, sends seductive undercurrents through the early part of the week. Tap into this energy with nonverbal cues.
Dab on a titillating fragrance, let a flash of colorful lingerie peek through your clothing. At work, apply a clean design aesthetic to your graphic presentations, but add an unexpected pop of color. A little cat-and-mouse game can be arousing in affaires de coeur. Uncertainty builds anticipation…and attraction. The only risk of a Venus–Neptune trine is that it can make boundaries a little hazy. Don't lose sight of all propriety this Monday. There's a time and a place for everything.
Scorpio season begins with all its fanfare on Wednesday.
On Wednesday, October 23, jump-start your heart! (And maybe something a little further south...) Every aspect of life could feel charged with intensity between now and November 21. All things "Scorpio" will clamor loudly for our attention for the coming four weeks: how we invest our money, who we invite into our beds, and how we deal with power dynamics.
On Sunday, the new moon in Scorpio activates more of this alchemy.
Want to turn a leaden aspect of your life into pure, shimmering gold? Get the ball rolling on those transformational efforts. Real change takes work—it never just happens overnight. But this is a new moon, so it's all about jumping off the starting block. We have until May 7, 2020—the date of the corresponding full moon—to break out of restrictive habits and replace them with life-affirming rituals. All the same, don't shy away from anything with an "extreme" label on it. The Scorpio new moon loves a high-impact jolt!
Change is rarely easy, but being stuck in a state of inertia is far worse for the soul.
It might feel like you have one foot on the gas and the other on the brake this Sunday, thanks to a tense square between go-getter Mars in Libra and cautious Saturn in Capricorn. When these paradoxical planets lock into this challenging 90-degree angle every other year, fast-moving missions can suddenly hit a speed bump…or come to a grinding halt. As frustrating as it is, think of it as a biennial tuneup and inspection. As Saturn forces you to pop open the hood and examine all the parts, you may realize that something (or someone) isn't operating at top speed. While this may not have caused a breakdown yet, if you don't attend to it, that's the inevitable fate. Summon Mars' courageous spirt and use the weekend to address the matter directly. If people need to be cut—or leave of their own volition—don't cling. Change is rarely easy, but being stuck in a state of inertia is far worse for the soul.