We Just Started 2020 & There's Already A (Super) Rare Astro Event Coming
mbg Contributors
By The AstroTwins
mbg Contributors
Ophira and Tali Edut, known as the AstroTwins, are professional astrologers based out of New York and Seattle. Their work has been featured in The New York Times, Elle Magazine, Vogue and Good Morning America and they are the authors AstroStyle, Love Zodiac, Shoestrology, and Momstrology.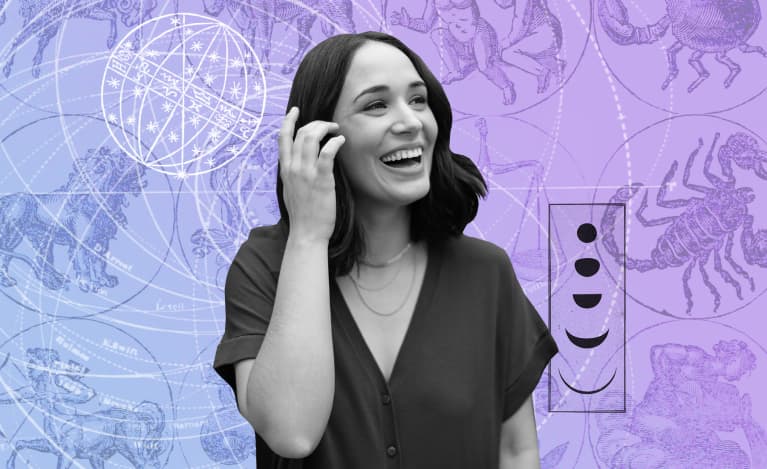 This week, the AstroTwins explain why there's a little more baggage we all need to deal with—and possibly some tears to shed—before we barrel into this brand-new decade.
The week starts off on a flowy-yet-productive note as imaginative Neptune gets into a friendly formation with the Sun, then Mercury in Capricorn.
If you were too tired or hungover to work on that 2020 vision board this New Year's Day, Tuesday and Wednesday offer an even better alignment for drawing all your hidden desires into tangible form. But on Friday at 2:21 p.m. EST, the first major moon of the year arrives, churning up a sea of buried emotions. Not only is this one a lunar (full moon) eclipse in sensitive Cancer, but it's facing off with the Sun, Mercury, Saturn, and Pluto in Cancer's opposite sign of Capricorn.
Brace yourself! The only way out of this tsunami of feelings is to go THROUGH them. Huddle with your support squad this Friday because you could cycle through every complex emotion out there, from imposter syndrome to family rivalry to deep-seated family issues you didn't even know you had. (And that was all just before lunchtime!) It's never comfortable when unresolved "stuff" gets driven up, especially with the brute force of a lunar eclipse. But there is a silver lining: Feeling is healing. A good cry can be cleansing. Getting suppressed hurt out in the open is the first step in resolving it. To be honest, you'll probably be relieved...once the sting wears off. This has all been brewing since the corresponding solar (new moon) eclipse in Cancer on July 2, 2019, and if you swept it under the carpet, you've known that it didn't actually go away.
But do try to remember this: Your thoughts can create your reality. If you find yourself locking into a disempowering internal monologue, grab an adoring friend and talk it out. Don't let yourself get stuck on a destructive bat channel. While the pull to isolate can be strong during a Cancer eclipse, what's really needed is the company of people who see you and love you. Even if you uncover something upsetting, it doesn't have to turn into a self-effacing moment. You CAN own up to your "mistakes" and get yourself on the pathway to making amends.
On Sunday, one of the most talked-about transits of 2020 finally arrives: the Saturn-Pluto conjunction.
These heavenly heavyweights link up every 33 to 38 years, but for the first time since 1518, they're having their tête-à-tête in Capricorn's domain. What's real and what's a projection? Saturn rules tangible reality while Pluto governs our unconscious. This mashup forces us to take an unblinking look at the stories we've been telling ourselves. How close to the truth are they actually? Capricorn is the eldest earth sign, and integrity, responsibility, and persistence are its signatures. There will be no cutting corners as the decade commences.
When Saturn teams up with Pluto, it's like having an auditor inspect every level of your life. Since Pluto rules the mythical underworld, all the stuff that's been buried below the surface—or backed up in the pipes—could bubble up like hot lava. Avoidance is impossible this weekend as the planets hand every zodiac sign an astrological assignment for 2020. Challenging? Heck yeah! Capricorn planets like to "go big or go home." But if you fortify your foundations, you'll set yourself up for long-term security. And THAT will bring a true sense of peace.