Weekly Horoscope: Why The Day AFTER The Eclipse Is The One We Should Really Be Talking About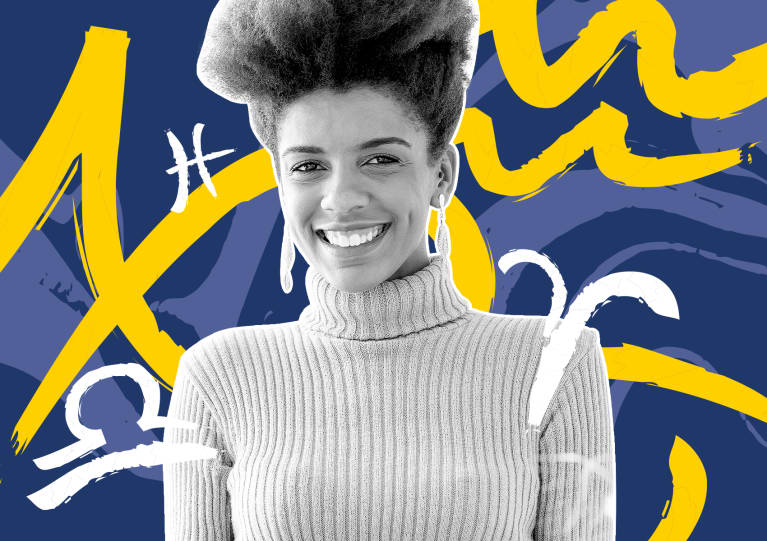 This week's horoscope from the AstroTwins talks all about this week's rare lunar eclipse—and the fun doesn't stop there! Just a day later, a once-in-a-dozen-year transit will affect those who work in creative fields.
On Monday, a rare Leo moon invites us to face our shadow sides.
The week launches on a fierce and flamboyant note thanks to Monday morning's full moon in proud, regal Leo. Not only is this lunation a supermoon (a full moon that lands at the closest possible degree to Earth), but it's the broadly buzzed-about blood wolf lunar eclipse! There are so many directions we could fly off in on Monday that it could feel a tad overwhelming. And with heavenly heavyweights Mars and Saturn at odds all day, we might not be certain whether to hit the gas or step on the brakes. With so much energy whirring, it's probably best to keep calm and remain at a cruising altitude instead of doing something totally rash. The right path WILL reveal itself, and quickly, so take a few centering breaths and trust in the universe.
If you live in the Americas or Western Europe, you might be a bit groggy on Monday morning after staying up to watch this spectacle in the skies. As the Earth was centered perfectly between la luna and the Sun from 10:36 p.m. until 3:49 a.m. EST, a blood-red shadow was cast on the full moon. This total eclipse has great significance astrologically since it is the final eclipse in a series that has been striking the Leo-Aquarius axis since February 10, 2017. (This cycle included the total solar eclipse of August 21, 2017, that sent hundreds to the Oregon outback with special glasses in tow to watch the day go dark!) Narratives that have been developing since then could reach a dramatic conclusion this week. But hey, it's better than a baffling cliffhanger.
With awards shows and Valentine's Day on deck, the glamour, romance, and passion of Leo will reverberate through Hollywood, one of the Lion's favorite earthly dens. And since eclipses are known for revealing all that is hidden in the shadows, there could be some surprising take-homes in the 2019 SAG Awards and Grammys—and some unexpected winners (and losers) in the game of love. We may get a front-row seat to the underside of life during eclipses, but these are things we actually NEED to see. For the past two years, the Leo-Aquarius series has highlighted the divide between Leo's gilded elitism and Aquarius' "one love" community spirit. The battle between the haves and the have-nots could finally come to some resolution over the coming two weeks as we catalyze the important lessons of these lunations, including the impact our modern lifestyles have on the Earth's climate. Can we enjoy glamour responsibly—and sustainably? How can we preserve our selfhood and still be part of the collective human race? Is it possible to have a system of power that doesn't suppress individual expression? These questions have been on the table in a big way since February 2017—and have sparked a resurgence in the arts, activism, and technological innovation.
When united in the best possible way, the hybrid of Aquarius and Leo can bring a full-on revolution of the heart. Serendipitously, this lunar eclipse dovetails with the celebration of Dr. Martin Luther King Jr., who reminded us that love is "the only force capable of turning an enemy into a friend."
On Tuesday, Jupiter will join Venus in Sag and spark some creative ideas.
The fast-moving current of the week won't stop with the eclipse. "Bigger, stronger, faster" Jupiter will make two important connections this week, ratcheting up the creative and romantic energy even higher. On Tuesday, the red-spotted planet plays Romeo to swooning Venus as the two connect at the same degree of Sagittarius. This coeur-a-coeur, which hasn't occurred in the Archer's realm for 12 years, could put some major dreams on the table for couples and anyone who works in a creative field. Then, on Friday, intrepid Mars in Aries dances into a confidence-boosting trine with Venus in Sagittarius, daring us to push the envelope even further. Time to start talking about all those bucket list plans that are ready to be brought into real-time action! Allow your independent spirit to lead these discussions. Is there an adventurous trip you're dying to take with bae...or by yourself? Maybe an artisan's workshop in Italy or India...or a mind-expanding spiritual trip to Bali or Costa Rica. With messenger Mercury winging through experimental Aquarius from Thursday until February 10, it will be nearly impossible to keep our Toms planted on familiar ground. Rapid results might follow, leaving us all feeling a bit unmoored. Pro tip: Drop a few pins on your Maps app so you don't forget where home base lies!