We Sparknoted This Week's Horoscope & These Are The Parts You Can't Miss
mbg Contributors
By The AstroTwins
mbg Contributors
Ophira and Tali Edut, known as the AstroTwins, are professional astrologers based out of New York and Seattle. Their work has been featured in The New York Times, Elle Magazine, Vogue and Good Morning America and they are the authors AstroStyle, Love Zodiac, Shoestrology, and Momstrology.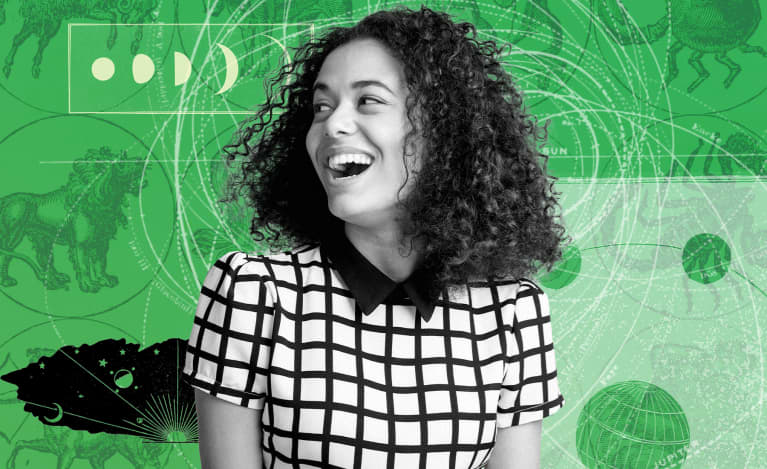 Aquarius season is all about pushing for change and collective action. Here are the AstroTwins' tips for kick-starting the season with a bang.
Aquarius season begins this Monday, January 20.
Make a wish—for yourself and the world at large! The sign of Aquarius pulls off a beautiful paradox, pumping up individuality AND bringing us together to collaborate. Over the next four weeks, you may be equally invested in differentiating yourself from the pack as you are with finding your place within it. Scratch your chin on that for a few, and it WILL make sense. We don't all have to be the same in order to "belong." That's one of the best lessons this eccentric air sign will teach between now and February 18.
As the sign of the humanitarian, this solar cycle is prime time for getting involved in activism—or making disruptive art that pushes a message into the zeitgeist. If you could make the world an inclusive place for everyone, what would you do? In your neighborhood or around your office, look for ways to combine talents and support each other's growth. Embrace the sharing economy: How can you pool resources, trade services, or co-invest in goods? Start making changes in your corner of the Earth and the groundswell could pick up from there. And don't forget to tap into virtual networks to rally people for a common cause.
Another wave of idealistic energy rocks the boat this Friday, January 24, as the year's only new moon in Aquarius buoys your vision quest.
Have you been too tame in your approach? This rebellious new moon is here to disrupt the status quo. Suspend disbelief and consider the "impossible." Ideas don't have to make sense right off the bat. The fun comes with experimenting in the lab. And while last month's solar eclipse in Capricorn (on December 26) brought us resolutions and goal sheets, this lunation takes our plans to a higher vibration. Building an online empire? Bringing an inventive product to market? Aquarius is all about innovation, crowdsourcing, and community love. Call the developers and get to work on that online venture or genius app that started as a joke but might actually turn into something legit and profitable. Set August 3 as a potential launch date when the corresponding full moon in Aquarius will bring a bountiful and binary harvest.
This new moon also dovetails with the Lunar New Year (which falls officially on Saturday, January 25). That means a change of guard when it comes to cosmic spirit animals. After 2019's patient, resolute Earth Pig, the savvy Metal Rat takes the reins for 2020, restarting a fresh, 12-year cycle in the Eastern zodiac. Rat energy is shrewd, cooperative, and hella sensitive. What's good for you individually will affect the rest of the "mischief" (the actual name for a crew of rats). Consider this yet another prompt to take ownership of the effect your actions have on the collective.
Relationships that have been veering off course could get a sharp wake-up call this Sunday, thanks to a challenging dustup (a 90-degree square) between cosmic lovebirds Venus and Mars.
Venus continues flowing through dreamy, nostalgic Pisces, drawing us all into a fantasy-fueled haze. Then...bam! Warrior Mars charges in on Sagittarius' steed, bursting Venus' bubble with piercing arrows of truth. Lovers' quarrels can go from simmer to boil with Venus in Pisces playing passive-aggressive games while aggro Mars in Sagittarius fires up tempers. While this is certainly not the time to sweep issues under the rug, real talk about relationships may get heated fast! Even if you DO lay all your cards on the table, you're likely to be misunderstood. But trouble in paradise doesn't have to mean the end of the fairy tale. Just set aside touchy topics for the future, even if you have to cleverly stall. The iron is too hot for striking this weekend. If you've been stuck in a holding pattern, however, the dynamic Mars-Venus square motivates change. And it can be as simple as picking up a pair of show tickets instead of spending another weekend watching movies on the couch. Single? Spark up a conversation with an intriguing stranger. With Venus and Mars are in mutable signs, you'd do well to stretch yourself outside what's comfortable. This cosmic catalyst will get your heart racing again!