3 Big Astrology Transits Will Make This Week Feel Action-Packed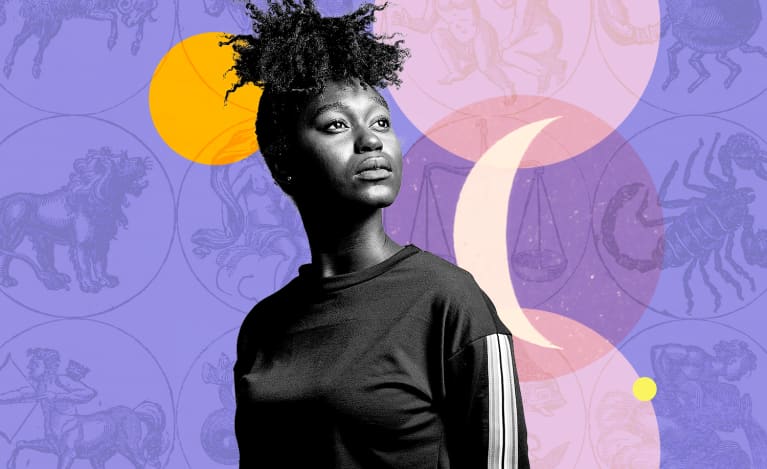 This week, there's a new moon in Leo and the sun moves into Virgo for a while. Here, the AstroTwins share how to balance the confident and bold energy of the lion with the meticulous vibe of the maiden.
You won't need a palace rose garden or coronation ceremony to feel like royalty this Tuesday, August 18.
That day, 2020's only new moon in Leo rolls out the red carpet and invites us all to take a glamorous sashay. Has confidence been flagging? This lunar lift brings back some legit fierceness. The call to leadership may be too loud to ignore for many of us. But you don't have to rush the throne either!
New moons are starting blocks, opening up a six-month window to develop, expand and step into a new league. What's important is that you take some sort of action to get the ball rolling near Tuesday. For example, if you want to change things at your office, maybe wait before you group email a list of workers' demands to the entire company. First, see what happens if you set up a meeting with an influential ally in the C-Suite (or close to it) who could actually turn the tide in your desired direction.
Leo energy is charming and magnanimous. This new moon understands that making friends in high places—or trying that tactic first—can be the fastest route to getting your objectives met. This isn't about manipulation, but it is about diplomacy.
Creativity, romance, self-expression, and fertility are all activated by these moonbeams. Block out time to record a podcast, set up a profile on a dating app...or an ovulation app. If your messages keep getting lost in translation, get to work on your style and branding. The Leo new moon traffics in first impressions, and that raises the question: How do you want to shine in the world?
On Wednesday, you might swap your tiara for an undyed wool fedora when messenger Mercury parks in its home sign of Virgo until September 5.
The messenger planet's directive? Streamline and simplify. During this three-week cycle, you'll get your point across faster with a list of bullet points than a long, flowery metaphor. Be like a laser in communications: focused and direct. That will get people's attention! From there, you can follow up with lengthier stories and explanations.
Wellness is this earthy sign's domain, so if you haven't gotten enough outdoor playtime in this summer (and, honestly, who has?), start making plans to meet friends for fresh-air hangouts: hikes, bike rides, small picnics. Since Virgo loves to monitor data, a fitness tracker could become your ultimate "back-to-school" accessory.
On Saturday, more practical magic flows in as the Sun follows Mercury into Virgo until September 22.
It's always a little bittersweet when the razzle-dazzle of Leo season simmers down. But after a month of envelope-pushing hedonism and unapologetic excess, it's a good idea to pay attention to some of those rules and regulations again. This earthy solar cycle reminds us to make cleaner and greener choices, like buying organic and sustainably sourced goods that support local businesses. The best things in life might just be free, upcycled, bleached, and swapped. Organization reigns supreme during Virgo Season. If you have enough things, maybe it's time to install clever storage solutions and shelving so you actually know how to locate them when you want to use them!