Astro Alert: Balancing Stillness & Strength Is The Name Of The Game This Week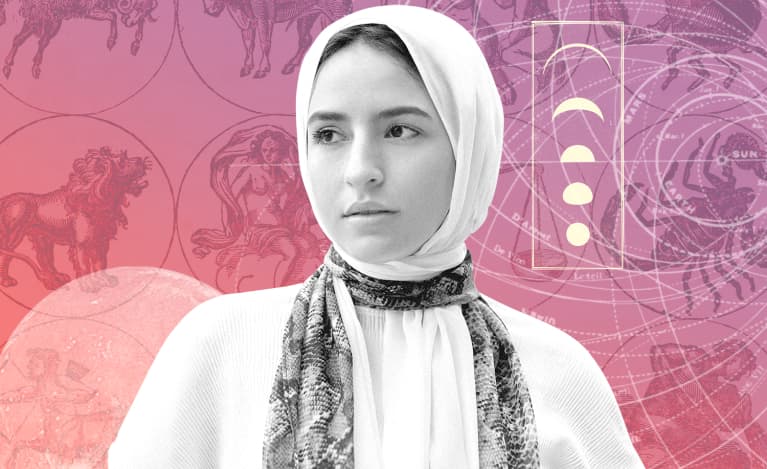 Should you ramp up your ambitious streak this week or surrender to the forced relaxation of the age of quarantine? Here's the AstroTwins' take.
This Tuesday, April 14, the waning quarter moon in Capricorn will have a grounding (but motivating) influence.
This leveling effect can help the overachievers find a bit of chill, which might actually clear your heads long enough for you to hit on the right idea (at the right price point) and start filling the coffers again. If you've been hit by the wave of virus-induced layoffs, these moonbeams are your prompt to start exploring a new, marketable skill that you can add to your tool kit. The good news is that this is a moderate quarter moon and its effects are harmonizing, not stressful. If you're pushing or pulling, adjust your pace to a gentle climb on your way to a new cruising altitude.
On Tuesday, control freak Pluto clashes with the daredevil Sun, followed one day later by a square between know-it-all Jupiter and el Sol.
You may feel like rebelling against the rules early this week, but easy does it! This is hardly a time in history for thumbing your nose at convention. The effects could be far-reaching—and you aren't going to be the only one affected. If you've been living or working with a renegade time, you may have to create more distancing than your heart cares to. As challenging as it can be to play the role of the enforcer, if it's for the good of everyone, it's the smartest move to make.
Taurus Season begins on Sunday, as the Sun hunkers down in the zodiac's bullpen until May 20.
For the past four weeks, Aries has been stoking our creativity and originality. Now the rubber meets the road: Which of these innovative Ram-spurred visions can we legit bring to life? Don the project manager's fedora and add some practical magic to the recipe. No need to rush! Since Taurus is both sensible AND sensual, the next four weeks are as much about ritualizing a beautiful process as they are about yielding results. Carefully consider every detail of a plan to ensure a high-quality and elegant outcome. Simplify anything that's become too complex—but not at the expense of luxury. The tasteful Bull loves life's finer things, as long as they also serve a purpose.