Weekly Horoscope: Monday & Tuesday Are Ideal Moments For Manifesting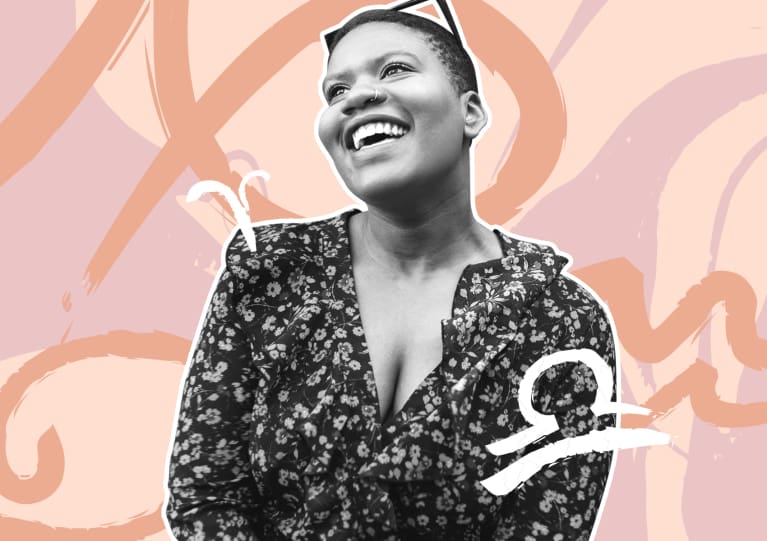 According to the AstroTwins, this week is the perfect moment to think big picture and use your skill set to start building a brighter world (no pressure!).
Monday is a great time to make a wish—for yourself and the world at large.
On Monday, February 4, a new moon in idealistic and communal Aquarius invites us on a vision quest. Where would the world be if we always played by the rules and toed the line? The innovative, "Wouldn't it be crazy if..." conversations this new moon arouses could bring us the next hoverboard, AI device, or metaphysical modality. (Can you say, vibrational sound healing?) But first, we'll have to suspend disbelief and consider the "impossible." Ideas don't have to make sense right off the bat; they just need to be spoken aloud now.
The fun comes with experimenting in the lab, like witty Water Bearer Thomas Edison whose refrigerator-magnet quotable sums it up: "I have not failed. I have just found 10,000 ways that won't work." And while last month's solar eclipse in Capricorn brought us resolutions and goal sheets, this lunation takes our plans to a higher vibration. Aquarius is all about innovation, crowdsourcing and community love. How will our actions affect other people? How can we work together to bring dreams to fruition? Nobody lives in a bubble, after all. Include collaborators and come together for a collective benefit, even adding a humanitarian twist. Since geek is chic under the new moon in tech-savvy Aquarius, now's the time to start developing any digital products or learning how to market ourselves effectively. Building an online empire? Set August 15 as a potential launch date when the corresponding full moon in Aquarius will bring a bountiful and binary harvest.
Tuesday is Lunar New Year. Welcome to the age of the Earth Pig.
This new moon also dovetails with the Lunar New Year (which falls officially on Tuesday, February 5). That means a change of guard when it comes to cosmic spirit animals. After the "follow the pack" influence of 2018's Earth Dog—which may have something to do with the profound resurgence of nationalism and fights over borders—the congenial Earth Pig takes the throne. How refreshing! Pigs are complex creatures who dream, recognize their own names, and communicate at a level close to primates. They are also quite friendly and, yeah, a little bit decadent. In 2019, talk is anything but cheap! We may enjoy a resurgence of cocktail parties and meetup groups focused around both fun and work interests (the pig is both hedonistic AND industrious). Time to wander outside the pen and really get to know our neighbors. Read all about the Year of the Earth Pig here.
On Sunday, Mercury enters Pisces and brings on warm and fuzzy feels.
On Sunday, sweet-talking Mercury flutters into poetic Pisces until April 17—an extra-long cycle due to an upcoming retrograde from March 5 to 28. No need to wait for Valentine's Day before rocking the rose-colored glasses and spilling the beans about your warm-fuzzy feelings. (If only a Rumi stanza could fit on a conversation heart...) In fact, if you're feeling the love, best to 'fess up before the March 5 retrograde. Under the influence of flowy Pisces, attractions take on a life of their own. But don't let communication get too vague. You know what they say about assumptions.... That said, the liquid nature of Pisces allows us to flow beyond our own boundaries and glimpse life through a more compassionate lens. Before you judge, try paddling a mile in someone else's canoe. Pisces is symbolized by two fish swimming in opposite directions. One is pointing us upward, to our visionary selves; the other sends us down into the murky waters of our own shadows. Deep healing awaits for those willing to plunge into the stormy surface of the psyche. And so much beauty can emerge from these trips below the sea! Keep the creative supplies on hand and turn your discoveries into cathartic works of art.