How Your Horoscope Can Help You Thrive While Social Distancing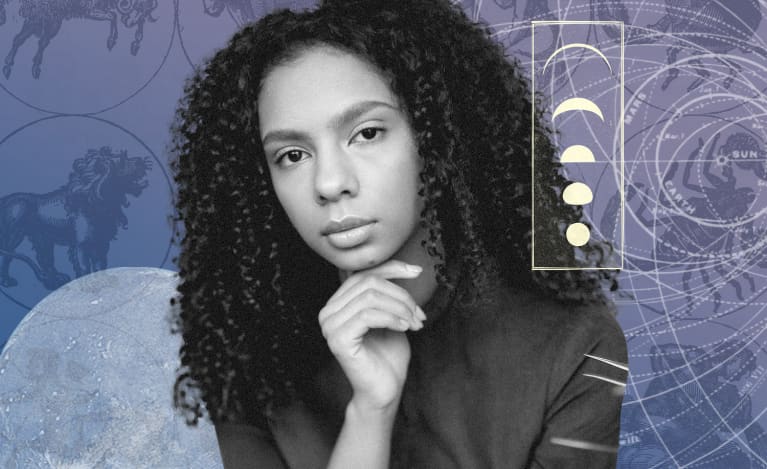 Some collective shifts are in the air that could affect the way we navigate life in the age of social distancing. Here's your astrological forecast for the week.
On Tuesday, you could come to some new realizations about your quarantine relationships.
Is this an actual "thing" or just a passing fancy? With Aries season in full swing, feelings have been pumped up and passionate—yes, even while in quarantine. But just before midnight (11:48 p.m. EDT) on Tuesday, April 7, you'll get clear signs about a relationship's potential when 2020's only full moon in Libra opens hearts and minds. Connections that have been percolating since the corresponding new moon last September 28 could reach a defining moment. Couples may decide to combine forces in a more official way or finally blast off on a co-created project that brings more pleasure and playtime to your lives. Solo acts could become joint ventures as the changing world necessitates greater cooperation.
Other people might use this as an opportunity to embark on a deeper evaluation. As powerful as your chemistry is when you're connecting or spending time together, how secure do you feel when apart? If you're in constant turmoil, waiting for a text, a meme, anything, you may decide to cut 'em loose for serenity's sake. Nothing's more distracting than being kept in a constant state of flux. But then again, this might be a cue to adjust your expectations. Are you using a relationship to avoid being with yourself? In this time of social distancing, don't miss the golden opportunity to learn how to fully relish being in your own company.
Before you cut people off, could you hash out a creative compromise? This might be possible in certain cases. If so, use the two weeks following the full moon to get everything onto the table. Remember: Splitting everything 50/50 isn't the only recipe for playing fair. In fact, trying to force that might be part of the breakdown. How can you divide up responsibilities to play to each person's strengths—and needs?
Combative Mars will also crash into a complicated square with combustible Uranus on Tuesday.
This 90-degree mashup only happens twice every other year and can cause quite the disruption. With both planets in stubborn, fixed signs—Mars in Aquarius and Uranus in Taurus—tempers may flare as egos and ideologies clash. But hey, sometimes, you've gotta stand your ground. If you've been a little TOO agreeable for your own good, the Mars-Uranus square can push you to your breaking point. Forget about sucking it up and "taking one for the team." This ain't the day to accept peace at any price! But if you're feeling too heated to hash things out diplomatically, steer clear of situations that are potential powder kegs. This might be a better day for privately clarifying your anger...but NOT attempting to hold a summit between warring factions. If you're able to approach the matter with a cooler head, however, this transit can inspire some eye-opening dialogues.
But will you be a sweet talker—or fast talker? This Friday, April 10, expressive Mercury glides into agile Aries, turning us all into silver-tongued devils until April 27.
No spacing out allowed! You could miss the punch line or get taken for a ride by a charmer. If you're the type that hates small talk, get over it. Everyone's attention span will be short for the rest of April—and a witty one-liner will make a stronger impact than a long and meandering tale. For maximum impact, break everything down to bullet points and, if you haven't yet, do your best to manage the fine art of Tweetspeak. If you only had 140 characters to state your case, what WOULD you say?
New friendships and virtual flirtations will sprout like spring crocuses, but careful about tumbling down a fantasy rabbit hole. Text trysts and webcam wooings will be hot, but many will fizzle as fast as they sizzle. And even if they don't, how much sexier is it to stay grounded in your own individuality and power? (SO much!) Inspired bursts of brilliance could emerge if you sit quietly, without the distraction of devices. But do keep a capture tool handy so you don't lose those gems. When with others, try to keep your argumentative streak in check. Debates can heat up quickly with combative Mercury in Aries—and go from friendly dialogue to heated, bridge-burning exchanges. When tempers start flaring, call a timeout!