Struggling To Conceive? Make Sure To Protect Your Emotional Health
mbg Contributor
By Angela Watson Robertson, MBA
mbg Contributor
Angela Watson Robertson, MBA, aka The Reinvention Warrior, is a well known nutrition blogger, endometriosis thriver, mom and health coach who teaches you how to transform your life starting with the food you eat. She has an MBA from The University of Phoenix and a B.A. from The University of Missouri – Columbia.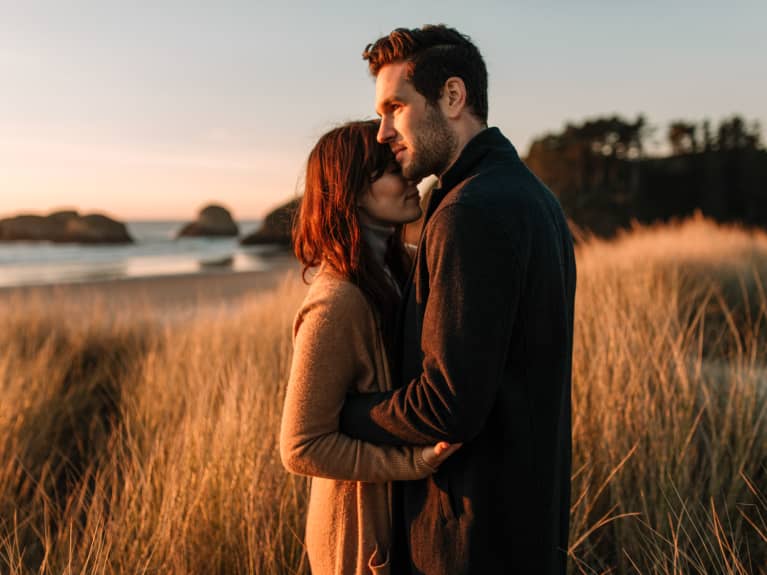 Four years ago, I was newly married—and for the first time in my life—considering the possibility of having a child. I was shocked by this desire in my heart, as I'd never been someone who dreamed of being a mother. In fact, for decades I'd been telling friends and family (and myself) that I didn't want children. Now, with the benefit of hindsight, I know that these feelings were based on unresolved trauma from my own childhood and the fear that I'd never find a partner I felt safe with to take on such a challenge.
Yet, after many messy relationships and with much luck and grace, I met and married a wonderful man and supportive partner. Soon after we married, my heart, and thus my dreams, changed. I'd finally found a life partner I could truly trust and create a life with, and I felt the desire for a child begin to grow in my heart.
Next came many months of talking through these feelings with my husband and therapist, followed by us making several big lifestyle and career changes to create space for this to happen. And just like that, my husband and I began trying to conceive a child.
I thought for sure I'd conceive right away, as I was one of the healthiest people that I knew. I was a health and nutrition coach after all, someone who avoided dairy, gluten, and processed sugar, had acupuncture and chiropractic regularly, and exercised often. Outside of some painful menstrual symptoms, I felt physically great.
Yet, I didn't conceive right away, and as I look back, I realize I had no idea what could be involved emotionally and physically during the fertility process. I mean, aren't we all told that all you do is have sex, and then a baby just magically happens? Yet for many couples, this is not the case.
The process to conceive a child is long, arduous, challenging, and often frustrating.
At first, it was exciting and fun. I read all the books and learned all the things there are to learn when trying to conceive. I charted my cycles, took my daily temperature, monitored bodily functions, modified my diet and lifestyle, and had therapeutic treatments to assist my body in conceiving. Yet, as the months went on with consistent negative pregnancy tests, I began to lose faith. It felt unfair, and I was heartbroken. Hadn't I already done everything that experts tell you to do in order to conceive a child? What was wrong?
What followed was close to two years of struggle, stress, and frustration as I continued to live in what I call "the in between." During this time I was trying to live my life as usual, yet inside I was no longer the same person. I was expected to keep going as normal, all the while knowing that at some level I was in between child-free and motherhood. Something had shifted inside me so deeply that, even if I never conceived, I could never go back to who I was before.
At times I would second-guess my heart and ask, "Do I really want to be a mother?" I wondered if our not conceiving was a sign from the universe that I was not meant to be a mother. I even had fears that I was now being punished for all the years of saying I didn't want to have a child.
Though my friends, family, and husband encouraged me in times of doubt, I still found myself stuck in a scary and extremely lonely place that many women find themselves in when trying to conceive their first child. In order to fully embrace my desired future, I had to be fully emotionally and physically open each month to becoming a different person (from non-mother to mother) in the world. Yet at the same time, I had to remain detached enough, so that I wouldn't be completely devastated and unable to thrive in my daily life in case it did not happen.
Eventually, I'd had enough and sought medical help. After many tests and a major surgery, I was diagnosed with stage 4 endometriosis and was placed on five months of hormone-induced menopause and given high doses of progesterone. Thus began one of the hardest times of my life. We were told that we had less than a 25 percent chance of conceiving naturally as the surgery did not resolve all of my issues.
After all of this, we needed a break and decided to decline further fertility treatments and shifted our life in the direction of living child-free. We'd had enough and wanted to be happy again. Yet, surprisingly, and by what I can only suggest is the result of divine mystery and magic, a few months later we conceived our daughter. She is our miracle.
I share the details of my story as so many women can relate to this "in between" or "middle place." For those of us who aren't able to conceive easily, or at all, this transition phase is extremely difficult and can leave even the best of us in a dark place if we aren't taking care of ourselves along the way. If you have found yourself in this "in-between" phase of life, where you are not yet a mother but no longer who you were before and desiring to conceive, it's important that you take care of yourself along the way.
Here are a few tips to bring you comfort and help you find peace when in the "in-between" place:
1. Work with a therapist or support group.
Look for an infertility and loss support group in your area. They are often offered by therapists or yoga studios who specialize in supporting pregnant and/or postpartum mothers. These support groups are not only for women who have experienced a miscarriage or loss of a child but also support women who are struggling to conceive. This type of support group can help you connect with other women who are going through the same emotional and physical struggles.
2. Find a fertility friend.
When I was trying to conceive, I felt alone and didn't have very many friends to talk to about my experience. Most of my friends had already had children, and even if they'd struggled to conceive, they no longer remembered what it was like, and the rest of my child-free friends didn't want children at all. Basically, I couldn't relate to most of my friends at the time, yet I didn't put the energy out to try to make new friends who may be going through the same thing via Facebook groups or support groups.
In hindsight, I realize that if I'd found just one other friend who was struggling with fertility, it would have made a world of difference for my happiness. Don't make the same mistake as me: Find ways to make a fertility journey friend and connect with them daily. This friend can be virtual and living in another city or country. Several friends and clients of mine going through infertility have found wonderful new friendships with other people trying to conceive using Instagram and Facebook, and they support one another online. With technology, we no longer have to rely on face-to-face friendships to meet our needs. You can send each other videos and texts all day long. Trust me—this will be a game-changer for you and your mental and emotional health.
3. Prioritize ALL of your friendships.
As important as it is to connect with new friends, don't shut out or avoid your current friends—especially if they have always been supportive and kind in the past. You may feel like you can no longer relate to your current friends or that they don't understand what you are going through. Maybe you are distancing yourself from your friend who easily became pregnant again for the third time, or you're no longer meeting up with your friend who never wants kids. This is understandable, but take it from me—someone who is on the other side of this journey—you need all types of friends in your life.
No matter what happens with your fertility journey, you'll need all your friends. I had a few friends who also struggled with infertility and who, once I did get pregnant, never texted me back or came to any of my events, and that still hurts our friendship to today. It was as if they couldn't celebrate my happiness unless they were happy as well. Strive to be the friend you wish someone would be to you. Show up for others even if you're having a hard time and are a bit jealous about what they have. Jealousy is normal—show up anyway. You'll want others to be there for you when your day comes, so be there for them now.
All this being said, if you really need space, that's totally OK too. Just own it and be open with your friends about what you need and what you can't give right now. Let them know it's not about them and that you still love them, yet you need some time alone for a bit. (More on this below…)
4. Protect your emotional and mental energy.
You are likely in a very vulnerable place right now, and it is important to protect your emotional and mental energy. Are you spending time with people who are bringing you down or making you feel more hopeless or scared? Are you listening to podcasts, music, or reading books and watching TV shows that aren't good for you? You'll know if this is the case if you're consistently struggling with negative thinking. Instead, find books and podcasts that help lighten your mood or support what you are going through. There are a lot of books out there about women struggling to conceive. Surround yourself with people who love you and support you, and you'll find it helps elevate your mood and overall outlook.
5. Set aside alone time often to recharge.
Whenever you're going through a really tough time, it's important to process all you are feeling and experiencing. If you're someone who recharges by getting out and spending time with others, then do that. Yet, if you're like me, you need a lot of alone time to journal, read, rest, and just be alone with your thoughts and feelings. Make space for this often and prioritize it. Maybe it's on your lunch break at work where you journal or read an inspiring book. Maybe one weeknight a week your partner goes out with friends, and you stay home with your pets and have a night on your own. One thing to keep in mind is that this may be the last time in your life, especially if you are able to have a child, where you can have a lot of alone time. Take advantage of it!
6. Make time for you and your partner.
Make time for you and your partner to connect. Now, I'm not suggesting you make sure to have sex a lot—I'm sure enough people are telling you that. I recommend that you make sure to have time with your partner outside of the time you are trying to conceive. This time is for you two to spend together not talking about having a baby or even thinking about it. This isn't easy, but it's important. Go to a movie or plan a game night with friends. Have dinner at your favorite restaurant and go out dancing. Whatever the two of you love and whatever brought the two of you together—do that.
When you're trying to conceive, it's easy to focus so much of your energy and time in your marriage or relationship on baby-making. So much so that often we forget about how and why this whole journey got started in the first place: We fell in love, and we are overflowing with our love and enjoy sharing our life together so much that we wanted to create another human to share our love and life with. Take time to rekindle your friendship and remind each other why you are together in the first place—that you are really good friends who care deeply about one another.
7. Prioritize caring for your physical body.
This may seem like a no-brainer, but you'd be surprised by how many women neglect their body when expecting their body to perform a miracle. Your body is doing a lot (all the time) behind the scenes, and you need to be in the best health possible to allow for a baby. I highly recommend massage, chiropractic, and acupuncture often. When I was trying to conceive, I had a massage and chiropractic adjustment monthly and acupuncture weekly, but do what fits into your budget and lifestyle. In addition, focus on your diet, nutrition, and supplements. Research what supplements and foods are best for a woman who is trying to conceive. If necessary, work with a health coach to guide you in getting your body into a better state of health before you conceive.
All of these practices will help you in amazing ways once you are pregnant and are a mother. So if you put them into practice now, you'll be in a better place for the rest of your life, baby or no baby. Basically, you're working on becoming a better human, a better person that blesses everyone in your life—especially a potential future child.