I Went Waterless & It Totally Wrecked My Skin
Contributing Wellness & Beauty Editor
By Lindsay Kellner
Contributing Wellness & Beauty Editor
Lindsay is a freelance writer and certified yoga instructor based in Brooklyn, NY. She holds a journalism and psychology degree from New York University. Kellner is the co-author of "The Spirit Almanac: A Modern Guide to Ancient Self Care," with mbg Sustainability Editor Emma Loewe.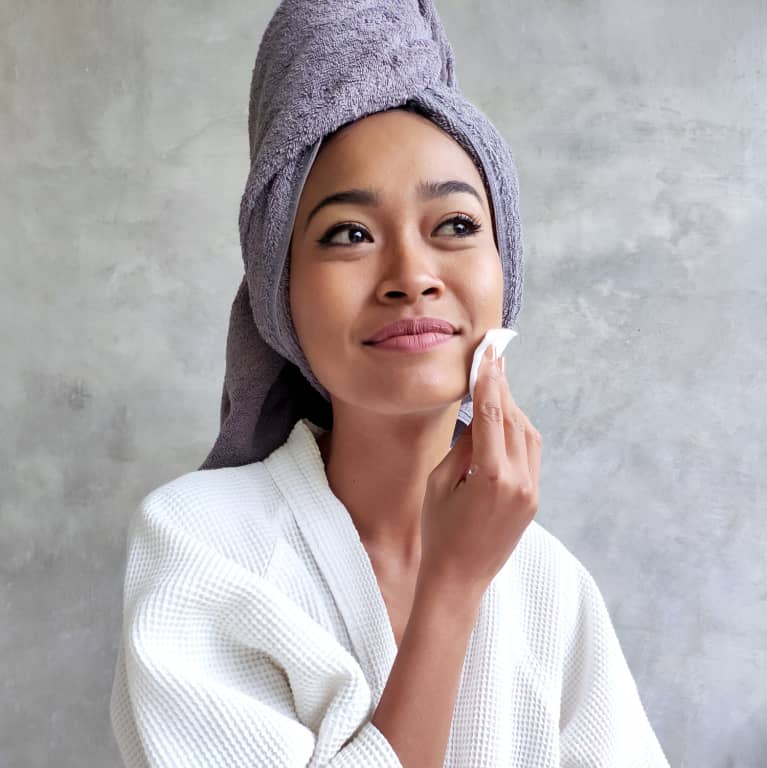 It's 2019, and it's high time to take green beauty to a new level. Carefully sourced and chosen ingredients will always define what makes something "clean," but a new consideration has arisen: the water footprint. In a world where water shortages are becoming an unfortunate reality, and at least 783 million people don't have access to safe water, it's crucial to prioritize conservation of this dwindling (and harder-than-we-thought to renew) natural resource.
Using less water overall is a shared goal across the Big Beauty, and corporations are leading the charge. Unilever has pledged to halve its water usage by next year, 2020, from a baseline of 2010. L'Oréal has set a goal to reduce its environmental footprint (of which water usage is a part) by 60 percent, also by 2020, with a baseline of 2005. Procter & Gamble has released a statement promising to reduce water use in manufacturing by 20 percent by 2030. But what can we do as consumers?
How to control your water footprint: the skin care edition.
There are several (unofficial) ways to address your water footprint. Using fewer products is probably the most efficient way to cut down. "From our perspective, the most impactful way to reduce the amount of water you consume in beauty is really to just minimize the number of steps in your routine," said Gloria Fu and Victoria Lu, former cosmetics chemists who now run the popular watchdog-style Chemist Confessions Instagram account. "More products equals more water use," they said.
Makes sense. But both Lu and Fu agreed that determining the water footprint of a product is very complicated. "You may opt for a balm or an oil because regular lotions contain water...but when the balm is produced, it can actually take a lot more water to clean up the equipment afterward," they said. Still—just because it's difficult doesn't mean it's impossible. Here are three places to begin.
Choose products that are not water-intensive to make.
Choosing products that are not water-intensive to make will have huge ripple effects up the supply chain and may even be more impactful to manufacturers than using fewer products, but there's a hang-up—most brands don't disclose the amount of water that went into making a product or the volume of water saved by making a product in a more eco-friendly way. Emailing companies and requesting this information is the most direct and reliable way to instigate this kind of disclosure, but it's daunting and not everyone has time for that.
Invest in anhydrous skin care.
Another theory is that using anhydrous products will conserve water. While it's impossible to measure the impact of this choice because each of the ingredients used in a product could be individually water-intensive, it's interesting to consider. In most beauty and personal care products, water is the first ingredient listed on the label. Since ingredient labels are intentionally arranged in descending order by product concentration, this means many, many products are made of mostly water! (How does your wallet feel about that?) Using anhydrous products is an attractive option, though, because it's tenable. Oil cleansers and cleansing powders are aplenty. And while water-free products tend to be more expensive than their water-filled counterparts, they're more concentrated. A little goes a long way, and using less product and less packaging over time has its own merits. Plus, anhydrous products don't require preservatives like water-containing products, leading to longer shelf life and more natural ingredient lists. Water breeds microorganisms and oils and therefore requires preservatives to keep the product safe.
Try beauty products that don't require running water.
Now, to address my failed experiment, the last "waterless beauty" conservation tactic is to use products that don't require water as an essential part of its use. Inherently, this turns the focus to cleansers and treatments, like masks. I valiantly tried replacing my perfectly good cleanser with micellar water and wipes—all different brands—and my skin didn't like it one bit. Over the course of a week, I developed dry patches, breakouts near my chin, and chapped-looking bumps around my nose and lips. My skin is on the sensitive side, but I've never had a reaction this strong. I've used micellar waters and skin cleansing wipes in the recent past, but a splash of water was never far behind. I'm still recovering from this "I Tried It" fail, so I wouldn't recommend it for anyone, especially sensitive types. It seems that H20-free products aren't designed to be used in total isolation from water after all.
Long story short, learn from my mistakes and don't go completely waterless—it's much more nuanced than that. But do support companies that are taking steps to reduce water waste, where the impact is greater and the effect on your skin itself is invisible.