This Innovation Aims To Stop Food Waste (And Save Some Avocados In The Process)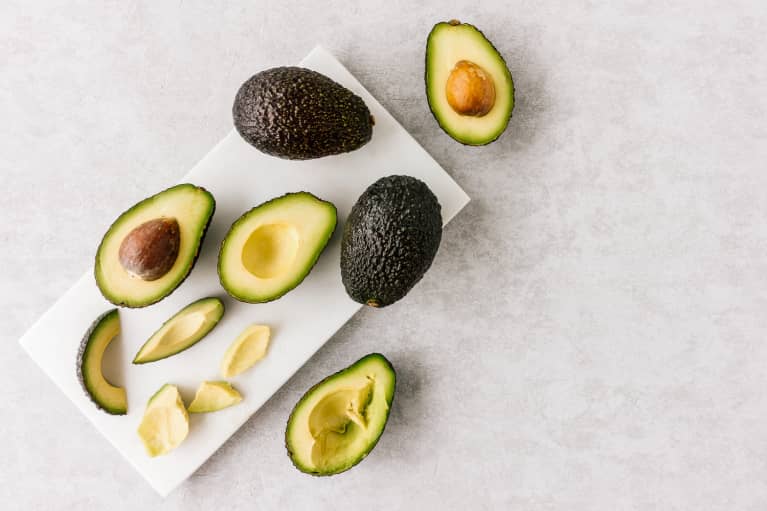 Last updated on September 18, 2019
The U.N. warned us: We have 12 years before the damage we've done to the Earth becomes irreversible. Instead of letting reports like this paralyze us, let's use them to empower us. The experts are saying it's going to take a mix of large-scale change AND individual action to save our planet—and we want to help you do what you can. Consider our This One Thing series your no-excuses guide to cleaning up your act, one step at a time. Today, we're talking about an innovation that could one day put a major dent in our food waste.
It's the ultimate kitchen let-down: Your toast is prepped, your egg poached, and you cut into your avocado until to find it brown, speckled, and mushy. Forlorn, you toss it in the trash (or hopefully, the compost bin) and take the loss.
The problem: The kitchen is the site of tons of food waste.
Your avocado toast isn't the only thing that suffers in that scenario. Every time we throw away food, we're also throwing away the resources that went into growing it (the water, labor, transportation exhaust, etc.). By the U.N. Food and Agriculture Organization's analysis, food waste is responsible for 8 percent of global emissions. Let's underline that: Food that never gets eaten has a higher burden on the planet than most developed countries do.
In terms of what exactly people are throwing away, fruits and vegetables are high on the list, second only to fish, and the Natural Resources Defense Council estimates that an incredible 48 percent of them get tossed in the average American kitchen. There are lots of reasons this is the case: Produce gets packaged in large amounts that make it difficult to use up, its "best by" date labels are confusing and misleading, and (unless you're buying hyper-local) it's getting to our kitchens long after it's picked from the farm, so spoilage is imminent.
"When a fruit or vegetable is harvested, it's essentially a ticking time bomb. It has a limited number of 'breaths,' if you will, before it rots on your countertop," explains Michelle Masek, the head of marketing for Apeel—one company that's found an innovative solution that fights food waste by making produce stay fresher longer.
The One Small Thing solution: Advocate for innovation like Apeel.
On the surface, Apeel is simple: It's a clear film that shields produce from the elements that cause spoilage. On average, the relatively straightforward solution doubles the life span of the fruits and vegetables it coats—using nothing but organic material.
"What we're essentially doing is looking for the specific ingredients found in every bite of fruit that you eat—in the skins and peels and pulp—and using those to add a little extra peel to the surface of fresh produce," Masek says of the Apeel process. "You can't see or taste that extra peel, but it's slowing down water loss and oxidation, which are the two factors that cause food to spoil."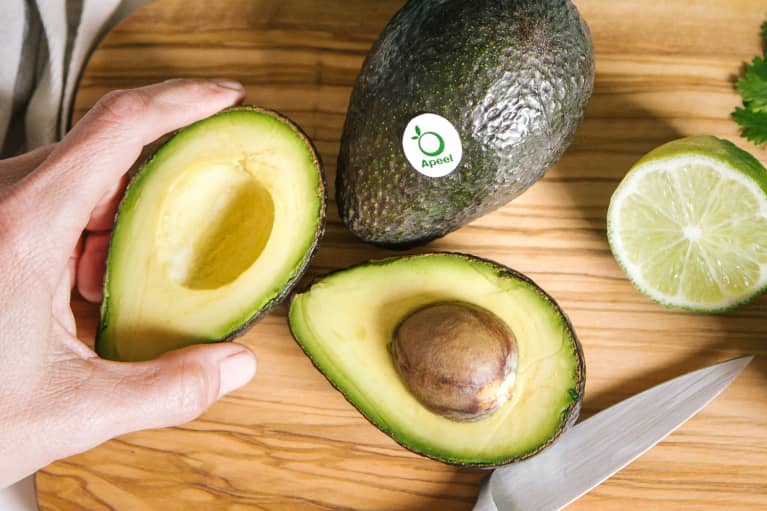 To make the product, Apeel calls on materials that would have otherwise gone to waste, such as tomato pomace, watermelon rinds, or grape skins, in abundance in the company's Southern California home base. The resulting film is applied to produce during the packaging process. Once applied, it gives producers more time to handle and ship their produce, and it reduces the amount of waste in grocery stores too—saving money and headache through the supply chain.
"Every member along the way gets some great sustainability benefits," Masek says. While Apeel can theoretically coat any fruit or vegetable, it's currently covering avocados in 1,300 stores around the U.S., mostly Krogers, and, as of September of 2019, asparagus and limes too.
You can see if any longer-lasting Apeel produce are in your area using this store locator. If they're not, request that your local grocery store starts carrying them here to show your support for innovations that make avoiding food waste easier for the consumer. While you're at it, be sure to implement food-saving measures in your kitchen when you can by taking stock of what's in your cabinets before you go shopping, cooking meals that incorporate scraps, and being a responsible meal prepper.