Want To Try Natural Hair Dye? Read This First
Contributing Wellness & Beauty Editor
By Lindsay Kellner
Contributing Wellness & Beauty Editor
Lindsay is a freelance writer and certified yoga instructor based in Brooklyn, NY. She holds a journalism and psychology degree from New York University. Kellner is the co-author of "The Spirit Almanac: A Modern Guide to Ancient Self Care," with mbg Sustainability Editor Emma Loewe.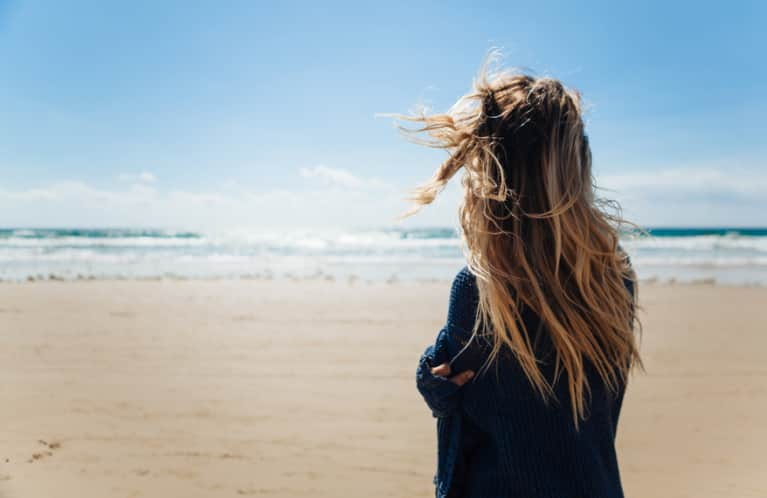 So you've switched your deodorant, your skin care, and you're even dabbling in natural makeup. But so many of us will continue to sit in the hairdresser's chair, bleaching, coloring, and toning for hours on end. Is conventional hair dye harmful to our health? Truthfully, very little research has been done on the toxicity of chemical hair dyes because the answer depends on several factors, many of which would be hard to control for in a salon setting: the ventilation of the space, the dye's individual formulation, concentration of certain ingredients, the length of time spent dying, and more. There are endocrine-disrupting ingredients we know to avoid, and many doctors recommend skipping hair dye when pregnant, but for those of us concerned with efficacy and end results, is there a more natural, less toxic option?
To find out, I spoke to Naomi Knights, Los Angeles-based hair colorist to P!NK, Scarlett Johansson, and other celebs, and founder of renowned Nama Color Environment, who has more than 20 years of coloring experience, as well as Nackie Karcher, owner and principal stylist of The Karcher salon in Greenpoint, Brooklyn, with 25 years of experience in hair coloring. Here's the lowdown.
First, let's review some hair-color basics. The type of dye you (or your stylist) chooses depends on the combination of your base color and the desired result. To make light hair darker, color is deposited into the hair. This process causes minimal damage but is complicated to reverse. To make dark hair lighter, bleach or another lightening agent is used. This process is typically damaging to the hair, but once hair is lightened (especially virgin hair), it's far simpler to change or darken. In other words, it's easier on the hair to go darker, and going lighter is more difficult especially if someone with dyed dark hair wants to return to a lighter shade.
Of course, gray hair has its own set of rules and is the most finicky. Natural gray shades range from dark to light, but the texture is different from pigmented hair and affects how it holds dye. Naturally gray strands often "repel" depository color making it tough to "take" or maintain. Bleach will likely yellow it, so it looks more like blond hair or closer to white. Many conventional stylists often use bleaching as a way to make gray hair more receptive to color.
"The chemical reaction of [conventional] hair color is a combination of an alkalizer or a gas (ammonia, MEA, the sun, lemon juice, heat, and air conditioning) an oxidant (peroxide, the air, or time), and a pigment (natural melanin, artificial pigment, or extracts from natural herbs and ingredients)," said Knights. The reason all hair color fades is because it's constantly being exposed to the elements. Other than lemon juice, there isn't an all-natural hair lightener—all natural hair dyes deposit color.
Here are natural plant-based dyes you can use.
Walnut and tea blends: These are best suited to achieve darker hair, according to Nackie Karcher.
Oway Natural bleach: free of ammonia, parabens, petrolatum, PEG, PPG, BG, EDTA, artificial colorants, fragrance, OMG recommended by Naomi Nights.
Blueberry yogurt: Knights has successfully used blueberry yogurt on her already bleached locks, which turned out a light shade of lavender. It was "probably because of the above combo of exposure of an alkalizer like yogurt, a gas like time, and a pigment like blueberries," she said. Good to know!
Chamomile: Karcher recommended chamomile for blondes and grays who want to stay light.
Lemon juice: At present, it's likely the only all-natural lightener. Karcher's Floridian mother uses it to this day with great results.
Henna: It's important to look at the ingredients in henna hair dye, Karcher warned. It can have heavy metals in it too, depending on how it's made.
Beet juice: Karcher has used it on lightened hair and got a lovely pastel-pink result, but it didn't stay very long.
Davines: Both hair stylists advocated for Davines color. While it's not 100 percent natural, it's 95 to 98 percent and is formulated without many of the known toxins in conventional hair color.
The unspoken rule of natural hair dye.
"In hair that's already processed—natural or chemical—it will build up: you're changing the integrity of the hair. Once you dye the hair once, again natural or chemical, it will act differently," Karcher said.
Translation: If you're going to use natural hair dye, think of it as a long-term relationship or commitment. It's best to start on virgin hair for any coloring process, and if you start from a place of having color, consult a pro. For example, if you're considering henna color, understand that it's difficult for a colorist to eradicate red or any other darkening color without several hours of (chemical) processing. "If you do henna, stick with it because it has a pretty gnarly reaction to chemical colors and bleaches," said Knights. Not to mention it will cost a few hundred dollars to correct. So, when you choose to commit to natural hair dyes, patch-test first. Then, be ready for that change, and don't mix dyes.
Here's a comprehensive list of the toxic ingredients to avoid in hair products.