Waiting For A Creative Spark? Try This Instead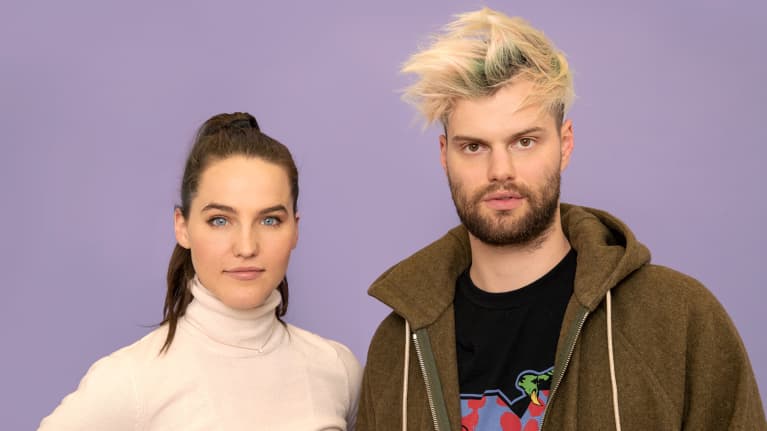 Love this? Want more? Stay up to date with the podcast by signing up for
our newsletter
. —The Editors
When we think of musicians on tour, we think of late nights, junk food, and a whole lot of partying—in other words, we don't think wellness. While this may be true for many, SOFI TUKKER, a Grammy-nominated musical duo featuring Sophie Hawley-Weld and Tucker Halpern, take their wellness practices on the road with them. Sophie & Tucker joined me on the mbg podcast shortly after releasing their new single "Fantasy" to talk to us about what brought them together, bringing positivity to the stage, and how they spark creativity.
Sophie and Tucker attended Brown University, where they met, and as Sophie told me, "the lack of wellness [in college] is really what brought us together, and we bonded over it." Tucker had been an all-star basketball player at Brown, then had a severe illness that caused him to be bedridden for seven months, which was what ultimately led him to pursue music. As for Sophie, she explains, "I kind of beat up my body emotionally, physically, and mentally." It wasn't until someone close to her was diagnosed with bipolar disorder that she realized the fragility of life and how daily choices can affect our mental health.
As they set out on their collaborative journey, they related to each other's need for greater self-care. And while they credit wellness with some of their success, they both said it comes down to a unique approach to the creative process.
They explained that they see two avenues to creativity: One is to wait for inspiration to come and then get down to work, and the other is to continue working through the lulls and be ready for when the creativity comes. They both have a strong work ethic, staying late in the studio and creating on tour so that when the spark comes, they're already there and ready to make it happen.
In this episode we talk about:
The four unexpected wellness practices they do to prep before a concert
Their favorite ways to restore energy after big shows
What's in the smoothie bowl they make every morning
Sophie and Tucker are candid about the fact that wellness is a complicated journey. For them, music is about connecting with others from a present place and sharing positive energy, and they acknowledge that this isn't possible unless they care for themselves first. When asked what the future holds, Sophie said, "I would love to be in a place where it's clear to the world that we're creating our music, and what we're doing stands for something much larger than Sophie and Tucker." Their words will inspire you to take action toward your dreams, put your health first, and be unapologetically you along the way.