Sniff Anxiety Away With These New & Improved Smelling Salts
Contributing Wellness & Beauty Editor
By Lindsay Kellner
Contributing Wellness & Beauty Editor
Lindsay is a freelance writer and certified yoga instructor based in Brooklyn, NY. She holds a journalism and psychology degree from New York University. Kellner is the co-author of "The Spirit Almanac: A Modern Guide to Ancient Self Care," with mbg Sustainability Editor Emma Loewe.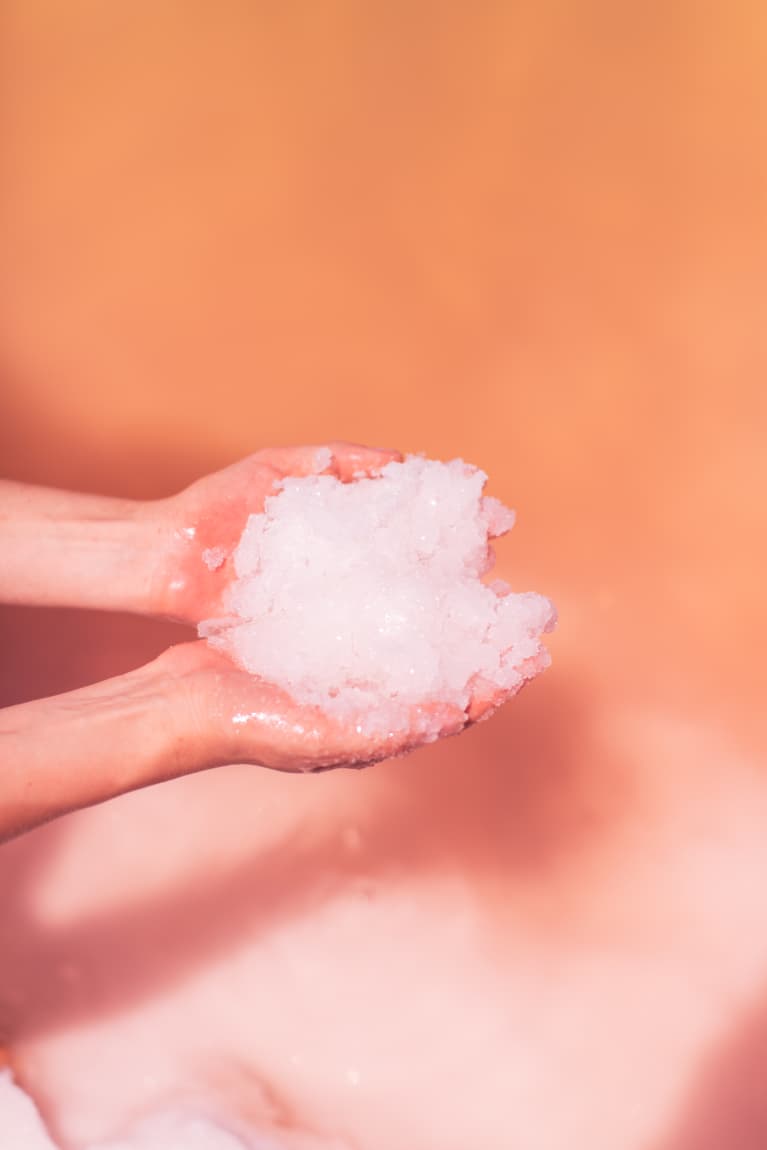 There's an important distinction to make right off the bat about these smelling salts—the ones we're excited about are not what they used to be.
Smelling salts: a brief history.
Back in ancient Roman times and extending through the Victorian era, smelling salts were used to revive men and women who had fainted or were feeling ill. The main active ingredient was an ammonia derivative mixed with pulverized deer antlers and fragrance to create a dried-out, saltlike dust people called "sal ammoniac." The ammonia works by irritating mucosal linings of the mouth and nose, triggering an inhalation reflex and arousal via the nervous system—all helpful things for someone who just passed out.
Flash-forward to today, and there are two very different types of smelling salts on the market; one has been around for years and the other is brand-new. The older variety has earned a reputation as a stimulating mechanism for professional sports players, particularly the NFL and NHL. Athletes and powerlifters use smelling salts derived from the original Victorian formula with roughly 35 percent alcohol and 15 percent ammonium. These smelling salts are not banned from professional sports leagues (save boxing), and there are many articles that say these particular smelling salts are safe to use, but the truth is that there isn't much research to confirm it.
Smelling salts 2.0: the all-natural, aromatherapeutic variety.
The green, all-natural, modern version of smelling salts, on the other hand, is a trend we can get behind—simple ingredients like actual salt and essential oils are totally safe for sniffing (read: not snorting!). Leading the all-natural smelling salts trend is Josh Beeler, long-time brow guru at Brooklyn's natural beauty mecca, SHEN, with the launch of his line VOLAR that includes three different blends of smelling salts. The different scent combinations work to decrease anxiety, increase focus, and invoke calm.
"Smelling salts came out of necessity," said Beeler. "I don't wear fragrance, but sometimes you need a little something, like scent, to change your state of mind." In addition to being inherently antimicrobial and antifungal, salt is cleansing for both the mind and body. "It's a good way to escape. If you're feeling trapped, in an elevator for example, or if you get on the stinky subway car (as I always do), smelling salts can help make those situations better." Indeed, the olfactory nerve is the only cranial nerve that has direct contact with the environment, which is why scent has the power to conjure childhood memories, calm the system, or, like Beeler mentioned, give way to an escape.
His line VOLAR, which means to fly in Spanish, also includes mists and body oils in the same combinations: awaken, ascend, and calm. Other brands on the smelling salts bandwagon include Fig + Yarrow, Therapie, and Portland General Store, and I expect you'll see even more pop up more in the coming year.
Feeling inspired by the power of scent? These powerful fall-flavored candles will bring the fall forest to you.