How Virtual Reality Could Pave The Way To A More Sustainable Future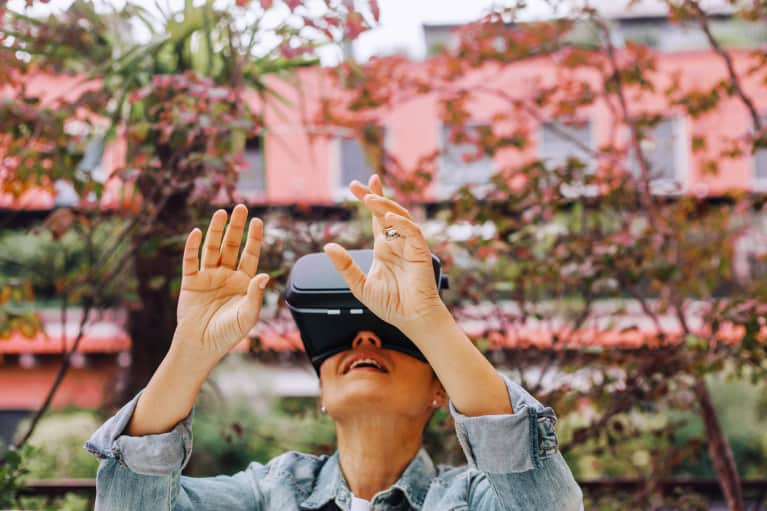 Our editors have independently chosen the products listed on this page. If you purchase something mentioned in this article, we may
earn a small commission
.
"You just had to be there" is a trope we've all heard at one point or another. Historically, there hasn't been a way to replicate the feeling of doing things like exploring a new country or hiking a beautiful mountain. Try as they might, photos, video, and the written word can't totally encapsulate certain in-person experiences. But as technology becomes more advanced, virtual reality could help us immerse ourselves in new worlds without ever having to leave home.
"VR is really good at making things that are abstract more tangible," explains Jeremy Bailenson, author and founding director of Stanford University's Virtual Human Interaction Lab. His lab is starting to work out ways to use virtual reality as the next wave of environmental education. "For most of us who aren't visiting the ice caps and may not live on the coast of Florida, we're not experiencing climate change every day. VR can make these abstract concepts very immediate."
Bailenson has experimented with systems that combine sight, feel, and smell to make users feel like they're swimming in a decimated coral reef or in the midst of an intense storm. (In virtual reality, disaster is free, he likes to say.) When you consider human psychology, virtual reality is effective at emulating in-person experience because of a theory known as embodied cognition. By shocking us into moving our bodies, VR activates the motor-sensory cortex and can therefore more closely mimic how we'd feel IRL.
For proof of concept, consider that simulations like chopping down a tree have inspired people to make real, eco-friendly changes, like using less toilet paper. The Stanford lab found that VR users were usually more likely to do so than those who just read an article or watched a film about how toilet paper can contribute to deforestation.
While still in relatively nascent stages, these climate-emulating simulations could be transformational for people of all different ages, backgrounds, and ideologies. For now, though, Bailenson and his small team are working with USAID to get goggles into the hands of policymakers first and foremost.
"We can argue about whether it's good for the world that billions of people are using VR," he says, describing the value of working with fewer people who wield more power. His most recent simulation, a four-minute film that premiered at this year's Tribeca Film Festival, transports users to the tiny island nation of Palau, where climate change is already a very real threat to local reefs and ways of life. After watching the Palau footage, which included immersive shots of divers accidentally destroying precious corals with their fins, members of the local government passed a call to action to integrate climate change research into their ocean policy.
While the future of technology can be spooky at times and downright terrifying at others, this is certainly one example of tech being used for good.
Here are some other environmental tech innovations that have us hopeful.