3 Skin Longevity Tips From The Iconic Model, Actress & Writer Veronica Webb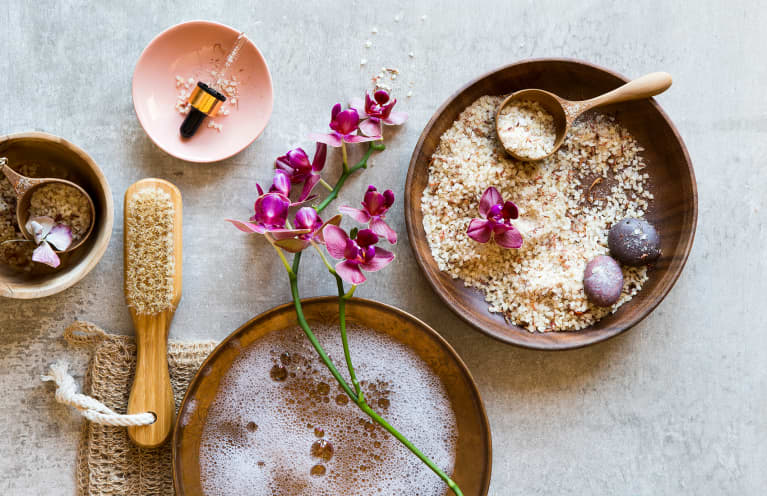 I don't toss around the word icon too freely. But Veronica Webb more than deserves the moniker. The model, actress, and writer has had a groundbreaking career (including being the first Black model to land a major, exclusive beauty contract), and I got to chat with her about all of it on this week's Clean Beauty School.
While we do spend time looking back on her career, the majority of the episode is spent talking about finding your power—especially as you age. "I think it's really important for women to say their age, to be proud of their age, and to think of their age as an accomplishment," says Webb. "It should be celebrated rather than something to be apologized for or hidden."
Here, her three best skin longevity tips.
Get your antioxidant fill. 
According to Webb, one of her habits that she can credit her healthy glow to is consuming antioxidant-filled foods from an early age. "One thing I did when I was younger I believe helped my skin now is that I loved fruits and vegetables. And when I was a kid, my mother used to have to hide the produce when we came home because I would eat everything," she says.
Antioxidants, of course, help fight free radicals in the skin and body, which protects against fine lines and dullness.*
Exfoliate with this DIY face polish. 
Webb's go-to exfoliation routine is surprisingly low-key: a coconut oil and sugar blend. As she explains in the episode, it may not work for those with sensitive skin, but for those dealing with dullness—you're in luck.
"If your complexion is dull, take a little bit of coconut oil, a little bit of sugar, and mix it up together. Then apply it to your skin and let it sit there, like you would a mask, for about two minutes," she says, noting how sugar and coconut oil's lipids mimic your own and can support your skin barrier. "After that two minutes, get in the shower and rinse it off. And then when you get out, do it again: So you get all the dirt and the dead skin off in the first step, and then you have fresh, clean skin that you can then treat to a natural, mild exfoliation."
Speak kindly to yourself. 
Taking care of your skin long term means taking care of how you feel about yourself—and how you talk about yourself. "How you speak to yourself is everything because you have these thoughts and then you speak your thoughts into existence," she says. "And then once the thoughts are spoken into existence then the idea is out there for yourself and other people to act on."