I'm A Vegan. Here's Why I Still Use Some Animal Products For The Sake Of The Planet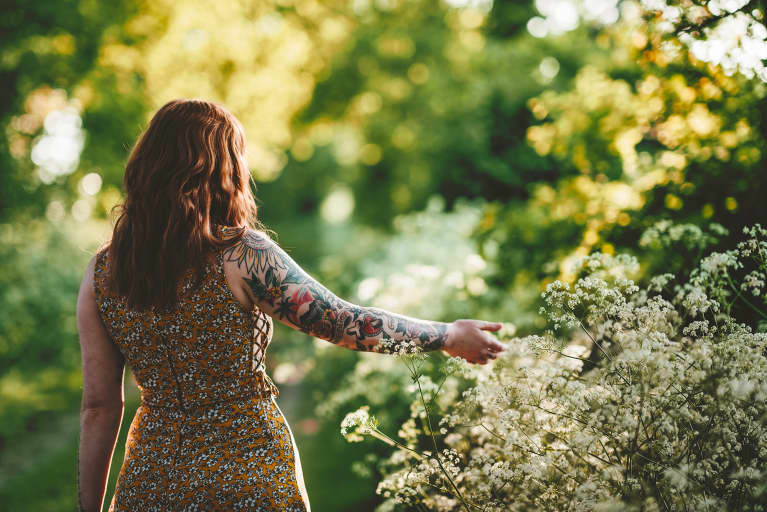 When I made the decision to go vegan, I did so because I didn't want to play into the unnecessary suffering of animals and the environmental destruction of the industrial meat industry. Seven years later, I'm still a proud vegan, and my values remain pretty much the same: to live having as little impact as possible and help animals and the environment whenever you can.
But what I've found along the way is that veganism is not always black and white.
The nuances of a vegan lifestyle, especially when it comes to personal care products.
From the beginning, I realized that every vegan (and meat eater!) follows their own unique philosophy. For me, that meant I didn't immediately throw out my perfectly good leather wallet when I became vegan, instead using it until it was worn and tattered and time to find another option anyway. And when I was in Canada's Arctic for two weeks, I ate fish. Not because I craved it—or even wanted it—but because it made the most sense from an environmentalist standpoint. I could eat fish that was caught by an Inuit woman a few steps away, or I could eat veggies that had been flown in from over 5,000 kilometers away. To me, the choice was obvious if my end goal was to "live lightly."
The question of what products to use has proved challenging in the beauty space, though, and small decisions like what toothbrush to use have sent me into a moral dilemma.
I had taken such an extreme stance in pledging to fully ban animal products from my life that I blinded myself to learning more about truly sustainable, wildlife-friendly options.
When I was first introduced to the concept of boar bristle toothbrushes, I immediately cringed at the idea. Why would I use this animal product when so many vegan alternatives exist? I thought. I used a nylon-based bamboo toothbrush for years thinking that it was "zero-impact," natural, compostable, and vegan, to boot! Yes, bristles fell out into my sink nearly every brushing, but I figured that was a small price to pay for a sustainable toothbrush.
But when I researched nylon, I was horrified to find that the material is far from natural. It's an elastic synthetic polymer that isn't compostable or biodegradable, and when nylon bristles fell out of the brush and down the sink, the material likely went to local waterways to be ingested by marine life. In one global study, more than 80 percent of tap water samples collected in major cities from across the globe tested positive for plastic fibers. These tiny microplastics have been shown to absorb toxic chemicals linked to cancer and other illnesses, and while their impact on humans is not yet known, they are most definitely harmful to aquatic life.
Upon further inspection of the nylon-based toothbrush, I noticed it says (in the fine print, I might add) that the product is compostable only if you pluck out all the bristles before composting.
In this case, I had taken such an extreme stance in pledging to fully ban animal products from my life that I blinded myself to learning more about truly sustainable, wildlife-friendly options. If using a plastic or nylon-based toothbrush is causing animals harm, is it truly a better option just because it's vegan? To me, the answer is no.
These days, I make the seemingly "anti-vegan" decision to use a boar bristle bamboo toothbrush. Little decisions like these remind me that being a staunch vegan isn't the only way to save the lives of animals or help out the environment. Simple acts like reducing your plastic—done over and over—can add up to have great impacts. Plastic pollution is an enormous problem, and it's one that I can bend the rules for.
Nowadays, this philosophy has translated to other parts of my life. I prefer to use beeswax wrap instead of plastic wrap and silk dental lace over nonbiodegradable floss. Veganism still sits at the forefront of my values, but in this war against plastic, I have to be especially critical of myself and my choices. In this case, rigidity doesn't serve our planet.
Snag a few tips on how to reduce plastic use in your own life here.