My Family Lives In A Van: Here's How We're Staying Healthy During Quarantine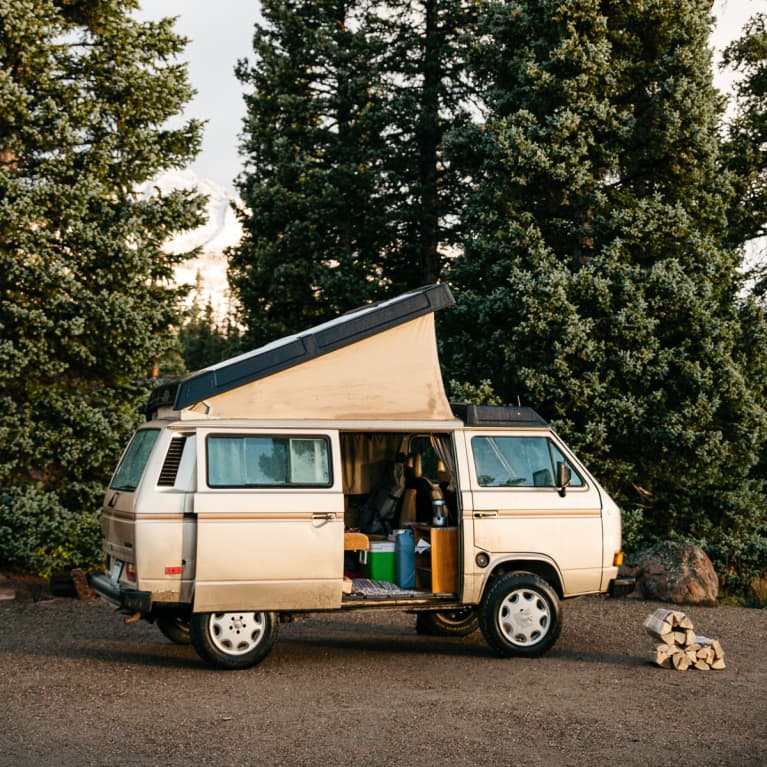 My family's van life journey began 11 months ago when we decided to sell our house and leave New York to travel and find a new place to eventually settle down. We never quite felt at home there, and one day we looked each other and decided it was time to do something about it.
Fast-forward and we're traveling the country in a van with three kids under the age of 13 when a global pandemic hits. In March, my husband and I made a conscious decision to park our home and stay put in Arizona until things calmed down.
What home-schooling in a van looks like.
COVID-19 has actually made some parts of van life easier: Our three kids, ages 7, 10, and 12, are better about focusing on school now that the playgrounds and RV parks are closed and there are no friends running around wanting to play a game of tag. It took a while to get into our home-schooling rhythm, and I feel for the parents around the world who are suddenly needing to jump into it quickly.
Here's what works for us: I usually sit with my kids individually on Fridays and review their work for the week. We started this home-schooling adventure using a certified teaching app, but with the kids coming from a more self-directed Montessori background, they weren't used to that regimented approach, and it lasted only about three months. We ended up ditching the app and going with books I ordered online that touch on math, language arts, science, reading, and writing. (Up until now, we've left the history lessons for when we can visit historic sites close up.)
Every day, we'll clear off our kitchen table, which doubles as the kids' workspace. It's not a very large table, but it honestly feels nice to all sit around each other—and if one child has a question when I'm in the middle of teaching another, there's no yelling required. We've also found it helpful to loosen the rules a bit since COVID-19 started, so if the kids feel like doing their work while hoverboarding (yes, that really happens), we let them.
How we're staying mentally and physically healthy.
While having no children to play with has made home-schooling easier, it has also created one of our biggest challenges of the pandemic. Some of our kids' most cherished moments from this journey have been spent on the playground or in pools with other kids we meet on our travels. With that gone, the entertainment falls to my husband and me, who both run full-time businesses. To say we've got a little added stress on our plates would be an understatement.
To cope with the stress without running to food or alcohol as a release—which, as we all know, can be far too easy to do—we've been making it a point to get outside every evening before dinner to re-center and regroup. Staying flexible during this time has been key: If we're feeling more tired than usual, we'll skip the longer hike we had planned and do a quick walk instead.
We're also learning to tap into our intuition more. We had a family meeting in early April to decide what to do next...keep traveling when the country opens back up or find a house, register for school, and take travel breaks? The whole family was all for finding a home and traveling when we can, so we trusted that instinct. The kids are excited to make new friends and go to the local charter school we just applied to.
Reflecting on this crazy time, my husband and I feel like the rest of the country is being forced into a lifestyle that we consciously chose last June. We specifically embarked on this slow, simple, contained life because we wanted to get to know one another more intimately and work through the rough patches we knew we had as a family. When you live in such close quarters, you learn to address problems quickly. I'm sure that proximity is something a lot of people are having trouble adjusting to right now—but we've found that it can actually lead to something really beautiful.f