Your Nails Get UV Damage, Too + How To Protect Them From The Sun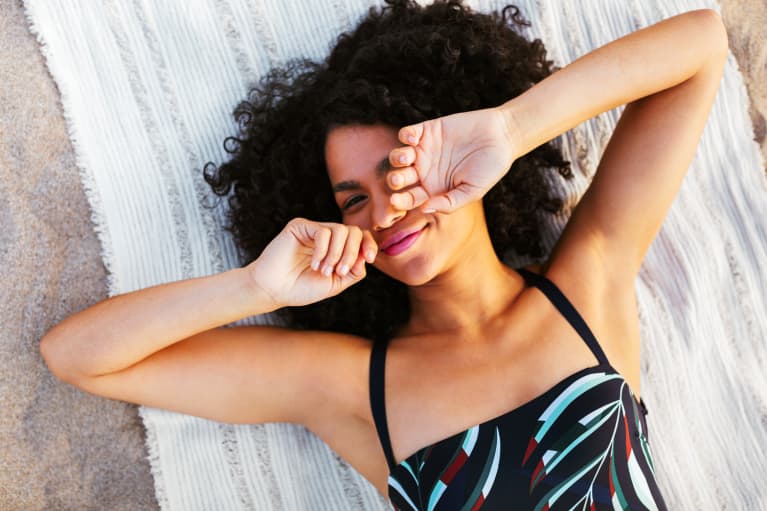 Our editors have independently chosen the products listed on this page. If you purchase something mentioned in this article, we may
earn a small commission
.
By now you likely know that your skin needs adequate protection from the sun: Not only can it cause skin cancer, but it can contribute to premature aging. You might also be aware that your hair and hair color needs protection from the sun: UV rays age hair follicles like they do the skin, as well as affect any color treatment. I'm going to add another thing to the list of things you should be protecting: your nails.
When exposed to too much sun, nails can yellow, turn brittle, or even develop vertical ridges that can last up to six months—well after the summer sun has gone away. It's not just aesthetic damage either: You can even develop skin cancer under your nail bed.
Luckily, it's not hard to prevent. You might even be doing it already without realizing it: Get a manicure with UV filter polish. "This is going to act like a sunscreen for your nails," says manicurist Jin Soon Choi, founder of JinSoon, a nine-free nail polish line. "These are polishes that either absorb or reflect the suns' rays, so they'll protect your nail from damage. You need to remember that nails are made of protein, keratin to be exact, so they can damage just like your skin."
You can look for polishes that tout a UV filter—or just any opaque shade will do! (A favorite that does both: JinSoon Nail Polish in Ardor is a classic cherry red.) Color polishes are like a hat for your nails: They physically block the rays. Then, always make sure you apply SPF to your hands, making sure you properly cover the cuticle, too, since that will not be protected by polish. Another note: "Sun can damage polish too, but mostly cause the color to fade," says Choi. "It won't cause it to chip or anything else." So if you notice your favorite polish is a little less vibrant after a weekend getaway, simply remove and reapply.
What if you've already noticed some yellowing or ridges on your nails? Just amp up your nail care with a few extra steps; eventually the yellow will fade and the ridge will grow out. "You can treat these ridges—which are also common with aging—by applying a nail polish with ridge filler as a base coat," she says. These base coats do exactly as advertised: They sit in these small divots, making your nail appear smoother; try 100% Pure Ridge Filler Base. "Then make sure you are regularly applying cuticle oil or balm to hydrate your nails." For an easy travel option, Dr. Hauschka Neem Nail & Cuticle Pen won't spill in your weekend bag.