Working On the Front Lines Of COVID-19 As A Hospital Pediatrician & Medical Ethicist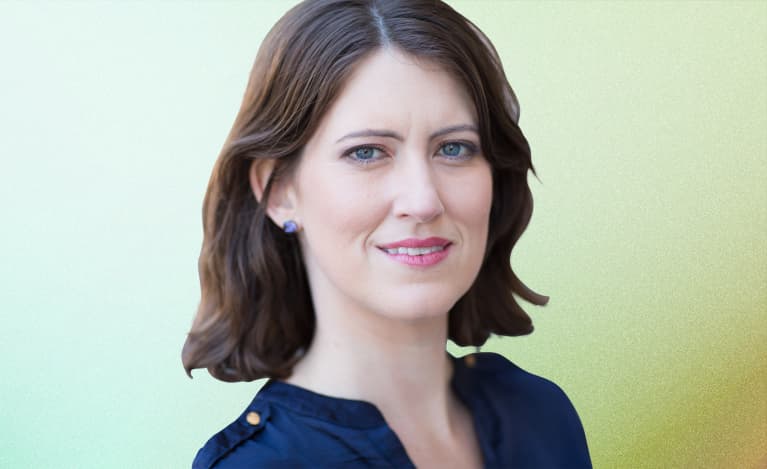 Us, Interrupted is a series that focuses on public figures as well as professionals on the front lines of the
COVID-19 global pandemic
. During this unprecedented crisis, we hope these stories of vulnerability and resilience will help us move forward, stronger together.
Rachel Pearson, M.D., Ph.D., is a hospital pediatrician and assistant professor of medical humanities in San Antonio, Texas. Through the Center for Medical Humanities and Ethics, she runs the website known as "Pan Pals," which uses the humanities and allied disciplines to help preserve compassion, justice, and humanitarian values through and beyond the pandemic.
When we spoke to Pearson, she explained the way that her life as a doctor, a medical ethicist, and a newly expectant mother has been affected by the COVID-19 outbreak:
1. What was your life like before we learned about COVID-19, in terms of your self-care and maintaining a sense of well-being in and out of the hospital?
I was settling into a new job in a new city, and I had just found out that I was pregnant for the first time. I had made some friends, and one of my most important ways of caring for myself was going for walks in the evenings with a girlfriend. I would meet my friend Christy halfway between our houses, and we'd walk around the neighborhood with her two dogs.
In the hospital, one of the big joys of my new job was finding that I had lots of time to spend with my patients and their families, as well as with my residents. I could go from room to room in the afternoons and just sit down and check in with worried parents and sick kids. The human connection that comes from that time, as well as the knowledge that I was getting to practice medicine in a way I believe in, gave me a lot of peace and brought a lot of meaning into my life. I also knew that, with my own kid on the way, I would soon have a reason to want to leave the hospital as soon as possible—so, I was really relishing that deep time with my patients and families.
2. Before COVID-19, what did you most struggle with in terms of self-care?
I spent 10 years in rigorous training for my M.D. and Ph.D. as well as my residency training. Often, in those years, the system seemed set against self-care, and the notion of practicing self-care—especially in the forms many people think of it, like attending a yoga class or going on a hike—could feel like a burden. Sometimes I felt so angry about the systemic barriers that stand between physicians-in-training and basic health and self-care, that I rejected self-care altogether as an inaccessible luxury. I wanted systemic change, not a yoga class—I wanted higher pay, more reasonable work hours, less repetitive computerized drudgery, and some level of control over my own schedule. I still want those things for the residents of today.
So, you could say that my struggle was finding a way of caring for myself that felt meaningful and accessible to me, even inside a really troubled system.
3. If you can remember, where were you when you first learned about COVID-19 as being a real threat to us in North America? What were your initial impressions?
I think it hit home for me when my mentor here in San Antonio, who is an infectious disease doctor, told me that she and her husband had stocked up on two weeks' worth of essentials in case of a quarantine. Suddenly it seemed to me that reasonable people—people I trusted—were genuinely worried. At first, I felt kind of silly taking precautions, but very quickly it became clear that physical distancing is an important way to care for the community.
4. What has your experience been like on the front lines generally?
I'm a hospital pediatrician, and so I care for kids who are sick enough to need hospital care. In general, though kids can get quite sick with COVID-19, they are not as severely affected as adults. Many don't have symptoms at all. So, as a pediatrician, I am working really hard to reassure worried parents, while also trying to stay on top of the new data and to protect my team members from potential infection. I'm also prepared to take care of adults if needed.
I also am an ethicist, so I've been working to help my teams develop ethical policies and practices to care for folks if we do experience a devastating surge of cases. That has been incredibly stressful. Nobody wants to really confront the possibility that we could be required to triage some patients away from intensive care. Unfortunately, for many of our colleagues in other parts of the country, this is already a reality.
In the hospital, we are seeing a lot of pediatric trauma and child abuse these days. Kids are at high risk of being abused while families and whole communities are stressed, and unfortunately we are seeing a lot of kids who will have long-term or permanent disability from abuse. When my team is seeing trauma after trauma, especially in little kids who can't really understand why they got hurt, I encourage them to celebrate small signs of recovery or joy: a kid with brain injury who is swallowing food again, for example, or a kid with a bad burn who is able to get in a wagon and ride around the unit. We have to look for any little sign of hope in the darkness, because in pediatrics things can get dark very quickly.
5. What sorts of things have you put into practice now, from a "public health" point of view to help lower the risk of COVID-19?
Personally, I am practicing strict physical distancing and masking in public, as is my husband. We do whatever the CDC tells us to do.
In my practice, I am teaching people about evidence-based ways to prevent child abuse during times of stress. For example, if your baby is crying a lot and you can't make them stop, it's easy to get frustrated. It's OK to put the baby down on a flat surface and just walk away for a bit. Crying won't hurt the baby.
Pediatric gun injuries are another major concern, as gun sales nationwide have spiked during the pandemic. Many new gun owners don't know how important it is to use a gun safe, trigger lock, or cable lock to prevent your kid from harming herself or someone else. People buy guns with the idea that they will protect their families, and nobody wants their kid to get hurt. The safest thing gun owners can do is lock the gun in a safe and store the gun unloaded with the ammo stored elsewhere. That kind of practice saves kids' lives. And if you do find yourself in a scary situation, the extra few seconds it takes to unlock and load your gun will give you a chance to make absolutely sure that the person scaring you isn't, in fact, your kid or another family member.
6. How has being on the front lines affected your sense of well-being—this includes physically, emotionally, and your relationships? What have you most struggled with during this time?
I have felt more alone in my pregnancy than I wanted to, and more uncertain and fearful about how to keep the little critter safe. The first time I really broke down was in the lobby of my obstetrician's office, when the folks screening patients told us that my husband couldn't come with me to our appointment. I knew it was the right policy to keep mothers and babies safe, but also it made the pandemic real again: It was affecting us.
I've also struggled with anger—I'm angry with people who don't believe that this pandemic is real, people who don't take social distancing seriously and won't do their bit to protect the community. I feel like they are putting my life, the lives of my friends in medicine, and my baby's life at risk. We, as doctors, respect these people's lives. We will be there to help them if they get sick. I wish they would show more respect for our lives.
7. Do you have any ideas, resources, tips, tricks, or advice that you've put into practice to optimize your well-being and that might help other health care professionals?
I use a brief meditation that helps me at times when I have no other tools to respond to a patient's or family's suffering. I simply breathe in and out slowly while saying to myself, I am breathing in suffering; I am breathing out compassion. It gives me something to do in those moments when I feel otherwise helpless. You can sit quietly at the bedside for a bit and breathe in suffering and breathe out compassion. I don't know if it helps the patients, but it helps me and allows me to continue to be present for people in times of extreme suffering—when everything inside of you wants to run out of that room, this meditation helps me stay.
8. What have you learned most about yourself (and your family, if you choose to share) during this time? How do you believe you have grown/will grow through this? How will the health care system improve after this?
I have learned that I can lean on my husband—as if I hadn't already learned that during residency! But it's funny—by nature, I am quite emotionally capable and can be a bit aloof—quick to try to help another person but reticent to reveal my own difficulties. It makes practicing medicine feel natural and comfortable for me (some of the time). But at home, I get to be a mess sometimes. I get to let my husband cook and hold me and keep the house and our family cranking along while I'm in the thick of patient care and all the emotional burden of caring for kids with extreme trauma or working on these terrible ethical problems. Some part of me always imagines that his kindness is like a soap bubble and that if I touch it wrong, it will burst—but it isn't true. Through the pandemic, he keeps on showing me that his kindness is durable and reliable, and it isn't going away. It surrounds me more solidly than my house; it is my house.
9. Any piece of advice, a quote, anything motivational that you'd like to share for our readers?
From John Donne, one of the great humanist thinkers of the late Renaissance: "Any man's death diminishes me, because I am involved in mankind." Medicine is a beautiful way to practice being involved in mankind.
10. What makes you most hopeful right now?
The kids. Even through the pandemic with all its stress and disruption and even through the pain and trauma that many of them are unfortunately experiencing, they keep on growing. They keep on finding ways to hope, and they're always trying to cheer their parents up. Kids are very wise in that way, in their immediacy and presence, and I try to be like them.
Want to turn your passion for wellbeing into a fulfilling career? Become a Certified Health Coach! Learn more here.