How I'm Shifting My Mindset Right Now, From The Founder Of TOMS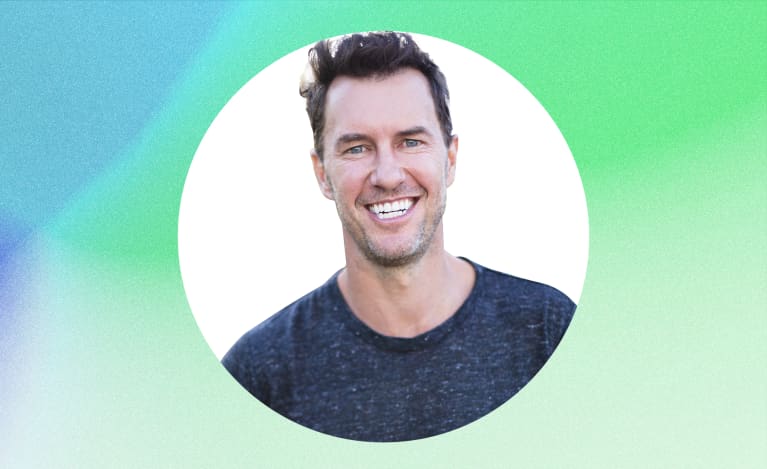 Us, Interrupted is a series that focuses on public figures as well as professionals on the front lines of the
COVID-19 global pandemic
. During this unprecedented crisis, we hope these stories of vulnerability and resilience will help us move forward, stronger together.
Blake Mycoskie is an entrepreneur, author, and philanthropist and the founder and chief shoe giver of TOMS. Since beginning with shoes, the brand has expanded to eyewear and a coffee roasting company that partners with other organizations that provide safe water in seven counties. His most recent project, Madefor, launched recently and aims to improve our brains and bodies with neuroscience, psychology, and physiology.
Here, mindbodygreen spoke to Mycoskie about transitioning to life during COVID-19 as an individual and as a business leader, and how he's taking control of his experience and finding the good that he can:
1. What was your life like before we learned about COVID-19, in terms of your self-care and maintaining a sense of well-being?
How I start my day plays a big role in how I experience life. My morning routine begins around 5:30 a.m. and consists of a mix of contemplation, prayer, basic body movements, and a tea ceremony. There isn't anything magical about my 30-minute routine, but I find there is magic in an intentional start to the day. It helps me be more present and leads to better decisions. Each day, I try to find the right mix of quality time with my children and friends, outdoor physical activities like surfing or climbing, and meaningful work. I'm at my best if I invest in these three areas on a daily basis.
2. Before COVID-19, what did you most struggle with in terms of self-care?
My biggest challenge has always been finding balance. If I simply pay attention, my body tells me what I need: drink a glass of water, see my daughter smile, get outdoors, focus on work. It's important that I continue to check in and make sure I'm not losing myself in any one project or pursuit. As a father, entrepreneur, and avid adventurer, I find it's easy to overschedule my day, but busy rarely equates to better for me.
3. If you can remember, where were you when you first learned about COVID-19 as being a real threat to us in North America? What were your initial impressions?
I was on a seven-day silent vipassana meditation retreat. I left on March 6 and was back online on the 15th, and everyone at the airport had face masks on. I called my assistant who said I "just missed eight days of craziness." So, I decided to drive back to my house instead of fly and just hunker down. I don't remember feeling panicked, but I did want to get home to my family quickly.
4. What sorts of things have you put into practice now, from a "public health" point of view to help lower the risk of COVID-19?
Social distancing is really the big one. From the research I've seen, it's the one certainty we can follow for our individual and collective health. My family and I are taking this guidance seriously.
5. How has "self-isolation" or "social distancing" affected your sense of well-being? This includes physically, emotionally, and your relationships.
With social distancing in place, I'm getting a lot of family time in. In fact, I'd say spending more time with my young children has been a silver lining of quarantine. But I do miss the stimulation that comes from purposeful work.
One paradox of COVID-19 is that, despite our distance, I'm actually spending more time connecting (albeit online) with family and friends. I'm more aware of how precious my time is with family and friends, so daily FaceTimes with my parents (who are 70 and in a higher risk group) and weekly online poker tournaments with close friends has become the new norm.
6. What have you most struggled with during this time?
For someone who likes to be in control and take action, I find it challenging to feel like parts of life are on an indefinite hold right now and that there's nothing I can do to change it. But I can change how I experience this holding pattern. So whether it's getting off social media, investing in my relationships, or taking small steps every day to give my mind and body what it needs, I'm trying to find the good in this situation and emerge better. Some of the friends and business leaders I've talked to have a similar mindset, which gives me hope.
7. Do you have any ideas, resources, tips, tricks, that you've put into practice to optimize your well-being and that you'd feel comfortable sharing with readers?
I focus on the small things you can do every day to be your best rather than focusing on the things you can't control. This was one of the biggest lessons I learned after facing depression a few years ago: I had built a company (TOMS), had the family and house, but realized I didn't feel this deep sense of fulfillment. Then I realized what I could control it internally: Optimizing sleep, nutrition, relationships, and focusing on the small steps gave me a sense of agency in my life, which was a big part in shifting my mood.
8. What have you learned most about yourself (and your family, if you choose to share) during this time? How do you believe you have grown/will grow through this?
We can have all the plans in the world, and those can change in a moment. So, we have to stay flexible and open to what the moment brings, make lemonade out of lemons. This doesn't take away from all of the suffering and challenges, but we need to try to find silver linings—whether it's spending more time with our kids, committing more to meditation, whatever has a positive impact on your life, we should use this time to understand what those things are and pursue them.
9. Any piece of quote, anything motivational that you'd like to share for our readers?
My favorite poem is a poem called "If" by Rudyard Kipling, and there's a line in there that says something like "if you can meet triumph and disaster and treat those two imposters just the same"—to me it's a reminder that the good times are never as great as they seem. But failure is never as bad as it seems looking back. It's an important message to always be meditating on: We will experience things that feel like disasters and triumphs. But both are imposters: What matters is our response to it.
10. What makes you most hopeful right now?
There is a shift in consciousness that is happening—we really are one. It's clear that what happens to someone in China affects us here in Texas or L.A. Now people are really seeing the world as one big global village, and we have to be taking care of people all over the world, not just those in our own backyard.