Unilever Sets The Bar High With Its (Super Sustainable) New Office Space
mbg Sustainability Editor
By Emma Loewe
mbg Sustainability Editor
Emma Loewe is the Sustainability Editor at mindbodygreen and the author of "The Spirit Almanac: A Modern Guide To Ancient Self Care."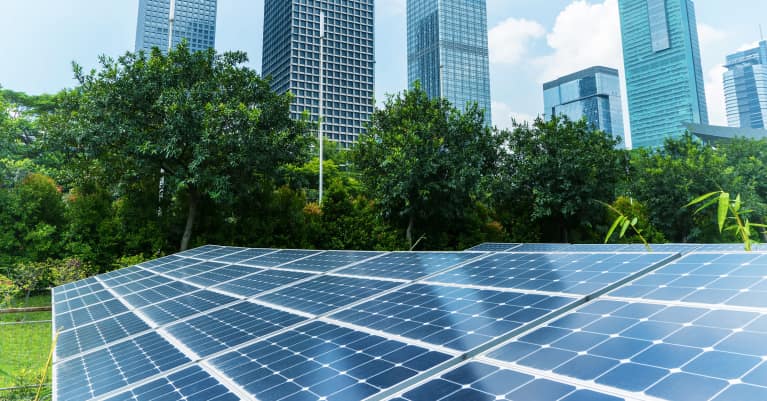 When Unilever—the company behind some of the biggest home, beauty, and home brands in the world—started renovating its U.S. headquarters in New Jersey, it was important to go beyond swapping out old windows and installing solar panels.
Their new ultra-smart building is equipped with nearly 15,000 sensors that keep close tabs on temperature, water use, and electricity throughout the 325,000 square-foot space at all times. It can sense when rooms are in use, how they're being used, and adjust settings accordingly, or wait for employees to do so from their smartphones.
It's all an effort to reduce carbon emissions and become a model for the eco-friendly building industry in America. For the retrofits, Unilever worked with OVG—a Dutch development firm that is so confident the changes will decrease carbon emissions and water use by 50 percent over the next 10 years that they're willing to shell out a full refund if they don't. Coen van Oostrom, the CEO of OVG told Fast Company that this massive promise speaks to the confidence he has in the green retrofits of today.
This is OGV's first project in the states, but Oostrom says that back home in the Netherlands, businesses are more forward-thinking when it comes to these types of projects.
"There are so many owners in the United States that don't have anything against sustainability but are not moving because they are afraid it will cost them money," he says. "We are at the start of a revolution where a lot of buildings are going to be made, with the help of technology, a lot more sustainable ... What we are seeing at the moment in the Netherlands is that the banks have become so used to this approach that they are completely willing to take the whole investment on their account."
Unilever, which is also putting major money behind the sustainability of its product line by acquiring natural brands, reducing packaging waste, and cleaning up production practices across the board, put the finishing touches on the new space by adding plenty of outdoor atrium space, reconfigured desk seating so everyone could get more natural light from their desks, and building in yoga and meditation rooms. It's better for the environment, better for employees, and a better example for other large industries. Here's hoping other brands follow suit when it comes time for their next renovations.
Feel like you should kickstart some more eco-friendly practices in your workplace? It really couldn't be easier. Check out these fun ideas.