It's About Time You Learned What Your Birthstone Really Says About You
Written by
Nisonja McGary
Celebrity stylist Nisonja McGary founded Mahana in 2013, a handcrafted artisan jewelry collection purposefully created for you to set your deepest intentions with every piece. She has been featured in Forbes and her clients include Angelina Jolie, Katie Holmes, Julia Roberts, Madonna, and Kate Winslet.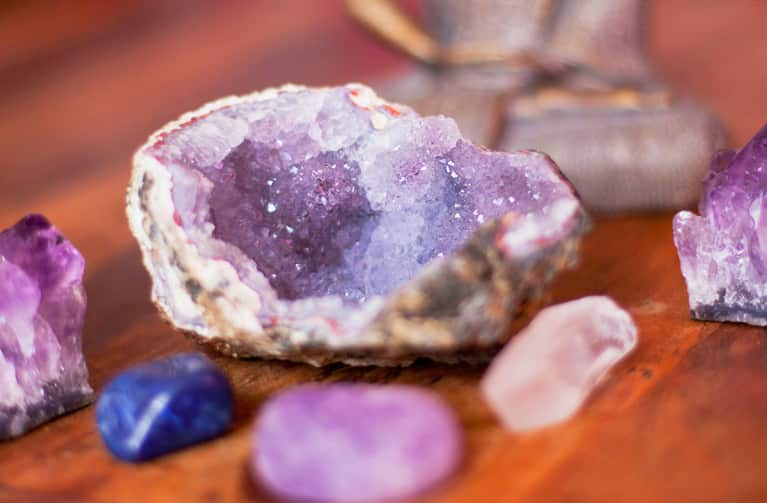 Most of us already know that birthstones are often used in jewelry as little reminders of the wearer's birth month. However, they can also be carried as good luck charms, positioned in the home to spread positivity, and even placed under a pillow for sweeter dreams. Check out some of these powerful new ways to incorporate your stone and its meaning into your daily routine.
Signifying eternal friendship and trust, garnet is available in multiple colors. It is said to be a stabilizing stone, evoking order in the chaos—both internal and external. An appropriate place for the garnet is on one's desk as its ability to balance the scales can inspire a healthy workflow.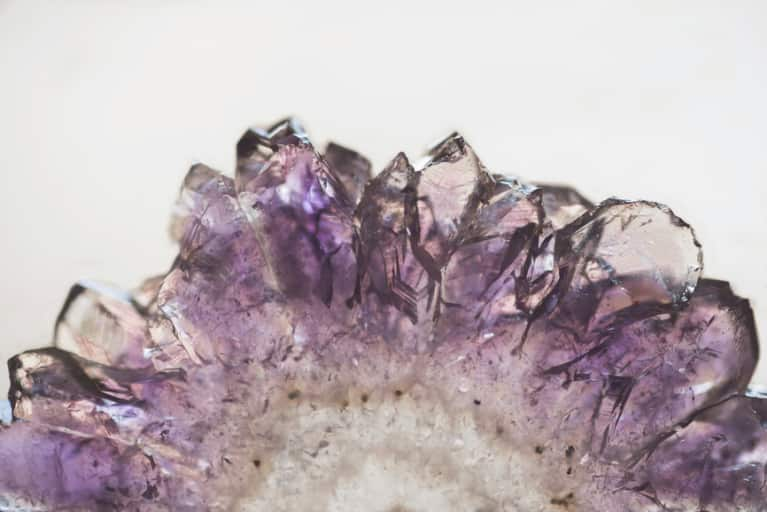 The amethyst is basically a purple quartz, and it is extremely popular around the world. Fun fact: It's often mined in Russia and is known as the Russian amethyst in many countries. This birthstone for February symbolizes royalty and is said to keep its wearer clearheaded and quick-witted. It is also a stone that can help with health and wellness, so keep one nearby the next time you're navigating a physical or mental challenge.
March: Bloodstone & Aquamarine
The aquamarine is considered a tranquil gemstone that imbues its wearer with calm, while bloodstone is thought to heal broken hearts. Aquamarine is often used for courage and protection, so it's great to have on hand during a large presentation, and bloodstone can help during times of anxiety and stress.
Whether clear, white, or black, diamonds of all sorts are commonly associated with eternal love and commitment. Considered a symbol of purity and innocence, the diamond brings energies of balance, intensity, abundance, and longevity, too. Not too shabby!
Emerald is a birthstone that has been mined for ages, cherished for its connection to vitality, good fortune, and eternal youth. It opens and nurtures the heart and the heart chakra. Try placing one under your pillow to unlock this unity, unconditional love, and compassion as you sleep.
June: Pearl, Alexandrite & Moonstone
People born in June have three different stones to choose from! The pearl is known as the month's primary gemstone, and it's associated with elegance. The moonstone and alexandrite, on the other hand, are both symbols of good fortune. Throw all three in your bag for a personal high-vibe tool kit!
Ruby is the official July birthstone and a gem that signifies many positive traits such as health, love, success, wealth, and wisdom. This birthstone is also durable and considered the stone of leadership. Since Ruby is a precious stone, it's usually reserved for special occasions but I think there's a lot of power in throwing one on after any accomplishment.
August: Peridot & Sardonyx
The Peridot, August's primary birthstone, forms deep within the earth and is brought to the surface through volcanic eruptions. It's said to symbolize the tears of many gods and is therefore very precious. Sardonyx is a form of onyx praised for its attractive style and connection to courage and victory. It is also thought to ward off negative energy at home, so try placing one near your front door!
Sapphire is thought to keep its owner and his or her loved ones away from evil and harm while symbolizing heaven and positive energy. Although it's not super common, I love the idea of wearing sapphire around your neck for protection.
October: Tourmaline & Opal
Tourmaline is the primary birthstone for October and can be found in an array of colors, and opal is a more traditional birthstone known for its beauty and radiance. Tourmaline can be used to enhance your prayer or meditation space by ushering in calm energy and balance, so try placing one in your at-home altar.
November: Topaz & Citrine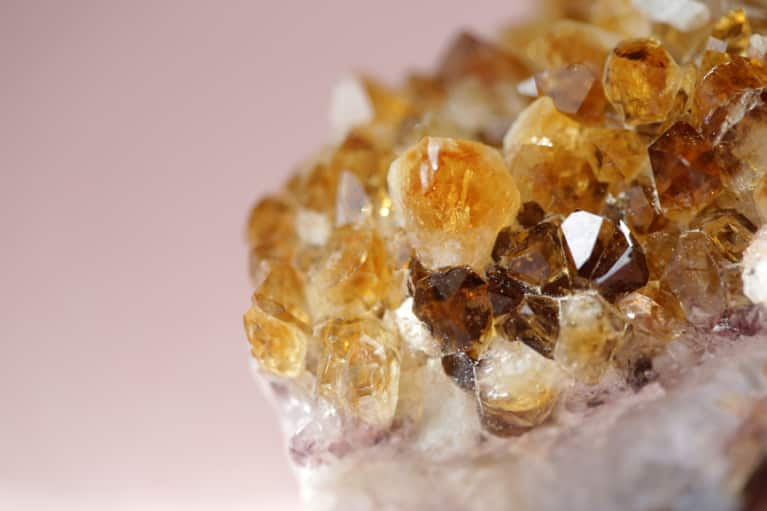 November's two birthstones are topaz and citrine. Topaz gemstones are commonly available in yellow; while citrine ranges in color. Both stones support health, energy, hope, and warmth. Citrine is often used to cleanse a space like the home or office, so place it on your desk at work or in a dark corner of your home.
December: Tanzanite, Zircon & Turquoise
Tanzanite is known as the magic stone, thought to assist with spiritual awareness and psychic insight. Zircon, on the other hand, brings balance and awareness to the wearer. It also happens to be the oldest mineral on earth. Lastly, turquoise is associated with calm and togetherness. Wear tanzanite around the neck to harness its metaphysical healing properties. Use turquoise in the home to enhance friendship and familial bonds.