Meet The Blood-Sugar Balancing, Protein-Packed Chocolate Snack I'm Fully Obsessed With
Contributing Food Editor
By Liz Moody
Contributing Food Editor
Liz Moody is a food editor, recipe developer and green smoothie enthusiast. She received her creative writing and psychology degree from The University of California, Berkeley. Moody is the author of two cookbooks: Healthier Together and Glow Pops and the host of the Healthier Together podcast.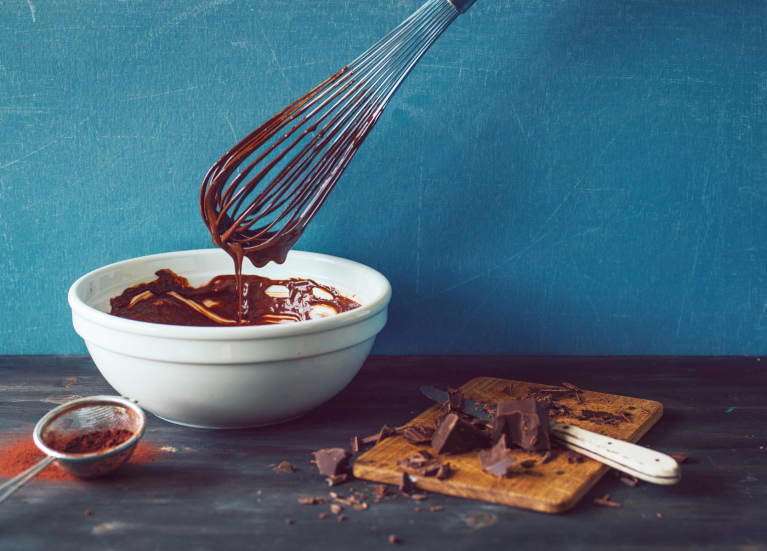 Our editors have independently chosen the products listed on this page. If you purchase something mentioned in this article, we may
earn a small commission
.
To say I have a sweet tooth would be an understatement of epic proportions. This tooth, as you will, has resulted in me devoting the better part of my professional life to writing about food and developing recipes. Yes, eating tons of vegetables is great, but really, I'm in the game to figure out how to make cookie dough that's healthy enough to eat for breakfast (and I succeeded!...kind of).
In the health world, we're fairly liberal with our evocative labeling and descriptions. "It's a chocolate-covered-strawberry smoothie!" I'll tell my husband as I hand him a glass of what looks like brown sludge (but it has raw cacao and frozen strawberries!). While a protein bar that's optimistically "fudge brownie" flavored will suffice sometimes, sometimes you just want the real damn thing.
That's where Undercover Quinoa comes in. The snack is deceptively simple: puffed quinoa (think Rice Krispies, but with quinoa) coated in a silk-thin layer of chocolate. In the ratio, however, lies the genius. "My vision was to have something really satisfying that used the smallest amount of chocolate that I could, just enough to bind the product and create that satisfying chocolate flavor," founder and CEO Diana Levy told mbg. The company was founded when Levy was looking for a healthier snack that her two daughters with celiac disease could enjoy. At the time, there were two options on the market: snack bars that came down hard on the health side, and chocolate bars that didn't offer much in the way of nutrition. The amount of chocolate coating the quinoa is actually so little that it can't be manufactured using traditional equipment. The company is making everything by hand at the moment, and will be debuting a custom-built manufacturing line in the next few months as it continues to expand.
While the basic Milk Chocolate Undercover Quinoa has 3 grams of protein and 1 gram of fiber per serving (with even more in its seed-studded version), its flavor is dessert like enough to actually satisfy chocolate cravings, while the aforementioned elements are filling enough to prevent eating excessively. When I eat Undercover Quinoa instead of more traditional desserts (or the chocolate bar I often find myself rummaging frantically through my desk drawers for at 3 p.m.), I find my blood sugar stays far more stable in the hours after, and my cravings feel fulfilled rather than simply stoked (as is often the case). I typically go for the Dark Chocolate & Sea Salt: The salt offsets the rich chocolate, and the crunch from the puffed quinoa is enormously satisfying, as is the fact that Undercover Quinoa is a woman-owned company, with all women making and packaging the product.
Not that you should need another reason to eat chocolate—but if you were waiting for one, this category-shattering snack manages to be the real damn thing, while being pretty damn good for you.
Want more healthy dessert inspo? We've got you covered.