On A Keto Diet? Here's Your Ultimate Starter Shopping List
Contributing Food Editor
By Liz Moody
Contributing Food Editor
Liz Moody is a food editor, recipe developer and green smoothie enthusiast. She received her creative writing and psychology degree from The University of California, Berkeley. Moody is the author of two cookbooks: Healthier Together and Glow Pops and the host of the Healthier Together podcast.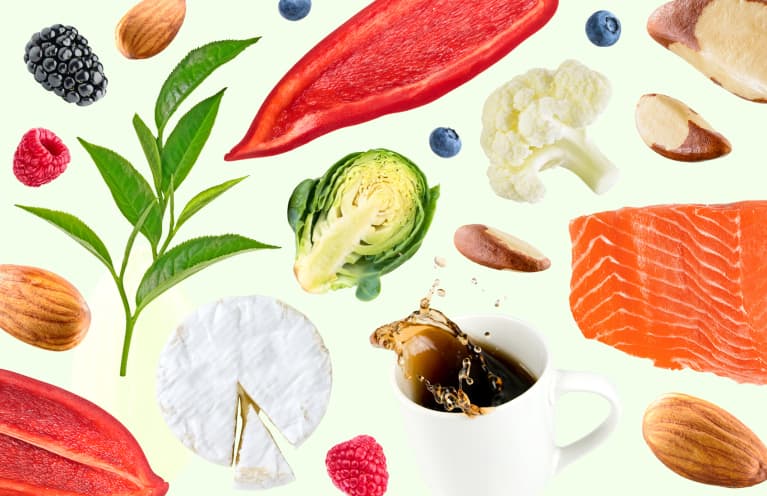 The ketogenic diet has been lauded by experts for its ability to help with weight loss, epilepsy, brain health, and more. While the structure of the diet is fairly straightforward—you want fat to make up between 65% and 85% of your total diet, with protein accounting for 15% to 35% and carbs accounting for under 10%—it can be tricky to know how this actually translates when you hit the grocery store. With that in mind, we created the ultimate shopping list (with ideas for how to use everything in your actual cooking). Print it out and take it with you to the grocery store so you're never caught unprepared again.
The ultimate keto shopping list.
Vegetables like kale, cauliflower, broccoli, and Brussels sprouts are packed with nutrients but low in carbohydrates. Buy them fresh or frozen to use in stir-fries or to roast with olive oil, sea salt, and chopped garlic before finishing with some citrus zest for a delicious side dish.
Greens are a keto staple—embrace all types, from spinach and arugula to more flavorful herbs like basil and mint. Stock up on them to use in keto smoothies or as the base for a fried egg salad. Because they contain a ton of fiber, they can also help with feelings of satiety.
From bell peppers to spicier varieties, peppers can add a ton of interest to keto cuisine. You can make stuffed bell peppers, or chop jalapeño to include in tacos. Baked with a bit of cheese (see below), you have a keto chile relleno.
While you should avoid tropical fruits like bananas and pineapple on the keto diet, there is room for low-sugar fruits like berries. Use them in smoothies, or sprinkle them with some raw cacao for a dessert-like treat.
Avocados are one of the most beloved foods among keto dieters, who embrace its decadent texture and ability to induce satiety. Bake an egg in it and sprinkle with salt for an easy breakfast, use it to bulk out salads, or just stash one in your bag to eat plain when hanger strikes.
Avocado oil, coconut oil, ghee, and olive oil all make the cut on the keto diet, so stock your pantry and rotate between the four for your cooking needs.
Humanely raised meat and seafood
To hit that 15 to 35% protein ratio, many people consider meat a staple of the keto diet. Look for wild-caught seafood, pastured chicken and pork, and grass-fed beef and lamb (check out companies like Thrive Market or Butcher Box, which ship nationally, if you can't find high-quality meat in your area). Make a simple steak salad, a cauliflower rice larb bowl topped with a tangle of fresh mint and cilantro, or some poached salmon with roasted Brussels sprouts.
One egg contains a teensy 0.6 grams of carbs, making it perfect for the keto diet. Scramble one up for an easy breakfast (bonus points if you throw in some vegetables), or hard-boil a few to carry as on-the-go snacks. If you want to be fancy, cured egg yolks add interest and a hit of umami to almost any vegetable.
Perhaps everyone's favorite keto-approved food, cheese, is actually incredibly low-carb, containing just 1 gram (and 7 grams of protein) per 1-ounce serving. Make sure you look for grass-fed cheeses, then purchase your favorite types to turn a cauliflower pizza crust into a meal, or make a drool-worthy omelet.
Nuts and seeds, great sources of healthy fat and protein, are generally keto-friendly—while cashews clock in at the highest carb count (8 per serving), chia seeds, flaxseeds, Brazil nuts, almonds, walnuts, and pecans all clock in at 3 grams, or less, of carbs per serving. Use them in salads, to make a crunchy crust for meat, or to add bulk and satiety to a keto-smoothie.
Spices and seasoning like cinnamon, coriander, cumin, dried oregano, and more all work to add a ton of interest and variety to food—while including zero carbs. The keto diet is a great way to play around with different flavor profiles and blends, whether you're topping berries with cinnamon for a delicious dessert or making a za'atar-crusted chicken for a Middle Eastern moment.