Uber's Latest Venture Is Surprisingly Healthy, For Riders And For Cities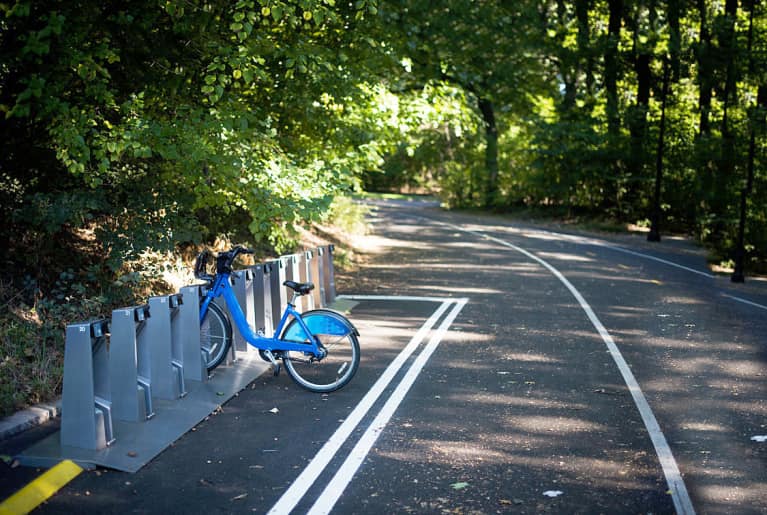 February 2, 2018 — 9:45 AM
Sure, Uber will drive you door to door, or deliver a double cheeseburger to you at all hours of the night, but their latest service isn't just about convenience–it's about health, too. Next week, the transportation titan launches a bike-sharing service in partnership with Jump, a startup operating dockless bikes in San Francisco.
Uber Bike is the company's first venture into bike-sharing, an increasingly popular urban fixture. Citi Bike in New York, Capital Bikeshare in D.C., Divvy in Chicago, and Hubway in Boston have all taken root, changing transportation landscapes and encouraging commuters to travel sustainably. Dockless systems, which utilize electronic locking mechanisms to control access to bikes, have joined the scene more recently. Spin and LimeBike, both started in Seattle, are already available in San Francisco. Mobike is operating in Washington, D.C., and Ofo in Dallas.
Bike sharing has been lauded as a solution to common urban problems by clearing road congestion, lowering carbon emissions, improving commuter transit times. And by getting people moving, it's associated with significant health benefits. Biking outdoors improves cardiovascular health, increases energy lowers blood pressure, and strengthens muscles.
Jump CEO Ryan Rzepecki says, "Our ultimate goal is to better connect all the neighborhoods within San Francisco and provide affordable, greener transportation." While the Uber Bikes has only announced plans for San Francisco, if the pilot is successful, they may come to your city next.
Interested in how tech can contribute to a sustainable future? Check out the innovations on the horizon giving us hope.