This Company Wants To Make Everything You Eat Anti-Inflammatory. Here's How
Contributing Food Editor
By Liz Moody
Contributing Food Editor
Liz Moody is a food editor, recipe developer and green smoothie enthusiast. She received her creative writing and psychology degree from The University of California, Berkeley. Moody is the author of two cookbooks: Healthier Together and Glow Pops and the host of the Healthier Together podcast.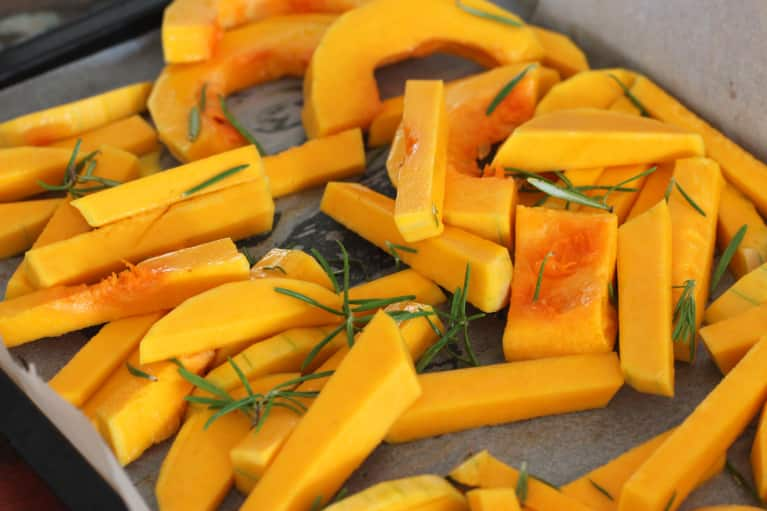 It's not an exaggeration to say the wellness world is obsessed with turmeric. Its anti-inflammatory properties are well-researched, and its startling marigold color has spawned a million Instagram likes. While we're all about whipping up a turmeric latte or indulging in some turmeric-sweet potato muffins, these recipes are designed around turmeric, making it the star of the show. Jamie Kantrowitz, the co-founder of Countertop Foods, recognized a problem with typical consumption of the super-spice: like most supplements, for turmeric to be effective, it needs to be eaten regularly—once, twice, even three times a day. A turmeric latte every week or so, while delicious, isn't enough to experience the potent benefits.
At the same time, inflammation was having a serious impact on her own life. "I chose a work path of high intensity startups and political campaigns which, for years, had me burning the candle at both ends," the serial entrepreneur (she was one of the early members of the leadership team at MySpace) says. "Life and a family history of hormonal imbalance and autoimmune disease really took a toll on me while I was going through the process of trying to have my first child. My body's adrenals were just shot, not only challenging my fertility and body but culminating in various periods of fatigue, mood swings, anxiety, and depression. No doctor really had an answer to treat the origins, just the symptoms. I already loved cooking and food, and via this started to find my way to partially healing some of these long term issues with understanding food and it's role in treating inflammation."
She teamed up with Nicole Rice, a doula and ayurvedic educator, to get her own health back on track, and that partnership eventually evolved into the creation of Countertop, a line of turmeric-infused products meant to be integrated into daily life. The line is debuting with a Golden Ghee and a Golden Honey. We tried both, and these are our thoughts.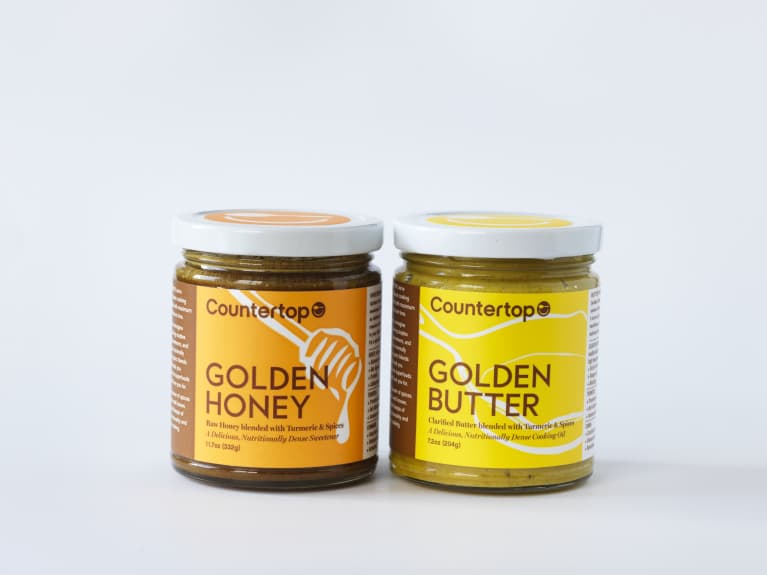 Made of honey blended with turmeric, cinnamon, cardamom, nutmeg, black pepper, and coconut oil, this honey wins initial points for the inclusion of black pepper and coconut oil, a place that many turmeric products fall short. Both are necessary to maximize the bioavailability of the spice, and the latter adds a nice viscosity to the honey. As for the flavor—have you had speculoos butter, or Trader Joe's cookie butter? It's a Dutch, gingerbread-y type product, and it is, in a word, addictive—and it's exactly what this honey tastes like. Kantrowitz told me she ate it straight from the spoon, which I laughed off until I tried it. While it's good mixed into tea and oatmeal, straight from the spoon is my new go-to when I need a little something sweet (aka every afternoon at 3 p.m.).
While I liked the honey, the ghee was a standout product for me, primarily because while honey is a healthy type of sugar, it's still sugar and still can contribute to inflammation if eaten in excess. This ghee is spiked with turmeric, cumin, cardamom, cinnamon, pepper, clove, coriander, and asafoetida. I was familiar with the more common spices, but asafoetida I hadn't heard of before. The spice, also known as hing, is common in Indian cooking. It's notorious for having a pungent, somewhat off-putting scent (Europeans called it devil's dung when it made its way to the continent), but once cooked, it mellows quite a bit. It adds a fullness, richness, and umami quality to foods, a roundness that's hard to identify. It's also a potent digestive aid, which was important for Rice and Kantrowitz, as they zeroed in on ways to bring the healing power of all spices—not just the most familiar ones—to the average American. The ghee has become a new staple for me, primarily because of its versatility. I scrambled my eggs in it in the morning, and it added a warming, grounding element that was incredibly nourishing, especially as the days turn cooler. Come dinnertime, I tossed root vegetables in it and roasted them, and again, it added a gently spiced note that took the flavor to the next level.
Kantrowitz and Rice have two goals: to make functional foods accessible to everyone, not just someone with access to the elite world of doctors, and to make it easy to include healing spices in every meal of the day (again, noting that repetition is key to benefiting from the healing powers of any food or herb). To the former point, the line has plans for some exciting expansion opportunities designed to make it easy and affordable to incorporate functional foods into anyone's day-to-day life, whether they're in NYC or North Dakota. "Basically, for better health we're told to avoid the middle of the grocery store, but the reality is that even though these markets are losing share to fresher food, they are still massive—and in some communities, they're the main type of food people have access to," Jamie explains. "Most people are still looking for convenient shortcuts to cooking a delicious and quick weeknight meal—what if that shortcut in the middle of the grocery store actually added more health to your food, and tasted amazing? That's our goal."
Want to make your own turmeric-infused cooking oil? Here's an easy recipe to get you started.