Trump Just Cut Down On 2 National Monuments. Here's What You Need To Know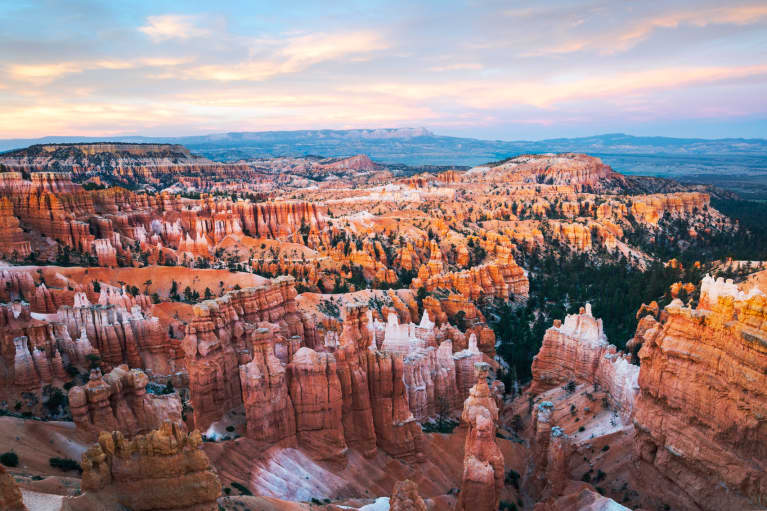 December 5, 2017 — 16:05 PM
Back in August, U.S. Interior Secretary Ryan Zinke proposed a rollback on three National Monuments on the West Coast. Nearly 3 million Americans submitted comments to the government following this suggestion, and 99.2 percent of them opposed opening these protected parks up to fishing, mining, and hunting.
Yesterday, President Trump announced he would be moving forward with the proposed cuts regardless, reducing the size of Bears Ears National Monument and Grand Staircase-Escalante—both in Utah—by 85 percent and 50 percent respectively to make way for local industries.
It's the largest rollback of federal land protection in the nation's history (nearly 2 million acres)—but it isn't the first. Woodrow Wilson and Franklin Roosevelt both reduced the size of monuments during their tenures, but the courts never technically ruled whether it was legal for presidents to do so.
People are already showing up en masse to speak up for the environment, file lawsuits against President Trump, and set a new precedent. As of late last night, only hours after the announcement, one lawsuit has already been filed by nine wilderness groups. Many Native American Nations who visit these monuments for ceremony and ritual are also expected to speak out for a land sacred to their culture.
"Written and unwritten history tells us that Native Americans were the first occupants on the Bears Ears landscape. What we are asking for is just a small acreage compared to what was taken away from us," Native American activist group Diné Bikéyah said in a statement.
Companies founded on outdoor exploration have expressed outrage over the president's decision too. Patagonia, a vocal supporter for the establishment of Bears Ears National Monument, has started a campaign directing shoppers to groups planning to file lawsuits and telling them how to write in to their local representatives. The company's CEO, Rose Marcario, has announced that the company plans to sue. REI has kicked off a similar initiative, and is asking outdoor lovers to change their social media profile image to one that says "We Love Our Public Lands."
If you, too, want to take action to stop this rollback, consider donating to one of the following organizations planning to file a lawsuit (and reach out to any environmental lawyers you know—It's worth a shot!):