These Are The 10 Most Searched-For Diets Of 2018 — And They Aren't What You'd Expect
mbg Contributor
By Caroline Muggia
mbg Contributor
Caroline Muggia is a writer, environmental advocate, and registered yoga teacher (E-RYT) with a B.A. in Environmental Studies & Psychology from Middlebury College.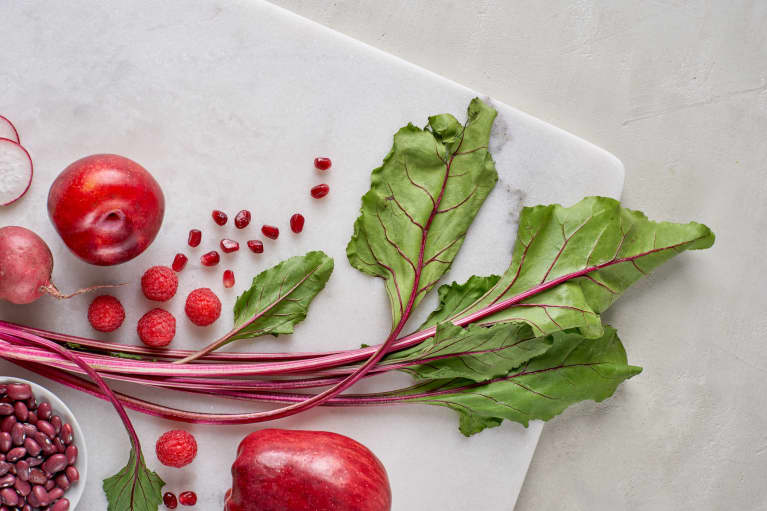 Our editors have independently chosen the products listed on this page. If you purchase something mentioned in this article, we may
earn a small commission
.
It's not surprising the ketogenic diet made the No. 1 spot for the most Googled diets in 2018. With celebrity endorsements from Savannah Guthrie and Halle Berry and benefits like weight loss, improved mental clarity, and more energy, it's clear people are on the keto-train. But the other nine diets are less obvious.
Sure, some of the most searched-for diets are a bit obscure, but the theme of this list points to a bigger shift in nutrition and wellness. Rather than focusing on counting calories, these diets emphasize where the food is coming from and when it's consumed. And here at mbg, we are all about stepping away from the scale and into a fulfilling, nourishing, and healthy life, and it's exciting to see many are looking to do the same.
It's our opinion that this holistic approach to health is what results in long-lasting behavioral changes. But, first things first, here are the top 10 most searched-for diets on Google this year:
Keto diet
Dubrow diet
Noom diet
Carnivore diet
Mediterranean diet
Optavia diet
Dr. Gundry diet
Fasting diet
FODMAPs diet
The Shepherd's diet
Keto is here to stay. Yesterday, for example, the South Beach Diet announced the launch of a keto program in 2019, and recently, a company called Keyto released information on a new keto breathalyzer launching in 2019. With all the hype, we did our best to break it down for you with the ultimate guide to the keto diet.
Coming in at No. 2 is the Dubrow diet, started by Dr. Terry and Heather Dubrow, which is centered around intermittent fasting but with a more regimented three-phase plan. Phase one includes two to five days of a 16-hour fast with an 8-hour eating window. Phase two requires fasting windows from 12 to 16 hours and should be continued until one reaches their goal weight, and, finally, phase three requires five days of 12-hour fasts and two days of 16-hour fasts...indefinitely.
Noom is a tech-focused program with a focus on sustainable behavioral changes. On the Noom app, consumers can enroll in a course created and vetted by doctors, psychologists, nutritionists, and personal trainers.
The carnivore diet is, well, pretty self-explanatory. You eat only animal meat (some dairy is allowed) and zero carbs.
The well-loved anti-inflammatory Mediterranean diet is high in vegetables, fruits, seeds, whole grains, and seafood and low in dairy and poultry. It's also been linked to a lower risk of heart disease and treatment of autoimmune diseases. We're fans.
Optavia is a holistic program that offers one-on-one coaching, encourages healthy habits through micro changes, support from others in the Optavia community, and five daily healthy meals that are Optavia-approved.
The Dr. Gundry diet (of which Kelly Clarkson is a huge fan) was developed by—you guessed it—Dr. Steven Gundry, who authored Dr. Gundry's Diet Evolution and The Plant Paradox. The emphasis here is on good-quality fats, leafy greens, and cruciferous vegetables. You're also allowed grains that are lectin-free, some protein, and some dairy. There's also some intermittent fasting.
Which leads me to No. 8: intermittent fasting. In 2017, we predicted IF would be one of 2018's biggest trends, and it really was. Though it was initially popular for weight-loss benefits, research suggests it also reduces inflammation, balances blood sugar, and could increase longevity.
The low-FODMAPs diet is making headlines with reports that it is improving symptoms of IBS other gut disorders. It stands for Fermentable, Oligosaccharides (wheat, rye, legumes), Disaccharides (milk, yogurt, soft cheese), Monosaccharides (figs, mangoes, sweeteners), and Polyols (blackberries, lychee, low-calorie sweeteners). Avoiding FODMAPs foods could improve gut disorders, and, as you can tell, there's a lot to remember, so you'll want to carry around a list of what you can and can't eat if you start.
And finally, probably one of the most unexpected diets that made the list, there's the Shepherd's diet. This involves a biblical approach to eating and healing from within. Developed by Kristina Wilds, the plan includes foods high in good-quality fats, a guide to the nutrients you're missing, fasting protocols, grocery lists, and an anti-stress guide.
Whether you are looking for a detailed meal plan, an app, someone to help coach you along, or general advice on how to get on a path to healthier eating, these diets run the gamut. It's safe to say we're incredibly encouraged by the greater emphasis on nourishing your mind, body, and spirit, and we're confident this shift will result in more sustainable changes making next year even healthier and happier.