The Health Benefits Of Tomatoes Vary Based On Color, Study Finds
mbg Contributor
By Elizabeth Gerson
mbg Contributor
Elizabeth Gerson is a former mindbodygreen intern and a student at Stanford University studying Psychology and Communication with a specialization in Health & Development.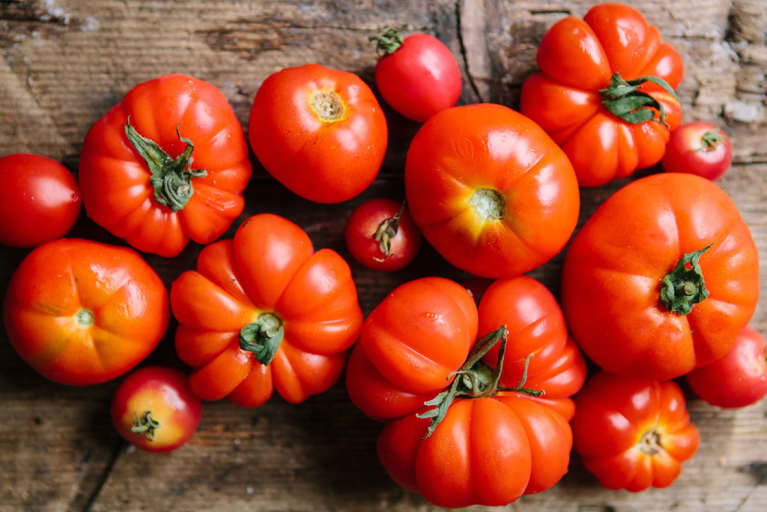 February 28, 2019 — 23:01 PM
You say tomato; I say a killer source of antioxidants. A favorite fruit-that's-not-a-fruit (maybe second only to the avocado), tomatoes can be a great way to fight against free radicals and inflammation in the body. When it comes to health benefits, however, not all tomatoes are created equal.
According to new research, each color of tomato actually correlates with high levels of a specific antioxidant, resulting in its own distinct benefits. Scientists out of the American Society for Horticultural Science discovered these distinct differences by breaking down the genome of different tomato shades, and they found each had unique health-boosting properties.
First, let's take a look at an OG favorite: classic red. Perfect for an easy shakshuka or warming soup, these guys pack a powerful punch of lycopene. Lycopene is a pretty potent antioxidant when it comes to fighting heart disease and even some forms of cancer. It's also been associated with protection against sun damage.
Orange tomatoes also deserve some free-radical-fighting love. They're high in tocopherols—more commonly known as vitamin E—another group of antioxidants with their own laundry list of benefits. Tocopherols are said to help with skin problems like eczema and psoriasis, and there's also been some research that supports its ability to reduce the likelihood of skin cancer.
Yellow tomatoes take the cake when it comes to polyphenols. This standout antioxidant is incredible for these six heart-related benefits: cholesterol reduction, lowered blood pressure, improved artery function, improved artery flexibility, less platelet clumping, and overall increased life span.
As if you needed any more reason to eat the rainbow, look to tomatoes for some inspiration. Gear up for spring, when they start to become more in-season, with some new recipes: A tomato-basil frittata, garlicky tomato pasta, and roasted tomato salsa are each delicious ways to mix and match your antioxidants, helping you work toward your best health ever.